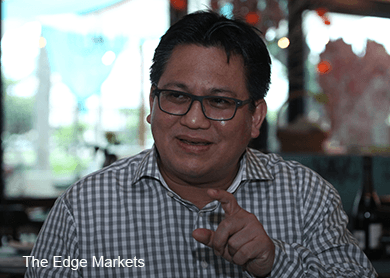 KUALA LUMPUR (May 28): 1Malaysia Development Bhd (1MDB) president and group executive Arul Kanda Kandasamy, together with former chief executive officer (CEO) Datuk Shahrol Halmi, will have to explain their whereabouts after skipping the Public Accounts Committee (PAC)'s inquiry on Tuesday.
"I know there are allegations they are not overseas and are in the country...when they come [to meet us], we will ask them," said PAC chairman Datuk Nur Jazlan Mohamed today.
He was commenting when asked by reporters if PAC will check on the whereabouts of the duo, after allegations surfaced that the duo may have fabricated excuses just to skip PAC's probe on the debt-ridden state-owned firm, 1MDB.
Nur Jazlan also warned the duo that if they were proven to have deceived the PAC, the committee members will be less sympathetic and be more aggressive than usual in their line of questioning.
Arul and Shahrol had previously informed the PAC that they would not be able to attend its highly-publicised probe on 1MDB that was scheduled for Tuesday, citing unavoidable overseas business travel as the reason.
Shahrol was the first CEO of 1MDB, until he left the government strategic development fund for the Performance Management and Delivery Unit or Pemandu in 2013, while Arul was appointed in January this year.
Both are key witnesses in PAC's inquiry into 1MDB, which has incurred RM42 billion in debts in just six years of operations.
"In fact, I think they know that we are serious and that they may need some more time to prepare... I see it that way.
"This time, if there is proof that they have deceived us, our questioning will become more aggressive than usual, we are going to be less sympathetic," added Nur Jazlan.
Nur Jazlan reiterated that PAC had sent a letter to Ministry of Finance (MoF) officials on May 6, requesting Arul Kanda and Shahrol to appear before the committee on May 26.
But Arul Kanda had issued a statement this week, saying 1MDB only received the letter from MoF on May 21, and that he had responded to the invitation on the very same day.
Meanwhile, Nur Jazlan also said letters have been sent to the MoF to ask the past and present auditors of 1MDB, namely Deloitte and KPMG, to meet the committee on June 10 and June 17 respectively.
The letters were sent to the ministry on Monday. Another former auditor, Ernst & Young, would be called at a later date, said Nur Jazlan.
Earlier, DAP lawmaker Tony Pua told reporters in the Parliament lobby that both Arul Kanda and Shahrol should show proof of their whereabouts, after skipping the PAC's inquiry on Tuesday.
"I want to know if Arul Kanda and Shahrol are not twisting and turning (their words). Where were they on May 25 and 26, when PAC asked them to attend? What meeting were they having overseas that they could not attend [the] PAC [hearing]?
"They told us [the PAC] that they had a prior appointment overseas. Were they in Dubai or Singapore? Did they go together? Did they go separately? When was the flight booked? Was it booked after the notice was given or before?" asked Pua, who is also a member of the PAC.