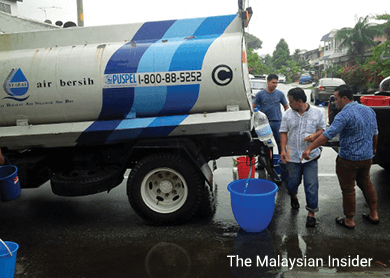 KUALA LUMPUR (July 30): Pengurusan Aset Air Bhd (PAAB), a wholly-owned company under the Minister of Finance Inc, has urged the Selangor state government to find a solution to end the stalemate with Syarikat Pengeluar Air Sungai Selangor Holdings Bhd (Splash) in taking over the latter's water assets in the state.
Since last year, Splash has stood firm on wanting fair value for its assets from the Selangor government, rejecting the latter's RM1.83 billion takeover offer. Splash is the only water concessionaire in the state still holding out on a deal, while Puncak Niaga Sdn Bhd (PNSB), Syarikat Bekalan Air Selangor Sdn Bhd (Syabas) and Konsortium Abbas Sdn Bhd have agreed to accept the state's offer.
PAAB chief executive officer Datuk Ahmad Faizal Abdul Rahman said the state's water restructuring agreement is divided into two phases. Phase 1 deals with PNSB, Syabas and Abass, while the second phase is to buy-out Splash.
"The second phase will begin when this (Phase 1) is completed. Selangor will talk to Splash to settle the issue. I don't see any other options and they must settle this in a holistic manner," Faizal told reporters at PAAB's Hari Raya celebration here today.
"Otherwise all our plans will go down the drain because Splash has a huge involvement in Selangor (as it owns the biggest water treatment plant in the state).
"There's no option. If price is the issue, they (Splash and the Selangor government) have to renegotiate it," said Faizal.
It was reported that the transfer of water assets of PNSB, Syabas and Abass in Selangor to PAAB will be completed within 60 days from the date of the signing of the water restructuring Supplemental Agreement on July 10, 2015.
The buyout for PNSB will cost the state government RM2.47 billion, RM4.34 billion for Syabas and RM992.2 million for Abbas.
Faizal also pointed out that everything needs to be completed as soon as possible or the Langat 2 water treatment plant project will never take off.
"We have to settle this (problem) as soon as possible. Until all this is settled, Langat 2 won't be operational. It's also getting hotter by the day and we are entering the hot season again. We have to complete this soon," he said, adding that the development of Langat 2 is 20% complete to date.
On the transfer of water assets of the three concessionaires, Faizal said it is on track barring a few minor administrative and operational hiccups.
"Our discussions (with the Selangor government) since Raya have been going on very well, so there should not be any problem in addressing Selangor's water woes.
"Our target to complete everything is Sept 10, 2015, but we might actually finish it earlier by the end of August," said Faizal.