This article first appeared in The Edge Malaysia Weekly, on February 18, 2019 - February 24, 2019.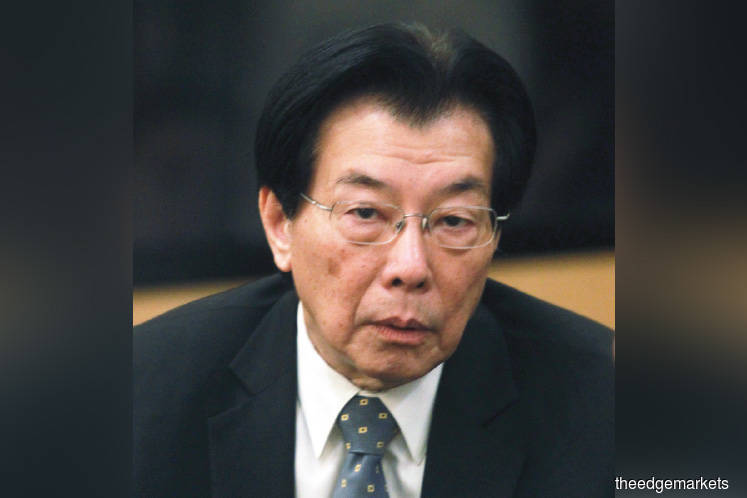 It is an open secret that Yeoh has always aspired to form an integrated packaging firm by merging Can-One and Kian Joo
SCHOOLTEACHER turned savvy entrepreneur Yeoh Jin Hoe's pursuit of Kian Joo Can Factory Bhd over the past decade has now come to fruition.
Last Thursday, Can-One Bhd — in which Yeoh has a 27.4% stake — received the green light from its shareholders at an extraordinary general meeting (EGM) to take Kian Joo private at a premium price of RM3.10 per share.
Despite concerns over Can-One's risk of gearing up to fund the RM917.2 million privatisation exercise, the resolution to launch the takeover bid for Kian Joo was passed with 99.07% voting in favour and barely 0.93% voting against it.
Yeoh, the single largest shareholder of Can-One, and parties acting in concert with him are believed to have voted for the privatisation deal. It is an open secret that the media-shy, seasoned businessman has always aspired to form an integrated packaging firm by merging Can-One and Kian Joo.
Can-One surfaced as a substantial shareholder in Kian Joo with a 32.9% stake in January 2012. Following the dispute over the disposal of the See family's stake in Kian Joo in 1995, KPMG Corporate Services Sdn Bhd had in 2009 stepped in to sell the block of shares — eventually to Can-One in 2012.
Can-One saw its stake in Kian Joo increase from 32.9% to 33.39% after it acquired a 0.49% stake from Tan Kim Seng at RM3.10 apiece on Dec 13 last year (the acquisition was approved by shareholders at last week's EGM). The transaction price was at a steep premium of 51% to its five-day volume weighted average price.
Tan, 65, is a veteran in the carton manufacturing industry who has been with Box-Pak (M) Bhd — a 54.99%-owned subsidiary of Kian Joo — since 1977.
Following the EGM, Can-One can now extend a mandatory general offer (MGO) for the remaining 66.61% stake in Kian Joo it does not own at RM3.10 apiece.
Can-One's net gearing is expected to rise to 2.13 times from 0.51 times upon full acceptance under the MGO as the company plans to raise debts for the acquisition.
Minority shareholders of Can-One who attended the EGM told The Edge that the company has promised to reduce its gearing ratio over time.
"If you were to look back at our history, when we first acquired a 32.9% stake in Kian Joo [in 2012], our gearing was at 3.1 times. But today, it has dropped to 0.6 times. This has been our direction all along. But we need to separate the gearing for operational needs and that for investment needs.
"At a certain time, the gearing will go up because there is an investment need. But over the long run, we will bring it down," a company adviser told shareholders at the EGM.
While it is not known whether the minority shareholders were convinced by the adviser's explanation, the fact remains that Yeoh has cleared his first hurdle at Can-One's EGM.
The ball is now in Kian Joo's court — its shareholders will have to decide if they will accept the offer.
EPF the kingmaker?
How likely will the privatisation deal go through? Who is the kingmaker?
For perspective, Can-One owns one-third of Kian Joo's shares, making it the aluminium can maker's largest shareholder, and it is eyeing the remaining two-thirds.
The Employees Provident Fund (EPF) is the second largest shareholder in Kian Joo with a 10.13% stake.
Meanwhile, the third biggest shareholder is Datuk See Teow Chuan with an 8.97% stake.
Kian Joo's 2017 annual report shows that as at Feb 28 last year, Datuk Anthony See Teow Guan had a 1.56% stake while See Chin Lam owned 0.68%, See Sew Chew held 0.47% and See Teow Koon had 0.46%.
In other words, the See family still collectively owned at least a 12.14% stake in Kian Joo.
Other notable shareholders include Neoh Choo Ee & Co Sdn Bhd, an investment vehicle of low-profile savvy investor Dr Neoh Soon Kean, and four unit trust funds under Public Mutual Bhd.
A minority shareholder, who is one of the top 30 shareholders of Kian Joo, is of the view that if the EPF accepts the offer from Can-One, the MGO would be a successful one.
"If all institutional investors, especially the EPF, accept the offer, then the MGO will easily become unconditional, and I believe this is the likely scenario," he tells The Edge.
Another minority shareholder concurs.
"The EPF has about 44 million shares in Kian Joo, while the funds have about 38 million shares. If they accept the offer, Can-One's shareholding could reach the 50% mark," he says.
He adds that based on the feedback from the EGM, Can-One is keen to take Kian Joo private. Thus, Can-One will very likely extend the offer in stages to the maximum 60 days allowed.
"At each extension, we will be able to monitor the level of acceptance. I believe the company will get the requisite 50%, but probably not at the first closing," he remarks.
Considering that the See family had opposed the sale of Kian Joo's assets and liabilities to Aspire Insight Sdn Bhd for RM3.30 per share — a RM1.47 billion deal mooted in November 2013 — it remains to be seen whether they would exit the business founded by their patriarch See Bon Tay.
According to the Capital Markets and Services Act, if an offer achieves an acceptance level of more than 90%, the offeror may compulsorily acquire all the remaining shares.
This article has been amended for accuracy 
Save by subscribing to us for your print and/or digital copy.
P/S: The Edge is also available on Apple's AppStore and Androids' Google Play.