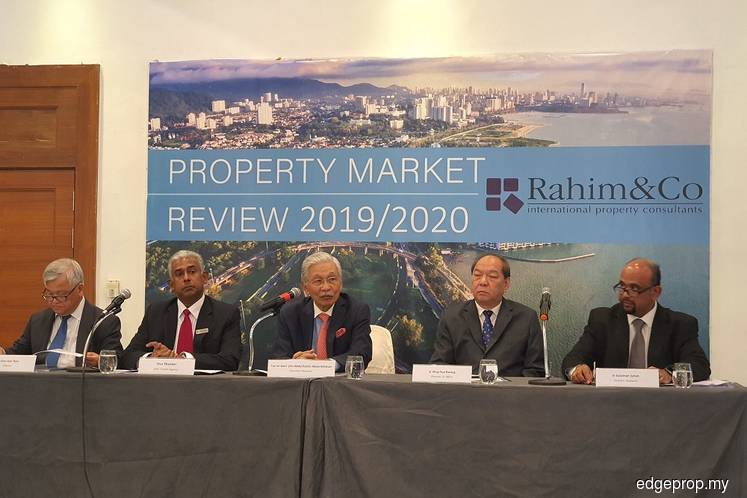 (From left) Chee, Siva, Abdul Rahim Abdul Rahman, Choy and Sulaiman at the release of the Rahim & Co's Property Market Review 2019/2020. (Photo by Shawn Ng/EdgeProp.my)
KUALA LUMPUR (Jan 21): Residential property in outskirt markets should be on the radar of property buyers and investors given the significant growth in their property transaction value and volume in recent times, said Rahim & Co International Sdn Bhd director of research Sulaiman Saheh.
Rahim & Co's Property Market Review 2019/2020 showed that six states, namely Perlis, Melaka, Terengganu, Pahang, Sabah and Sarawak, had delivered double-digit growth in transaction volume in the first half of 2019 (1H2019) compared with a year earlier.
The rest of the states and federal territories however, including conventional property hot spots such as Kuala Lumpur, Selangor, Penang and Johor have only managed to record moderate growth of less than 10% in transaction volume during the same period.
Speaking to EdgeProp.my after the release of the report today, Sulaiman said while the growth came from a low base, the demand in the six outskirt markets are supported by healthy and solid local demand.
"The transaction activity in these markets are dominated by actual owner-occupiers while speculative activities are not as apparent compared with the more established markets.
"This means that there is growing demand from the locals," he elaborated.
He added that some developers, including those who are more established have started going into these areas where the market used to be dominated by local players.
Hence, investors are advised to keep an eye out on these markets where opportunities are expected to lie in both landed and high-rise residential sectors.
"For buyers, landed homes are still very popular, especially terraced houses which make up the majority of the transactions in the overall residential market.
"As for high-rises, when there is an influx of new population driven by a new catalyst or university or assembly plant where traditionally there are just landed homes, the introduction of new high-rises may do well to cater to the new demand," he said.
"Nevertheless, you still have to look at the actual product, location, pricing and other fundamentals of the property, which is very important," he noted.
Also present at the event was Rahim & Co executive chairman Tan Sri Abdul Rahim Abdul Rahman, director of valuation services Chee Kok Thim, CEO of real estate agency Siva Shanker and director of Petaling Jaya office Choy Yue Kwong.