This article first appeared in The Edge Financial Daily, on January 23, 2020.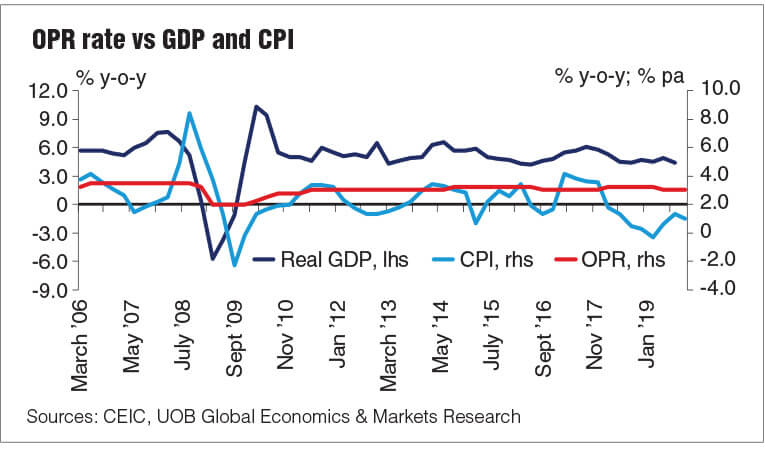 KUALA LUMPUR: Bank Negara Malaysia's (BNM) move to cut the overnight policy rate or OPR by 25 basis points (bps) yesterday to 2.75%, while a surprise to many going by poll results prior to the announcement, is also seen as "timely", in view of the increasing global headwinds, not least of which was the recent coronavirus outbreak in Wuhan, China.
The OPR is now at its lowest point since March 2011. It was last trimmed to 3% from 3.25% in May last year.
In a statement to announce the OPR cut, BNM's Monetary Policy Committee (MPC) said it was acting pre-emptively to secure the country's improving growth trajectory amid price stability and to counter downside risks arising both domestically and abroad.
"For the Malaysian economy, the latest indicators and supply disruptions in commodity-related sectors point to moderate expansion of economic activities in the fourth quarter (4Q). For 2019, growth will be within the projected range. For 2020, growth is expected to gradually improve, with continued support from household spending and better export performance. Overall investment activity is expected to record a modest recovery, underpinned by ongoing and new projects, both in the public and private sectors.
"However, downside risks to growth remain. These include uncertainty from various trade negotiations, geopolitical risks, weaker-than-expected growth of major trade partners, heightened volatility in financial markets, and domestic factors that include weakness in commodity-related sectors and delays in the implementation of projects," the central bank said.
A Bloomberg's poll showed only two out of 26 economists surveyed previously had expected the rate cut from yesterday's MPC meeting. Similarly, a Reuters poll of 14 economists showed all but one had expected BNM to hold the OPR steady at 3%, amid improving global confidence after the US and China signed a preliminary trade deal to defuse their bitter 18-month tariff war that had affected global growth.
Following BNM's announcement, economists said the move was well-timed to support domestic growth.
"Among domestic peer economists, we are the only research house that called for the cut in Jan 20. The cut is very timely to support domestic economic growth in 2020 especially external front remains cloudy," said MIDF Research in a note yesterday.
"Global uncertainties over trade war, geopolitical risks and volatility commodity prices may affect the trajectory of Malaysia's external trade performance. Hence, expansionary monetary policy would boost private consumption and investment activities in 2020," it said.
Socio-Economic Research Centre's (SERC) executive director, Lee Heng Guie, said the rate cut was within his expectation, and that the move showed BNM is cautious on the country's growth outlook.
Lee said the country's growth data for the final quarter of 2019 — which BNM is set to release on Feb 12 — is likely to have further eased to between 4.2% and 4.4%, from the 4.4% recorded in the third quarter, and prompted the central bank to make the OPR cut.
The timing is also appropriate, given the lagged effect from OPR cuts, which generally takes two to three quarters for any positive impact to be seen, said Lee.
AmBank chief economist and head of research, Dr Anthony Dass, also viewed the rate cut as positive.
"With overall business and consumer sentiments declining, and at a time when the ringgit rose by about 0.6% (year to date) to around 4.05-4.06 levels against the US dollar, there is ample room for a rate cut. Besides, current global uncertainties are on a softer tone. A rate cut should provide a positive impetus to private consumption which is the anchor for growth and investment with exports complementing in 2020," said Dass.
Opinion now leans towards no more cuts for rest of 2020
As for the rest of the year, SERC's Lee thinks BNM will keep the rate steady.
"BNM has given necessary monetary support the economy. I do not see the need for it to do more rate cut from here. I hope the government has to do its part as it was earlier mentioned that this year will see the double-barrel effect of government spending, so the government has to step up effort and actively run the economy," Lee said.
Similarly, UOB Malaysia senior economist Julia Goh and MIDF Research expect only one rate cut by BNM this year.
"We think BNM will keep the OPR on hold for now to allow the stimulus effect to run through the economy. Today's rate cut helps to extend the stimulus effect from the previous OPR cut in May 2019.
"The next key data to watch is 4Q 2019 and full-year 2019 GDP  (gross domestic product) that will be released on 12 February, while the next central bank meeting decision is scheduled on March 3, 2020," Goh said in a note yesterday.
Ambank's Dass, meanwhile, thinks there is still room for another round of rate cut, given the stronger ringgit against the greenback, and low inflation.
"Room for more rate cuts remain, but it much depends on how the domestic economic activities perform as we move ahead. Also, the direction of non-performing loans as well as the strength of ringgit.
"Adding on is the more dovish statement from BNM compared to the previous meeting in November. Room is for another 25bps to as much as 50bps cut and the economy will still enjoy positive real returns as inflation is more likely to average 2% in 2020," he added.