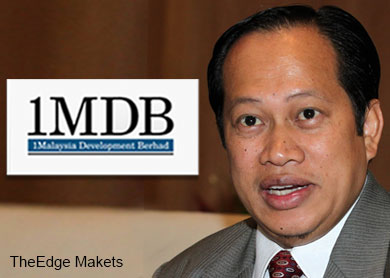 KUALA LUMPUR (Nov 12): Opposition lawmakers plan to table a motion in Parliament later today to cite Deputy Finance Minister Datuk Ahmad Maslan for contempt over the 1MDB issue.
PKR Member of Parliament for Pandan, Rafizi Ramli, said the party felt that Ahmad should be held responsible to the house and people for his statement in Parliament last Thursday that there was no letter of support for 1MDB as earlier stated by Petaling Jaya Utara MP Tony Pua.
"We will table a motion later in Parliament and the speaker of the house will decide if the motion is allowed," Rafizi told reporters at Parliament lobby today. Also present at the press conference were Pua and Shah Alam MP Khalid Samad.
Rafizi said he was not sure if the motion would be referred to the Rights and Privileges Committee for further action.
The move to table the motion was in reference to a statement issued by Ahmad and published in The Edge Financial Daily yesterday, in which Ahmad admitted that the government had issued a letter of support to 1MDB for its loans, but insisted that it did not amount to a guarantee.
"As reported in the 1MDB's FY2013 accounts, a letter was issued (by the government) as 1MDB's sole shareholder," he said in a statement dated Nov 8, 2014.
"Under the terms of this letter, should 1MDB not honour their obligations related to this bond, any claims against the government (in addition to 1MDB) is only limited to the terms of the letter, which is not a government guarantee," he said.