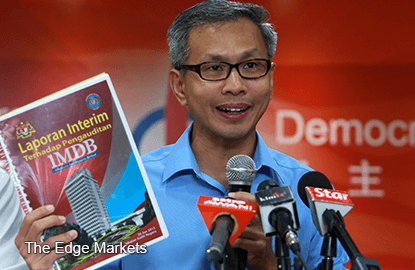 KUALA LUMPUR (July 23): The Auditor-General's (A-G) interim audit report on 1Malaysia Development Bhd (1MDB) has answers to the allegation of tampering and doctoring of documents by London-based Sarawak Report and The Edge, said opposition lawmaker Tony Pua.
"Based on the information provided in the report, all questions of whether the data (detailing how) 1MDB and PetroSaudi International Ltd (conspired to cheat Malaysia of US$1.83 billion) — which was exposed by Sarawak Report and other media outlets such as The Edge — was tampered, fabricated, doctored or otherwise will be immediately put to rest," he told a news conference at DAP headquarters today.
"I can't elaborate the contents of the report. I can only say that the report was fairly comprehensive, (although) it is not complete as it is interim.
"But in what it has already been discovered when it (A-G) looked into the 1MDB Petro-Saudi transactions, the relevant issues that were raised by Sarawak Report has been dealt [with]," said Pua, who is a member of the Public Accounts Committee (PAC) which was presented with the 70-page interim report on July 9. A-G Tan Sri Ambrin Buang had also held a briefing to members of the PAC on that day.
"So, whether Sarawak Report has tampered with the data is already (answered) here (A-G's interim report).
"I can't tell you the answer or I will be punished by the Parliament. But I can tell you the answer is in here," Pua added.
Pua said the 1MDB scandal, which is making Malaysia the butt of international derision, can be ended today if Prime Minister Datuk Seri Najib Razak, who is the finance minister, instructs the A-G to make public its findings in the interim report on 1MDB.
"Najib has a very simple way to end the exceedingly unhealthy speculation over whose allegations are the truth, and whose are fabricated.
"It is going to address all of the issues over alleged tampering of data in relation to the 1MDB-PetroSaudi transactions," he added.