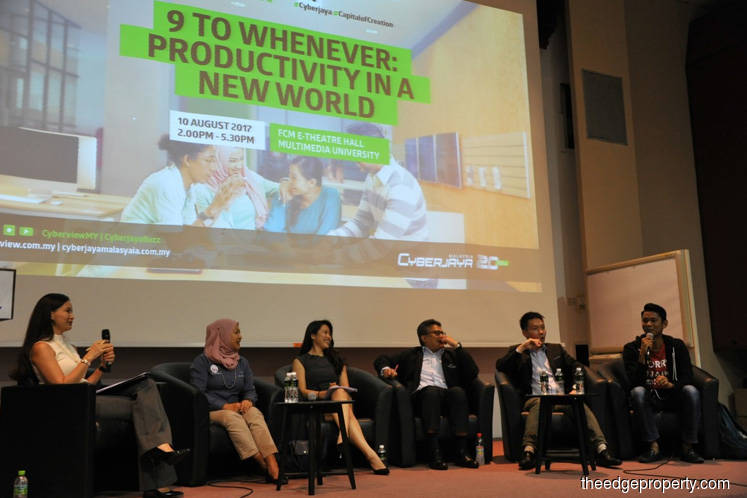 PETALING JAYA (Aug 14): Elements like open offices and flat organisation structures are fast becoming the norm, with many corporations embracing these qualities.
"In this day and age of smartphones and the Internet of Things, many things have shifted as to fundamentally transform the business landscape, and with it also the way we work," according to Cyberview Sdn Bhd acting managing director of Mohd Najib Ibrahim.
"The thing to note here is that workplace cultures have evolved into what they are today primarily because of technology. Our devices have changed — mobility has given us flexibility and opened up traditional workplace cultures," he said in his speech prior to a panel discussion on workplace culture at Cyberview's second 'Starter Kit' session today.
According to Mohd Najib, the one element that ensures the continuity of both workplace cultures, be it in a corporate-heavy or startup-based environment, is innovation.
"We must continue to look ahead and move forward, evolve and grow with the times," he added.
Organised by Cyberview, the 'Starter Kit' series is a series of sharing and learning sessions on topics that revolve around "putting that foot forward and getting started", with a focus on talent development and engagement.
The panel session was moderated by TV host Daphne Iking while other panellists included Otomate Me co-founder and CEO Kimberly Wan; The Lorry.com co-founder and executive Nadhir Ashafiq; Finnext Capital director Wilson Beh, Setia Haruman Sdn Bhd head of corporate strategy Siti Mariam and DRB-Hicom head of group strategic communications Mahmood Razak.
The panellists who are from the corporate sector said joining established organisations would contribute to individual developments.
"A structured organisation would allow individuals of different personalities to flourish. For example, if you are a person who is guided by structure, then you would thrive with clear KPIs and defined roles in an organisation.
"Having said that, people who are more free-spirited can also influence a structured workplace. At the end of the day, it is about fitting your personality in the workplace culture and ultimately making it work," said Mahmood.
On the other hand, being part of a start-up means that the contribution to the team would be more impactful with the opportunity to be involved in various aspects of the business.
"From my experience, I was a subset of a bigger agenda in my previous corporate workplace. But in a start-up, you are the agenda," said The Lorry.com's Nadhir, who had been an investment banker.
Otomate Me's Wan said being a start-up also means that no two workdays are completely similar.
"You will face different situations every day in which you will be given the opportunity to look at issues at hand and think of innovative and original ways in addressing them," she added.
Meanwhile, Finnext Capital's Beh is of the view that organisations should strike a balance between the two workplace styles. "Only then can we achieve optimum productivity," he said.