This article first appeared in Capital, The Edge Malaysia Weekly, on January 24, 2022 - January 30, 2022.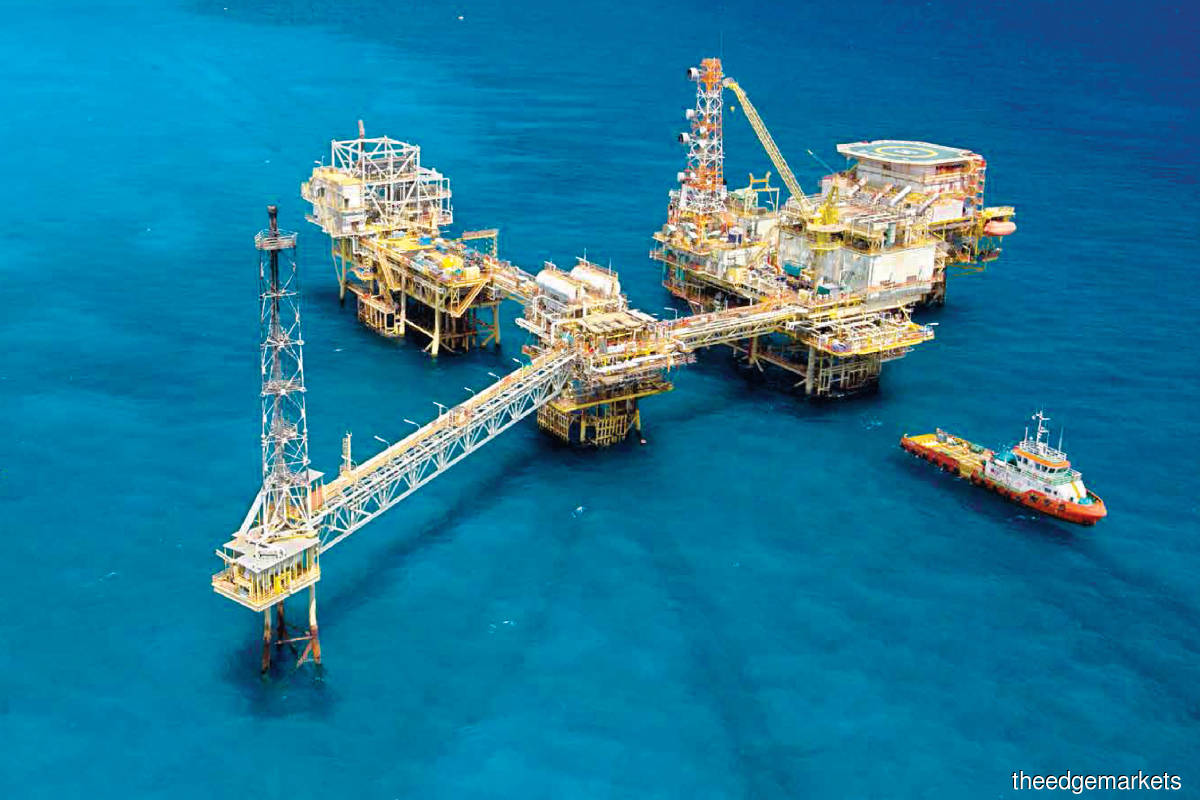 LAST week, Brent crude oil inched above US$88 per barrel, marking the highest level since October 2014. Nudging oil prices northwards on the international benchmark was an attack on an oil tanker in the Middle East by Houthi rebels from Yemen, which resulted in explosions on three oil-carrying vessels at Abu Dhabi National Oil Co's (Adnoc) storage facilities.
Three Adnoc employees were reported to have been killed in the attacks, which stoked supply concerns and pushed up oil prices.
The former patriarch of a large Malaysian oil and gas company says he expects oil prices to hover around US$85 per barrel in the near term. "Mind you, this is the same price oil was at prior to the pandemic," he says.
His predictions nevertheless seem somewhat lukewarm compared with that of investment bank Goldman Sachs, which sees oil reaching more than US$100 per barrel later in the year.
Goldman Sachs forecasts oil at US$90 per barrel in the first quarter of the year, US$95 in 2Q2022 and US$100 in the last two quarters of the year, or US$100 per barrel after June 2022. The investment bank notes that oil is in a "surprisingly large deficit" with the Omicron variant of Covid-19 having little adverse impact on demand, production shortfalls in Brazil and Norway, and a lack of drilling activities that will curb efforts to ramp up production, among other reasons for higher oil prices.
To put things in perspective, investments in exploration and related activities have been on a downward spiral since oil prices crashed in 2015.
In a report late last year, Public Investment Bank Bhd wrote, "The oil market will remain tight as production stays below peak due to underinvestment in upstream oil and gas assets following the 2015 crash.
"2014 saw the peak of investments, with spending of US$779 billion, before falling significantly to US$583 billion in 2015 and US$434 billion in 2016. Investments saw another drastic cut in 2020 to US$328 billion, the lowest level in 15 years due to the Covid-19 pandemic."
It adds, "Nevertheless, the outlook for 2022 indicates that spending on the upstream oil and gas segment is set to increase as oil prices are stable. We posit that a sustained oil price level will evoke greater budgeting confidence."
Other than Goldman Sachs, there are other outfits that are as, or even more, bullish on oil prices. Late last year, JP Morgan forecast oil hitting US$125 per barrel this year and US$150 per barrel by 2023.
Oanda senior market analyst Craig Erlam sees oil prices breaching the US$100 per barrel threshold soon — in the first quarter of 2022 — after the recent rally that commenced early this year pushed oil prices up by 10%. The new year rally was brought about by tightening supply and a rebound in demand.
Erlam said in a news report earlier this year, "This imbalance [tightening supply amid a rebound in demand] has led to surging prices, which will further pressure households and businesses already fighting high inflation.
"What's more, not only does the rally not appear to be losing steam, it may have even generated fresh momentum. While US$90 [per barrel] could have triggered some profit-taking and a minor cooling of prices, this suggests they'll see no reprieve and we could realistically see US$100 oil soon."
There has been much news with regards to oil prices strengthening lately.
Last week, the Organization of the Petroleum Exporting Countries (Opec) published a positive market outlook in its Monthly Oil Market Report for January 2022, hinged on air travel restrictions easing and increased vehicle usage. It forecast global oil demand rising by 4.15 million barrels a day to 100.79 million barrels a day, which is above pre-pandemic levels.
"In summary, monetary actions are not expected to hinder underlying global economic growth momentum, but rather serve to recalibrate otherwise overheating economies. With an ongoing robust oil demand forecast, and the continuing efforts of Opec member countries and non-Opec countries participating in the Declaration of Cooperation, the oil market is expected to remain well supported throughout 2022," Opec says in the report.
Quite recently as well, national oil company Petroliam Nasional Bhd (Petronas) released its Petronas Activity Outlook 2022-2024, which signalled increased spending. In a report released earlier this month, Credit Suisse highlights that Petronas is looking to ramp up its average annual capital expenditure (capex) to between RM40 billion and RM45 billion from 2022 to 2027, and upstream capex is slated to increase to RM20 billion annually.
Due to the adverse effects of the pandemic, Petronas invested RM29 billion a year in 2020 and 2021, in contrast to an average of RM47 billion a year from 2016 to 2019.
It is interesting that 55% of the allocated capex will be ploughed into Malaysia, which should augur well for local oil and gas companies, many of which are largely dependent on Petronas dishing out contracts.
While the outlook for oil and gas companies may improve with more exploration and related activities, not all of them will benefit as some have already crumbled, having been weighed down by heavy debt after being dragged by weak oil prices for years. Some players have ageing assets, which render them uncompetitive.
The beneficiaries
In a report earlier this month, Maybank Investment Bank's Liaw Thong Jung says the Petronas Activity Outlook "reflects a cautious, optimistic outlook for 2022 but an improving positivity in 2023-24, based on the level of activities planned".
Liaw's top beneficiaries from the Petronas Activity Outlook are rig player Velesto Energy Bhd, offshore support outfit Icon Offshore Bhd, fabricator Malaysia Marine and Heavy Engineering Holdings Bhd (MMHE), pipe coating specialist Wah Seong Corp Bhd and tank terminal operator and fabricator Dialog Group Bhd.
Maybank IB has a "buy" call on Velesto Energy, with a target price of 23 sen, which is a 62% premium to the stock's closing price of 14 sen last Wednesday. At that price, the company's market valuation stood at RM1.15 billion.
Meanwhile, the investment bank also has a "buy" call on Icon Offshore, with a target price of 16 sen, indicating an upside of 45% from last Wednesday's close of 11 sen. This translates to a market capitalisation of RM297.4 million.
Maybank IB has a "buy" call on MMHE too, with a target price of 85 sen, which is a 100% premium to last Wednesday's closing price of 42.5 sen. The closing price values the company at RM680 million.
The investment bank has a "buy" recommendation on Wah Seong, having pegged a target price of RM1.20, or an 86% premium to last Wednesday's close of 64.5 sen. This gives the pipe coating company a market value of RM499.42 million.
As for Dialog, which is a favourite among analysts, Liaw has a target price of RM4.90, or an 81.48% premium to the closing price of RM2.70 last Wednesday. This gave the company a market capitalisation of RM15.23 billion.
Credit Suisse's favourites in Malaysia include tank operator Dialog, as well as floating production storage and offloading (FPSO) player Yinson Holdings Bhd. "Within our coverage, we remain positive on Dialog's and Yinson Holdings' prospects in the near to medium term (both rated 'outperform') as both companies are likely to continue creating strong value for shareholders (not driven by luck as they continue to exhibit strong discipline and execution)," it says.
"We believe Dialog is on track to potentially doubling its earnings within the next five years, driven mainly by its exposure to Pengerang's circular growth in terms of oil storage, while Yinson has already secured two sizeable FPSO contracts."
Credit Suisse has a target price of RM7.45 and RM2.90 for Yinson Holdings and Dialog respectively. Yinson ended trading last Wednesday at RM5.74, which translated to a market value of RM6.12 billion.
CGS-CIMB Research also has Yinson Holdings and Dialog as its top picks for the oil and gas sector. It has a target price of RM9.06 for Yinson, which is almost a 58% premium to its current share price.
"The FPSO market is a suppliers' market currently as there are few independent contractors capable of fulfilling oil majors' demand for new FPSO capacity. Yinson is looking to raise RM1.1 billion to RM1.2 billion from a rights issue to fund its FPSO capacity growth but has indicated that no further equity raising will be done in the future, as it will divest stakes in existing assets to fund the additional FPSO growth and its forays into renewable assets," says the research house.
As for Dialog, CGS-CIMB's positive take hinges on the company's independent terminals in Pengerang and Langsat still seeing a healthy utilisation rate of 90%. The research house has an "add" call on Dialog, with a target price of RM3.58.
Public IB has an "outperform" call on Hibiscus Petroleum Bhd. "For sector exposure, we like Hibiscus Petroleum in the light of favourable crude oil prices and for it being a direct proxy, providing greater earnings visibility."
It has a target price of RM1.05, which is a 20% premium to its closing price of 87.5 sen last Wednesday. This values the company at RM1.76 billion.
Another Public IB favourite is Dayang Enterprise Holdings Bhd, which it says "will benefit directly from the rise in brownfield activities (maintenance and production enhancement), as well as increased spending by the oil majors going forward". The investment bank has a target price of RM1.35, which translates to an upside of 46.73% over Dayang's closing price of 92 sen last Wednesday. This gave the company a market value of RM1.06 billion.