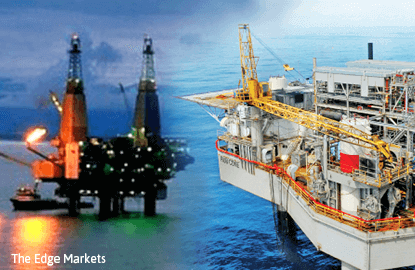 LONDON (Feb 28): Global oil prices dipped on Tuesday but continued to trade in a tight range, with OPEC-led output cuts offset by increasing crude production from the United States.
The Organization of the Petroleum Exporting Countries has so far surprised the market by showing record compliance with oil-output curbs, and could improve in coming months as the biggest laggards — the United Arab Emirates and Iraq — pledge to catch up quickly with their targets.
But while the Nov. 30 agreement to reduce production prompted oil prices to rise US$10 a barrel, they have been trading in a narrow US$3 range in recent weeks.
Brent and West Texas Intermediate crude oil futures traded several cents on either side of the previous day's close earlier on Tuesday but have since dipped. By 1400 GMT, Brent was 53 US cents lower at US$55.40 a barrel while the US benchmark was 49 US cents lower at US$53.56
"Oil is well and truly stuck and the falling futures volumes does not indicate that we have much of a bull-bear fight either," Saxo Bank head of commodity strategy Ole Hansen said.
"Having failed on a couple of occasions to break higher it is only natural to see it correct lower. I'm looking for a retracement to US$55 on Brent and US$52.70 on WTI."
OPEC agreed to curb output by about 1.2 million barrels per day (bpd) from Jan. 1, the first cut in eight years. Underlying the high compliance to the deal, Iraq trimmed exports of Kirkuk crude oil to help meet its output target.
In addition, 11 non-OPEC oil producers have promised to cut their output — Russia reduced production by 124,000 barrels per day this month compared with October levels, Interfax reported on Tuesday citing a source familiar with the data.
Several analysts noted record high bets on rising Brent and WTI prices, as showed by data from the InterContinental Exchange and the US Commodity Futures Trading Commission (CFTC).
"Increasingly, the high degree of speculative interest is hanging over oil prices like the sword of Damocles. If financial investors were to unwind their positions, a sharp fall in prices would be on the cards," Commerzbank said in a note to clients.
Broadly, analysts and economists expect an average 2017 Brent price of 57.52 a barrel, according to a Reuters poll issued on Tuesday.
Oil industry and OPEC country sources told Reuters Saudi Arabia wanted crude prices to rise to US$60 a barrel this year, a level it saw as encouraging investments but not spurring a fresh surge in US shale production.
But a report from consultancy Rystad Energy issued earlier this month said the break-even price for US shale oil producers fell last year to an average US$35 per barrel.
US producers boosted crude production to over 9 million bpd during the week ended Feb. 17 for the first time since April 2016, according to federal data. US drillers were operating 602 rigs last week, the most since October 2015, energy services firm Baker Hughes said on Friday.