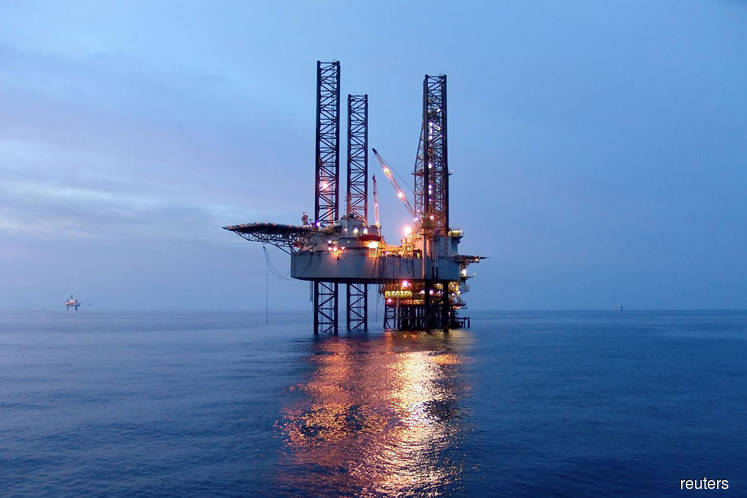 KUALA LUMPUR (May 25): Oil & gas counters were among some of the top active counters in the morning trade today as the Malaysian stock market saw improved sentiment after being hammered down by foreign selling over the week.
Sapura Energy Bhd was the second active counters with more than 45.2 million shares traded. The share price has gained by 2.2% or 1.5 sen to 70.5 sen.
Velesto Energy Bhd, formerly known as UMW Oil & Gas Corp Bhd, was also among those actively traded as more than 15.8 million shares changed hands by 10.30 in the morning. The share price has jumped by 5.4% or 1.5 sen to 29.5 sen. The company returned to the black in its latest financial results for the quarter ended March 31, 2018 with a net profit of RM5.0 million as compared to a net loss of RM104.1 million in the corresponding quarter a year ago.
Sumatec Resources Bhd, which was recently admitted into Practice Note 17 (PN17) was also actively traded with 9.9 million shares done. Its share price has jumped by 11.1% to 5 sen. The largest shareholder of the company, Tan Sri Halim Saad, is a protégé of former finance minister Tun Daim Zainuddin, now the chairman of the Council of Eminent Persons (CEP). Sumatec Resources is expected to announce its financial results for the first quarter ended March 31, 2018 (1QYF18) at the end of this month. In its FY17's results, Sumatec Resources slipped into losses with a net loss of RM63.7 million.
Hibiscus Petroleum Bhd, the first and only special purpose acquisition company (SPAC) in acquiring a qualifying asset (QA), saw about 7.0 million shares traded and is expected to be announcing its financial results for the third quarter ended March 31, 2018 (3QFY18) soon. The share price for Hibiscus was unchanged at 95 sen after hitting its intraday high of 96.5 sen today.
A remisier based in Kuala Lumpur told theedgemarkets.com that in a rather quiet market, the O&G players are probably some of the more active counters today as the oil price is flirting with the US$80 per barrel level for a while now.
"A lot of focus has been on the earnings season and the oil & gas players are likely to benefit from the higher oil prices. Just look at UMW O&G (Velesto) now. The rest should see better results as well which is why we are seeing some buying interests despite a lot of concern on the change in government and external factors," he said.