This article first appeared in The Edge Financial Daily, on June 26, 2019.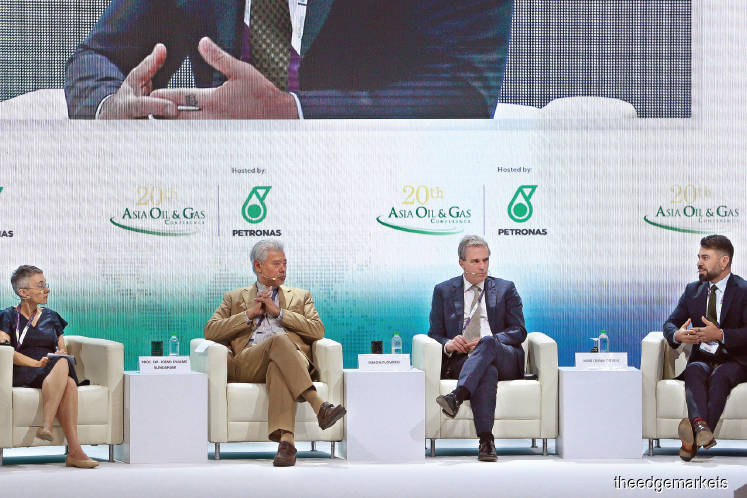 KUALA LUMPUR: With growing emphasis being put upon the oil and gas (O&G) industry to ensure a low-carbon future, experts believe that O&G companies may be hit with financial pressure sooner than many have forecast.
In a panel discussion at the Asia Oil & Gas Conference 2019 yesterday, panellists pointed to disruptive forces and megatrends that continue to alter the industry landscape despite the continuing dominance of fossil fuels in the energy mix. More specifically, the panellists discussed how climate risks pose a financial risk to investors of the O&G industry.
Philippe Roos, a senior reporter and analyst for Energy Intelligence, said that energy transition — where the industry is moving away from conventional fossil fuels to renewable energy — is already happening, although still in its preliminary phase. "There are a number of signs that show it (energy transition). For example, there is the penetration of renewable energy as well as the penetration of electric vehicles in many countries in the world," he said.
Roos predicted that by 2100, 100% of the world's energy needs will be sourced from renewable energy, and he said that most probably, the leading energy by that time will be solar energy. "I'm pretty confident about this prediction; I just don't know for sure how will we get there," he said.
In parallel with the prediction, Roos said that O&G companies will start to feel the financial pressure, such as the impact on share prices, availability of capital and difficulty to obtain financial services, even before the industry's market share is eroded.
"One could say that O&G companies will feel the financial pressure when their market share starts to get substantially smaller. And that's after demand has peaked — say after 2040 or 2050 — until then everything's fine financially speaking. But that's not how financial markets and financial institutions behave. They will probably start to revisit the perception they have of the industry not when its market share gets lower, but when its growth rate gets smaller," he explained.
Ross said the energy sector had  already seen this happening. Case in point: the coal industry in the US.
"We saw that happening in the US coal industry which still exists — coal is still mined in the US, and it is still burned in power plants — but financially, the US coal industry has collapsed. Many of the companies went through bankruptcy," he said.
"Investors and bankers are starting to realise that climate risk is a serious financial risk, and it is also an unpriced financial risk. And they may want, at some point, to reprice their assets. They will reprice their loans accordingly to avoid being caught by surprise when all this happens," Roos added.
Another panellist, IHS Markit Energy-Wide Perspectives vice-president Susan Farrell, said that there is a great deal of financial risk that is associated with climate change that has not been made transparent to investors.
She pointed to a report by the Task Force on Climate-related Financial Disclosures set up by the Group of Twenty's Financial Stability Board which revealed that companies are failing to disclose sufficient details of how exposed they are to the potential risks of climate change.
In the report, many investors called on companies to provide better communication on how climate change could impact their businesses amid concerns that assets are being mispriced because the full scale of the risk is not being factored in.
"The financial stakeholders will want more transparency because they want to understand whether the company is going to be competitive or not. They want to see growth and returns, and how does the company achieve that," said Farrell, who is also IHS Markit's head of Global Energy Scenarios, Energy Transition and Executive Briefing services.
"For companies that cannot self-fund, capital availability is a real concern," she added.
"Yes, it is starting to become an issue for mostly European international financial institutions, but it is also spreading all over the world," Roos chimed in.