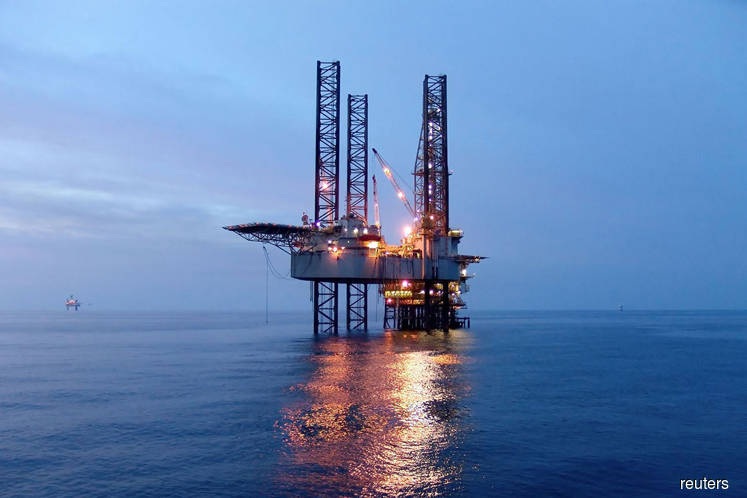 KUALA LUMPUR (March 22): Oil and gas (O&G) stocks were some of the most actively traded counters towards the tail end of on Bursa Malaysia's morning session.
At 12:21pm, Hibiscus Petroleum Bhd was leading the charge, up 3.77% or four sen to RM1.10, with 49.53 million shares traded.
Other O&G counters included Dayang Enterprise Holdings Bhd, down 5.04% or seven sen to RM1.32, with 38.99 million shares exchanging hands, and Sapura Energy Bhd, down half a sen or 1.43% to 34.5 sen.
At 12.30pm, Perdana Petroleum Bhd rose 0.5 sen or 1.19% to 42.5 sen, with 25.48 million shares traded.
At 12.21pm, the energy index fell 0.17% or 1.74 points to 1,039.12.
Oil prices have hovered around the year high of US$67.88 per barrel, and registered a slight dip of 0.13 cents to US$67.54 today.
The high was attributed to proposed cuts in supply by the Organisation of Petroleum Exporting Countries (OPEC).
On the back of this year's high, O&G companies within Malaysia are looking at new opportunities when it comes to exploration.
On March 20, Hibiscus said it was exploring opportunities for O&G exploration and services sharing with other service providers, before deciding on a course of action for its Australian assets — with managing director Kenneth Pereira adding that the process will take approximately two to three years.
On March 21, Perdana Petroleum announced that it had secured a RM17.7 million contract from Dayang Enterprise for the supply of two accommodation work barges, which begins on March 29 for the first barge and April 1 for the second barge.
The contract is divided into two parts: the first work barge is to be chartered for 120 days with the possibility of an extension, while the second barge is to be chartered for 200 days, again with the possibility for further extension.