This article first appeared in Capital, The Edge Malaysia Weekly, on April 15, 2019 - April 21, 2019.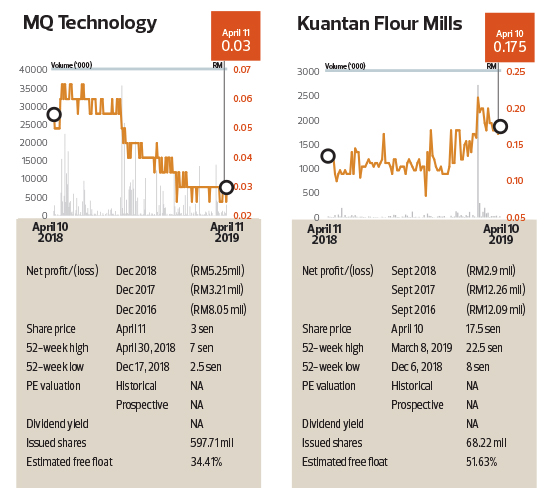 MQ Technology Bhd, a Penang-based manufacturer of tools and jigs for hard disk drives, saw a total of 91 million shares, or a 15.22% stake, cross off market on April 3 and 4.
Filings with Bursa Malaysia show that the shares were disposed of by two of MQ Technology's executive directors, Wong Ken Hong and Tong Sian Shyen. Wong disposed of 20 million shares at 2 sen apiece on April 3 while Tong disposed of 70 million shares at 1.5 sen each on the following day. Thus, they ceased to be substantial shareholders in the group.
In the meantime, the two blocks of shares were purchased by Heng Yong [email protected] Yong Kang. Heng, who was recently linked to Practice Note 17 (PN17) issuer and flight training company APFT Bhd, is seeking  an extraordinary general meeting to remove and replace the current APFT directors.
Another PN17 issuer, Kuantan Flour Mills Bhd (KFM), saw 9.6 million shares representing a 14.08% stake in the company cross off market on April 3. The shares were disposed of by Dennis Tow Jun Fye, who was KFM's single largest shareholder. Dennis is the son of Tow Kong Liang, who is executive director of Australia Exchange-listed International Equities — owner of the Seasons Apartment Hotel Group in Australia.
The shares were disposed of at 20.8 sen apiece, at a 22.4% premium to KFM's closing price of 17 sen. They were bought by Chia Weng Lock via his vehicle CWL Ventures Sdn Bhd. According to Chia's LinkedIn page, CWL Ventures provides corporate services in new startups and is also involved in capital restructuring.
Over at Sino Hua-An International Bhd, its managing director Liu Guodong disposed of 124 million shares, or a 11.05% stake, at 13 sen apiece via a married deal on April 5. The price was almost half of its closing price of 25.5 sen on the same day.
The buyer, Libran Infinity Inc, is a British Virgin Islands company. Sino Hua-An recently announced that it was diversifying into the food and beverage business with the acquisition of Bistromalones (PJ) Sdn Bhd, which owns two Teh Tarik Place outlets and eight TGI Fridays restaurants in Malaysia.
Meanwhile, information and communications technology company G3 Global Bhd saw 37.46 million shares representing a 9.09% stake in the company cross off market on April 4 and 8. The shares' likely purchasers are Datuk Khan Mohd Akram Khan and Wan Khalik Wan Muhammad, who have emerged as substantial shareholders. Khan is big data analytics strategist and chairman of MMAG Holdings Bhd while Wan Khalik is executive chairman of DWL Resources Bhd (formerly Spring Gallery Bhd).
The non-executive director of G3 Global is Green Packet Bhd founder Puan Chan Cheong. Green Packet was involved in off-market transactions that saw 35.44 million shares representing a 3.93% stake changing hands during the week. Puan acquired 4.4 million of the 35.44 million shares on April 3, at 31.5 sen apiece, bringing his total stake to 29.42%. At press time, the parties involved in the transaction for the remaining 31.04 million shares were not known.
Over at MSCM Bhd — formerly known as Panpages Bhd — a total of 9.45 million shares, or a 3.56% stake, were crossed off market on April 3, at 25 sen apiece. The identities of the buyers and sellers were not revealed. However, newly appointed executive director Lim Peng Tong has been sweeping up shares in the company. According to the group's latest filing, Lim owns 11.62% of MSCM's shares and emerged as a substantial shareholder on March 25 this year. He is also an independent non-executive director in DWL Resources.