This article first appeared in Capital, The Edge Malaysia Weekly, on May 20, 2019 - May 26, 2019.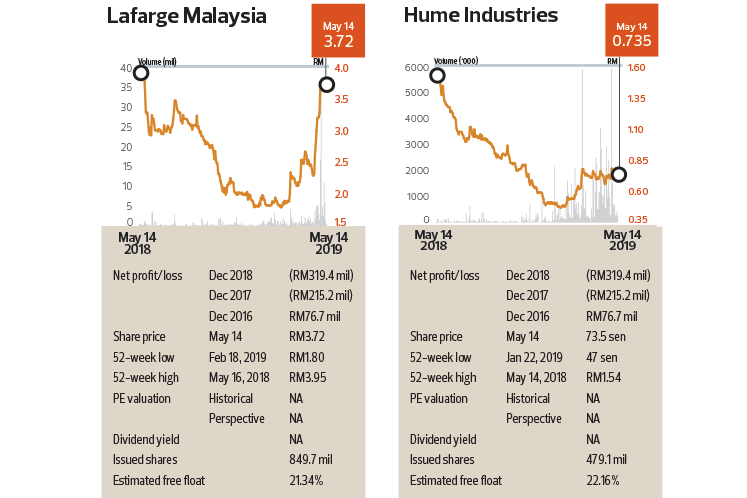 NOTABLE off-market trades in the period under review included a direct sale of 13.91 million shares of cement producer Lafarge Malaysia Bhd on May 8. The shares amount to a 1.64% stake in the company and were sold for RM3.72 apiece, or RM51.78 million in total.
The sales occurred less than a week after fellow cement producer YTL Cement Bhd launched a mandatory general takeover (MGO) on May 2, for the remaining 49% of Lafarge Malaysia that it did not own. YTL Cement acquired a 51% stake on that date and offered to buy the remaining shares for RM3.75 apiece.
At the time of the MGO, YTL Cement's offer was a 25% premium to Lafarge Malaysia's net tangible assets of RM2.99 per share as at Dec 31, 2018. The stock was last traded at RM3.15 each.
YTL Cement intends to maintain Lafarge Malaysia's listing status unless it receives acceptances exceeding 90% of the outstanding shares. On May 14, Lafarge Malaysia closed at RM3.72, down 5.32% over the last 12 months for a market value of RM3.16 billion.
On May 10, another cement producer Hume Industries Bhd saw 9.67 million shares, or a 2.02% block, changed hands offmarket at 74 sen apiece or RM7.16 million overall.
At the time of writing, there were no updates on substantial shareholding changes at Hume Industries. On April 16, it had fixed the conversion price of its upcoming rights issue exercise at 70 sen.
The cement producer saw net losses widen to RM46.08 million in the financial year ended Dec 31, 2018 (FY2018) versus RM3.9 million net losses in FY2017. Revenue was flat at RM323.31 million for FY2018.
Last Tuesday, Hume Industries' share price closed at 74 sen for a market capitalisation of RM354.53 million. The counter has dropped 51.32% over the past 12 months.
MyEG Services Bhd saw multiple direct sales between May 10 and May 14. On May 10, two such transactions saw blocks of 23.03 million (0.66%) and 28.17 million (0.81%) being sold for RM31.78 million and RM38.87 million respectively, or RM1.38 per share.
On May 14, two more transactions of 13.69 million shares (0.39%) and 25 million shares (0.72%) took place for RM18.62 million and RM34 million respectively, or RM1.36 apiece.
Multiple Bursa Malaysia filings show that the sales were done by Asia Internet Holdings Sdn Bhd, the vehicle of chairman Datuk Dr Norraesah Mohamad and managing director Wong Thean Soon, to transfer some of its shareholding to two wholly-owned subsidiaries.
MyEG closed at RM1.41 last Tuesday after a roller-coaster 12-month period that saw the counter go as high as RM1.89 and as low as 69 sen. Its market capitalisation last Tuesday was RM5.15 billion, 16% larger than it was a year ago.
On May 13, 39.69 million shares of 7-Eleven Malaysia Holdings Bhd were sold for RM1.25 apiece. The price values the entire 2.91% stake at RM49.61 million.
The buyer was not known at the time of writing. According to its latest annual report, there were only six shareholders in the company's top 30 largest shareholders with enough shares to sell such a big block in a single transaction.
7-Eleven Malaysia has shed a net 0.5% of its market value over the past 12 months. However, the counter plunged 15.54% between mid-September and mid-December, before recovering with a sharp 17.6% surge between Dec 19 and Dec 31.
Last Tuesday, 7-Eleven Malaysia's share price closed at RM1.48, valuing the group at RM1.7 billion.