This article first appeared in Capital, The Edge Malaysia Weekly, on October 14, 2019 - October 20, 2019.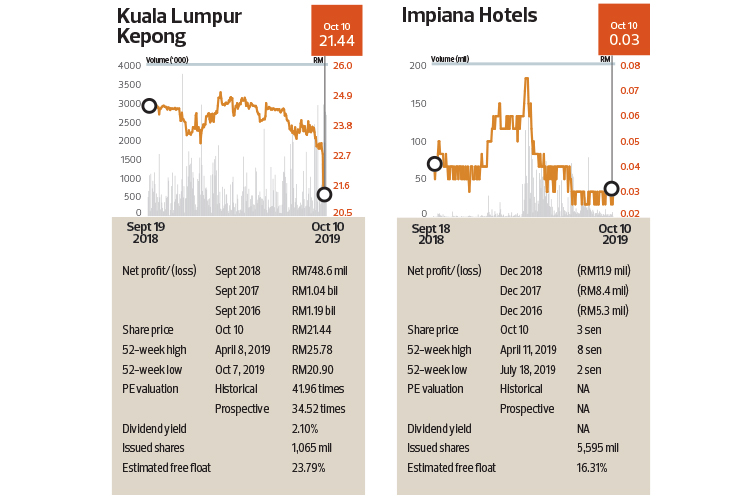 BETWEEN Oct 2 and 8, notable off-market trades included the sale of 30.88 million Kuala Lumpur Kepong Bhd (KLK) shares, or a 2.9% stake for RM21 apiece in a single transaction. The shares were sold via seven transactions of 500,000 shares or more in the mid-morning of Oct 4, with the total transacted price amounting to RM648.48 million.
On the same day, Bloomberg reported that an undisclosed institutional shareholder had sold the shares in a deal arranged by JP Morgan. At RM21, the transacted price was 7.8% below its last close of RM22.78 on Oct 3. On Oct 4, after the sales, the counter fell 6.76% to RM21.24.
At the time of writing, the seller of the block was not known. According to data tracked by Bloomberg, there are only five shareholders with 30 million shares or more, of which the smallest is the Commonwealth Bank of Australia with a 39.67 million shareholding as of Feb 28 this year.
Separately, 500,000 more shares were sold on Oct 2 and 7 for RM23.18 and RM21.30 apiece respectively. Last Wednesday, KLK closed at RM21.30, down 12.97% over a 12-month period. Its market capitalisation was RM22.68 billion.
Impiana Hotels Bhd saw 540 million shares, or about 9.6% equity interest, traded off market between Oct 2 and 8. The transacted price was 2.5 sen apiece, valuing the entire stake at RM13.5 million.
It is unclear who sold the shares. However, as at April 16 this year, only two shareholders directly owned more than 500 million shares each — Datuk Seri Farouk Abdullah with 798.1 million shares (14.26%) and his vehicle, Impiana Sdn Bhd, with 2.98 billion shares (53.22%).
Farouk has held the post of executive chairman of Impiana Hotels Bhd (formerly known as Bio Osmo Bhd) since April 2019 following a reverse takeover that saw the listed company acquire Farouk's hotel business under Impiana Sdn Bhd.
Last Wednesday, Impiana Hotels closed at 3 sen. Its market capitalisation was RM139.88 million, down 37.5% over the past one year.
Over at media solutions provider PUC Bhd, 60 million shares or a 2.69% stake were traded off-market on Oct 8 at six sen apiece, valuing the stake at RM3.6 million.
Over the past year, PUC shares have declined by 58.62%. Last Wednesday, PUC closed at six sen, giving it a market capitalisation of RM133.85 million.
About 10.37 million Green Packet Bhd shares were sold off-market via multiple transactions on Oct 3, 4 and 7. The transacted price was 73 sen apiece, or RM7.56 million in total. The volume traded represents 1.14% of the company.
At 73 sen, the transacted price is a slight premium to the daily closing prices of 71 sen and 72 sen throughout the three trading days. Last Wednesday, the stock closed at 72 sen, which pegs the company's market valuation at RM652.7 million.
At Ta Win Holdings Bhd, about 35.7 million shares or 9.99% equity interest changed hands off-market on Oct 2 at 1.6 sen apiece. The buyer was Triad Capital Sdn Bhd, a vehicle of Ta Win executive director Datuk Sri Ngu Tieng Ung. Ta Win is a copper wire and rod manufacturer.
Triad Capital is the single largest shareholder of Ta Win, according to Bloomberg data. The shares were sold by Tenggara Kapital Sdn Bhd, which is a vehicle of Ta Win's non-executive chairman Datuk Yeo Boon Leong. Yeo is also deemed interested in Triad Capital's shareholding.