This article first appeared in Capital, The Edge Malaysia Weekly, on November 18, 2019 - November 24, 2019.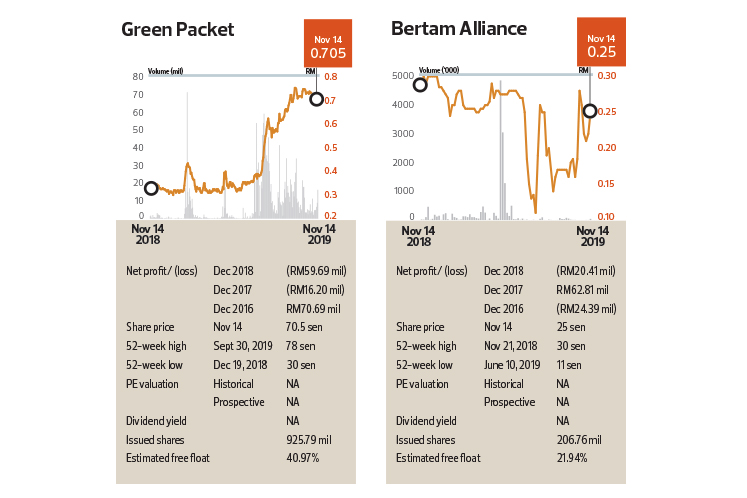 NOTABLE off-market trades during the period under review included those at solutions, communications and digital services company Green Packet Bhd, which saw 133.71 million shares or a 14.4% stake change hands in direct deals for RM97.02 million in total.
On Nov 6, a total of 130.86 million Green Packet shares were traded off market at prices ranging from 72.5 sen to 75 sen apiece. The next day, 1.35 million shares changed hands at 75 sen each. Then, on Nov 12, a further 1.5 million shares were crossed off market at 72.5 sen apiece.
Filings with Bursa Malaysia offer no clue as to who the parties in the transactions were. On Nov 13, the company announced that it had entered into a collaboration agreement with China Mobile Group Device Co Ltd.
The Chinese firm is a subsidiary of state-owned China Mobile Communications Group Co Ltd, whose other subsidiaries include China's largest telecommunications company, China Mobile Ltd.
Green Packet's largest shareholder is its founder and group managing director Puan Chan Cheong, who has a 28.93% stake — held directly as well as via his stake in Green Packet Holdings Ltd.
Over at Bertam Alliance Bhd, the property developer saw 15.62 million of its shares, or a 7.5% stake, change hands on Nov 8.
The shares were transacted at 20 sen apiece — a 9.1% discount to the counter's closing price of 22 sen on Nov 6 and for a total transaction value of RM3.1 million.
A Bursa filing shows that Liu Shenghui, a Chinese national, was the acquirer of the block of shares.
To recap, Bertam entered into a collaboration agreement with Liu on Oct 18. Bertam said that Liu intends to enter into a joint venture with the company for the development of parcels of land that it owns, in particular, its Luyang and Kepayan projects.
The agreement is in line with Bertam's strategy to regularise its Practice Note 17 condition and maintain its listing status on Bursa.
Liu, 56, is involved in various businesses such as the manufacture of pulp, paper and paperboard, production of aluminium from alumina as well as travel agency and technology promotion and application software services. He is also an independent and non-executive director of timber products manufacturer NWP Holdings Bhd.
Offshore crane services provider Handal Energy Bhd saw a block of 11 million shares, or a 5.03% stake, traded off market at 45 sen apiece on Nov 7.
According to a Bursa filing, the shares were disposed of by Borneo SeaOffshore Sdn Bhd and were acquired by SeaOffshore Capital Sdn Bhd.
SeaOffshore Capital is the holding company of Borneo SeaOffshore. The latter first emerged as a substantial shareholder in Handal in July last year.
On Nov 12, Leweko Resources Bhd saw 16 million shares or a 4.97% stake change hands in direct deals at 20 sen apiece. This was a 14.3% premium to the stock's closing price of 17.5 sen on Nov 11.
It is not immediately known who the buyers and sellers involved in the transaction were.
Leweko's largest shareholder is its managing director Kor Beng and executive director Kwan Yet Ming. They control 50.53% of the company via Rengit Capital Sdn Bhd.
On Oct 11, the group, which is involved in the precast business and property development, announced its intention to diversify its existing core business to include construction.
On Nov 12, financial services provider RCE Capital Bhd saw a block of 16.95 million shares or a 4.86% stake cross off market in a direct deal at RM1.55 per share. This was a 1.3% discount to its closing price of RM1.57 on Nov 11.
It is not immediately known who the parties involved in the transaction were.
AMMB Holdings Bhd chairman Tan Sri Azman Hashim is the largest shareholder of RCE Capital with a 60.2% stake, held via Cempaka Empayar Sdn Bhd.