This article first appeared in Capital, The Edge Malaysia Weekly, on June 4, 2018 - June 10, 2018.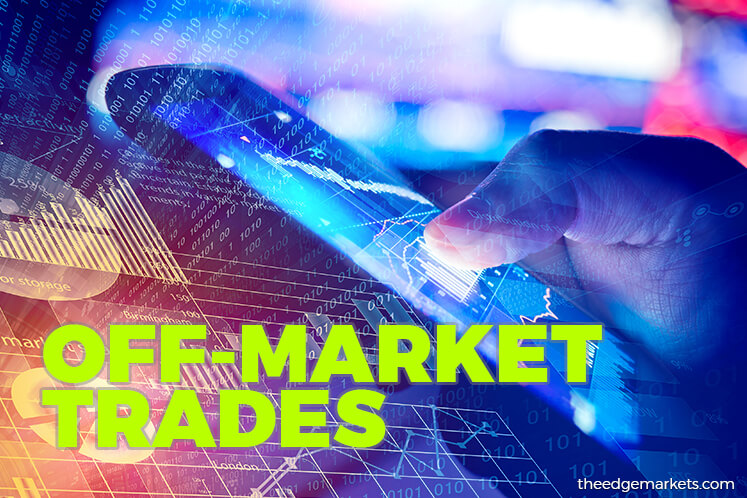 ON May 25, apparel maker G3 Global Bhd (G3G) saw 20.58 million shares or a 4.99% stake change hands in a single direct deal off market at 58 sen apiece. The price was at a 16% discount to the 69 sen at which the stock had closed the previous day. It was also at a discount to the 75 sen to 88 sen apiece the stock fetched on the open market on May 25.
Executive chairman Goh Kok Beng bought the block of shares through Global Man Capital Sdn Bhd, according to filings with Bursa Malaysia. The acquisition raised Goh's stake in G3G to 12.92%.
On May 28, 3.95 million shares changed hands in a separate direct deal off market at 88 sen each. G3G's net asset per share stood at 15.48 sen as at March 31, according to its unaudited first-quarter results, which showed a net loss of RM3.98 million on revenue of RM4.39 million.
G3G's largest shareholder with a 32% stake is Green Packet Bhd, which also saw a substantial number of its issued shares transacted off market during the week in review. The two companies have a common shareholder in Taiwan-listed Gemtek Investments Co Ltd, which holds 30% in G3G and 3.5% in Green Packet.
On May 28, Green Packet saw 30.4 million shares or 4% of its issued shares change hands off market in direct deals. The shares were sold at 22 sen apiece, which was at a seven sen or 24% discount to the stock's closing price of 29 sen on that day. At the time of writing, the identity of the parties involved was not known.
Also on May 28, Green Packet announced a lower net loss of RM3.13 million in its first quarter ended March 31, representing a 42% decline from with the previous corresponding period.
The largest shareholder of Green Packet is its founder C C Puan with a total holding of 28.93%, followed by Tan Sri Kok Onn with 19.45%. G3G's Goh holds 0.89% through Global Man Capital.
Last Wednesday, Green Packet's share price closed at 28 sen apiece, giving the group a market capitalisation of RM214.04 million.
On May 28, Atta Global Group Bhd major shareholder and director Tan Kim Hee acquired four million shares or a 1.92% stake in the company through direct deals at 88 sen apiece, according to the steel product manufacturer's filings with Bursa.
The acquisition increased Tan's holding in Atta to 22.32%. He is the second largest shareholder of the group after G Reka Perunding Sdn Bhd with a 32.28% stake. Atta's share price closed at 89 sen last Wednesday.
MB World Group Bhd, which is involved in property development and construction, saw one million shares or 0.64% of its share base change hands in direct deals off market on May 24 at RM1.70 apiece. The transacting parties were not known at press time.
In the first quarter ended March 31, MB World's net profit jumped 58% year on year to RM10.76 million on a 152.88% increase in its quarterly revenue to RM74.26 million. Its largest shareholder is Simon Sim Yow Yung with a 70.24% stake.
The stock closed at RM1.89 last Wednesday, giving the Johor-based company a market capitalisation of RM292.72 million.
On May 23, instant coffee manufacturer and distributor Power Root Bhd saw 1.76 million shares or 0.54% of its issued shares change hands at RM1.50. The transacting parties were not immediately known. The stock closed at RM1.49 last Wednesday, valuing the company at RM482.2 million.
Save by subscribing to us for your print and/or digital copy.
P/S: The Edge is also available on Apple's AppStore and Androids' Google Play.