This article first appeared in Capital, The Edge Malaysia Weekly, on October 28, 2019 - November 03, 2019.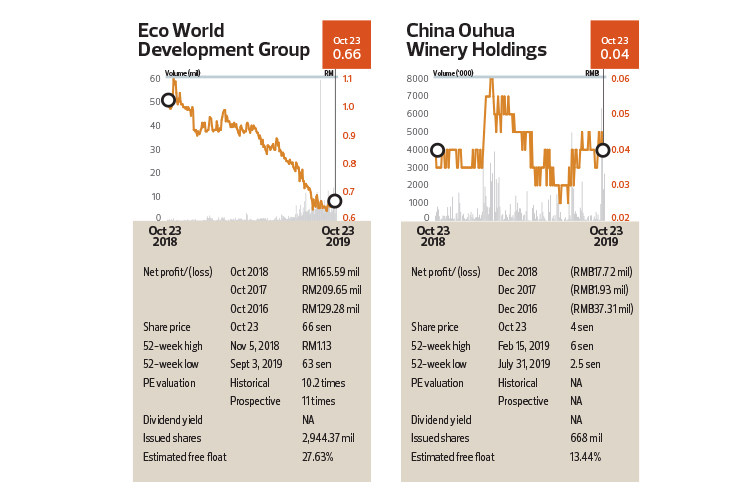 ECO World Development Group Bhd saw a 9.4% block of shares change hands in a direct deal at a 30% discount to open-market prices on Oct 22 — the largest off-market transaction in terms of value and volume during the week in review.
Its chairman Tan Sri Liew Kee Sin bought the 276.99 million shares for RM129.08 million, or 46.6 sen apiece, from his son Liew Tian Xiong, who is also the company's executive director, "for family estate planning", filings on the same day show. Post-transaction, Kee Sin held 9.407% equity interest and was deemed interested in a 5.77% stake while Tian Xiong had 225.78 million shares or 7.67% equity interest.
China Ouhua Winery Holdings Ltd saw 133.6 million shares, or a 20% stake, change hands in six direct deals for RM668,000 in total or half a sen per share on Oct 16.
The shares were sold by its chairman and founder Wang Chao, who, via Shandong-based Hua Xin International Holdings Ltd, still had 182.4 million shares, or a 27.31% stake, after the disposal, an Oct 17 filing shows. He had 47.305% equity interest as at April 10, while 419 holders with at least 100,001 shares each collectively held a 45% stake, according to the company's 2018 annual report.
The transacted price of half a sen was well below the open-market prices of between 4 sen and 4.5 sen, albeit on thin trade of only 70,000 shares. The buyer(s) was not known at the time of writing, and clues are unlikely to emerge from filings. The deals were done in block sizes ranging from 2.99% to 4.8% — below the 5% threshold for substantial shareholding.
When China Ouhua Winery made its debut on Bursa Malaysia in November 2010, Wang saw his stake in the winemaker diluted to 50.9% from 63.5% prior to its initial public offering. At the time, the company raised nearly RM80 million from selling 132.55 million new shares at 60 sen apiece. The stock last traded above 20 sen in 2012.
The company's audited accounts have been coming with qualified opinions from external auditors since FY2013, largely due to questions surrounding the recoverability of a RMB118.8 million deposit, being 90% of cash consideration for the RMB132 million acquisition of land, building and ancillary facilities. In FY2018, the auditors drew attention to the RMB18.6 million net loss, RM14.95 million negative operating cash flow and RMB992,000 net liabilities as well as flagged material uncertainty to going concern.
Green Packet Bhd saw 66.29 million shares, or a 7.3% stake, change hands for RM49.72 million in total or 75 sen apiece in a flurry of direct deals between Oct 16 and 22. At the time, the open-market prices of the stock ranged from 72.5 sen to 77 sen. The largest direct deal was a 1.43% block or just over 13 million shares on Oct 17 for RM9.8 million. Filings offered no clue to the parties involved in the deal at the time of writing.
The company has proposed to place out up to 135.18 million shares, or a 10% stake, to raise between RM56.9 million and RM85.1 million at an illustrative price of 63 sen apiece.
On Sept 27, British Virgin Islands-incepted Summit Synergy Ltd emerged as a substantial shareholder in Green Packet after buying 65 million shares, or a 7.19% stake, via a direct transaction. Stock market data shows 35.2 million shares changed hands in direct deals at 70 sen apiece that day. Between Sept 3 and Sept 27, a total of 187.19 million shares were traded in direct deals at prices ranging from 60 sen to 70 sen — averaging at 63 sen apiece — or RM117.9 million in total.
Founder and group managing director Puan Chan Cheong had a 28.93% stake, of which 18.77% was held directly, as at March 22. Puan is also non-executive director at G3 Global Bhd, which saw 8.44 million shares, or a 2.03% stake, change hands in direct deals for RM29.54 million in total, or RM3.50 apiece, on Oct 17 and 22.