This article first appeared in Capital, The Edge Malaysia Weekly, on April 22, 2019 - April 28, 2019.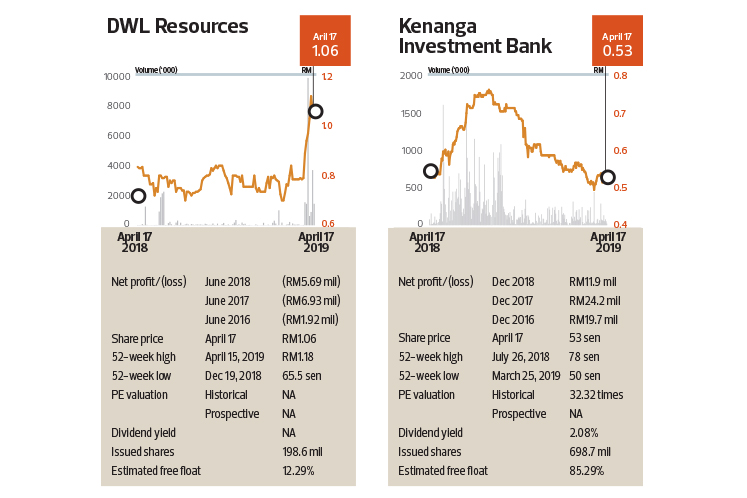 NOTABLE off-market trades during the period under review included 10 million, or 5%, of DWL Resources Bhd's issued shares changing hands on April 10 at 85 sen apiece. No updates were given by the group of any changes in shareholding on that day. However, an April 12 filing with Bursa Malaysia showed a change in the group's ultimate largest shareholders following the acquisition of shares in Greenfield Hills Sdn Bhd by Datuk Seri Aminul Islam Abdul Nor.
Aminul acquired Greenfield from Lim Mun Shung and Tan Ooi Jin, who are also directors of DWL. Greenfield holds 30% equity interest in the ceramics and pottery manufacturer.
Prior to Aminul's entry, DWL saw the emergence of Wan Khalik Wan Muhammad as a substantial shareholder with a 10% stake through his private investment vehicle, Total Sejati Sdn Bhd. Wan Khalik served as the principal private secretary to the chief minister of Sarawak from 2013 to July 2018.
DWL is strengthening its balance sheet by disposing of its property and land assets to raise cash for working capital. The group has entered into agreements that will raise at least RM22.4 million in cash.
Meanwhile, Kenanga Investment Bank Bhd saw 17.75 million shares or a 2.5% stake cross on April 12 at 55 sen per share. Kenanga has not made any announcements on potential changes in shareholding. The investment bank is in the process of acquiring Libra Invest Bhd, a fellow independent investment bank owned by ECM Libra Financial Group Bhd, for RM50 million. The group announced on April 11 that it was seeking approval from Bank Negara Malaysia and the Securities Commission Malaysia for the acquisition.
At Radiant Globaltech Bhd, Tan Chuan Hock acquired six million shares, or 1.14% equity interest, in the retail technology solutions provider off market on April 16 through AI Capital Sdn Bhd. This brings his stake in the group to 9.7%.
Radiant Globaltech was listed in July last year. On Dec 19, 2018, it had entered into two SSAs with Chong Jen Tsin and Tio Hooi Siang for the proposed acquisition of two computer programming and software development companies for a total consideration of RM2.05 million.
In the financial year ended Dec 31 (FY2018), Radiant Globaltech recorded a net profit of RM3 million, on the back of RM61.88 million in revenue. Its largest shareholder is Yap Ban Foo with a 32.13% stake, followed by Yap Sin Sang with 26.08%.
Other notable off-market trades include Inventec Appliances Corp, a Taiwan-based manufacturer of technological devices, emerging as a substantial shareholder of Scope Industries Bhd after acquiring 12 million shares, or a 1.94% stake, in the printed circuit boards assembler on April 10. Inventec acquired the shares from Lee Min Huat via a direct transaction at 15 sen per share. The acquisition gives Inventec a 5.2% stake in Scope, while Lee's shareholding drops to 8.06%.
Scope registered a lower net profit of RM1.46 million for the financial year ended June 30 (FY2018), compared with a net profit of RM4.55 million in FY2017. In the first quarter ended Sept 30, 2018, the group slipped into a net loss of RM432,000, compared with a net profit of RM1.01 million in the previous corresponding quarter.
The largest off-market transaction was the disposal of 85 million Tenaga Nasional Bhd shares by its largest shareholder, Khazanah Nasional Bhd, on April 11. The block was disposed of at RM12.33 per share, or a of total RM1.048 billion.