This article first appeared in The Edge Malaysia Weekly, on June 10, 2019 - June 16, 2019.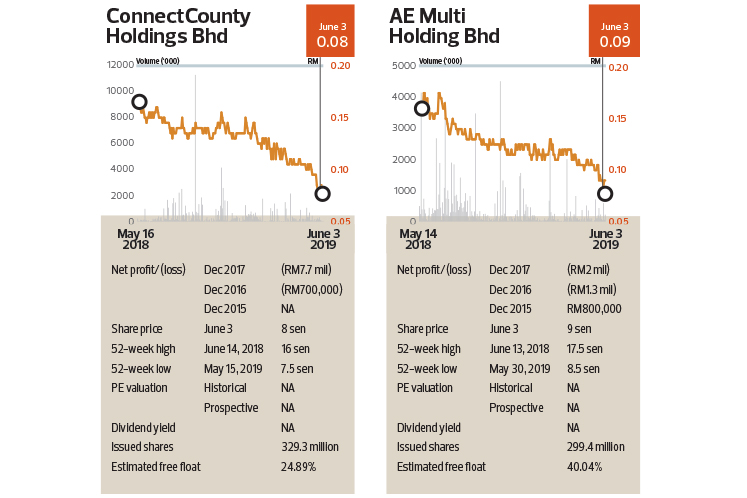 THE largest block of shares transacted off market during the week was at ConnectCounty Holdings Bhd, where 23.86 million shares, or 7.2% equity interest, changed hands in direct trades at 8.5 sen apiece on May 31. The parties involved were unknown at the time of writing.
The company saw a boardroom change on May 29 with the retirement of independent non-executive director Ng Keok Chai.
In March, the cable and connector maker announced its intention to diversify into the film and music industry. It incorporated a wholly-owned subsidiary — IBEX Pictures Entertainment Sdn Bhd — to develop, finance and produce screenplays, films, soundtracks and other media as well as do talent management and film and music merchandising.
AE Multi Holdings Bhd saw 16.08 million shares, or 5.4% equity interest, change hands in direct trades on May 31 at six sen apiece. At press time, the parties involved in the transactions were not known.
In January, the company announced plans to raise up to RM3.29 million in a private placement in order to pare down its debt and reduce its gearing level.
AE Multi saw an improvement in its first quarter ended March as its net loss narrowed to RM154,000 year on year from RM591,000, despite a decline in revenue to RM14.16 million from RM15.89 million previously. According to the company, the narrower net loss was mainly due to the lower cost of goods sold while it also benefitted from a foreign exchange gain owing to the strength of the baht.
Over at SCH Group Bhd, some 27 million shares were transacted in a direct trade on June 3 at 12 sen apiece.
Filings with Bursa Malaysia reveal that non-independent non-executive director Khoo Chee Siang ceased to be a substantial shareholder after he disposed of 27 million shares in an off-market transaction. The party that acquired the block was unknown at the time of writing.
At the end of May, the Securities Commission Malaysia removed SCH Group from its shariah-compliant list.
For the second quarter ended Feb 28, 2019, SCH Group posted a net profit of RM737,000 against a net loss of RM772,000 a year ago, on the back of a jump in revenue to RM22.6 million from RM6.72 million previously.
Some 15.39 million shares, or 4.5% equity interest, of Ni Hsin Resources Bhd were transacted in direct trades at 8.5 sen apiece on June 3. According to filings with Bursa, Ni Hsin managing director Khoo Chee Kong acquired the 15.39 million shares, enlarging his stake in the company to 14.41%, or 45.69 million shares.
In its first quarter ended March 31, 2019, Ni Hsin sank into a deeper net loss of RM899,000 from RM144,000 a year ago. Revenue increased marginally to RM7.71 million from RM7.49 million previously.
Despite the loss, Ni Hsin declared its first interim dividend in almost five years, in the form of a share dividend distribution of up to 24.39 million Treasury units.
Securemetric Bhd saw 10 million shares, or a 4.1% stake, change hands in direct trades at 50 sen each on June 3. At press time, the parties involved in the transaction were unknown.
The company, which recently listed on the stock exchange, announced in May that it had won two contracts with a combined value of RM3.94 million to supply digital security solutions to Vietcombank. The award was given to Securemetric Technology Co Ltd, its wholly-owned subsidiary in Vietnam.