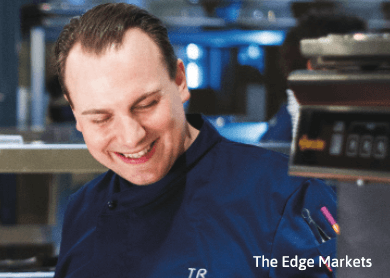 A plump, sweet langoustine tail — lightly battered, fried, then coated with a layer of wasabi mayonnaise — sits atop a pool of diced mangoes and carrots in a slightly thick stock of fish sauce. Taking a spoonful of all the ingredients, the flavours are instantaneously familiar. To a public whose staples at a tze char eatery consist of wasabi prawns, this dish might not be revolutionary. But once the layers of saltiness of the fish sauce, tanginess of the mangoes and the unexpected tinge of ginger spiciness start dancing in step with the sweetness of the crustacean and playful kick of wasabi, anyone can appreciate the exquisite harmony of flavours. The surprise? Though the flavours of the dish are undoubtedly Asian, the chef behind it is proudly German.
Visiting chef of the recently concluded World Gourmet Summit 2015, Tim Raue presented his popular Wasabi Langoustine as part of a six-course WGS Epicurean Delight menu at Skirt, W Singapore Sentosa Cove. The menu also featured many of his Asian-inspired signatures that his two-Michelin-star eponymous restaurant in Berlin is known for.
Precise, straightforward and a stickler for cleanliness: On the one hand, the 41-year-old Berlin native comes across as a stereotypical German. Yet, on the other, as a chef, Raue wholly identifies with the Japanese reverence for quality produce, the Thai balance of flavours and Chinese cooking philosophies.
Raue's love for Asian cuisine was sparked in 2003, after having worked in kitchens around Germany for 12 years. A position as global culinary director at the Swissôtel group meant travelling to Asia frequently. "Up until that point, I was totally European-trained. When I came in touch with the people, the culture and the food of Asia, I actually felt a sense of home. The Asians have a social component to food that Germans lack, but I totally embrace," he explained.
As his wife refused to move to Asia, Raue resorted to buying tons of cookbooks about Japanese, Thai and Cantonese cuisines. For five years, on top of his frequent visits to Asia, Raue studied and practised during private time off from the kitchen, though he did not present any Asian-inspired dishes at his workplace. When awarded the Gault Millau Chef of the Year and first Michelin star in 2007, Raue was upset, as he felt he was honoured for food that he was not cooking with his heart.
While he was able to finally showcase his Asian-inspired cuisine at restaurant Ma during his time as culinary director and executive chef at Hotel Adlon, Raue truly came into his own in 2010, when he opened Tim Raue, co-owned with his wife. Diners lapped up his creative take on Asian produce, flavours and techniques. The restaurant promptly received two Michelin stars in 2012, which it has retained since.
Today, the chef's restaurant empire also comprises Sra Bau, a Japanese-Thai restaurant, La Soupe Populaire, an intimate and edgy restaurant within the refurbished Bötzow Brewery complex that serves Raue's modern take on traditional German dishes, and Studio, a canteen-like space within tech start-up village Factory Berlin — all more casual and affordable establishments than his eponymous restaurant. In particular, La Soupe Populaire became such a hit that it started a trend of restaurants offering contemporary German cuisine sprouting up across the city.
"I don't chase trends nor do I care much about who's doing what within the Berlin dining scene. My cuisine and restaurants work because I am close to my customers, and I tend to have a feel of what works or not," Raue said. Reflecting the creativity and dynamism of his native city, he is constantly looking for new opportunities. He wants to expand his restaurant group through strong innovative concepts, which he hopes will be able to be transplanted overseas. Obviously, Asia is not far from his mind. "I'm lucky to find myself in between two cultures, East and West, and I'm still looking for opportunities to come into Asia." With luck, we might just be seeing Raue again soon.
---
Brought up on a diet of books and dinner parties, it is hard to ascertain which came first — independent writer Joyce Huang's love for words or infatuation with food.
This article first appeared in The Edge Financial Daily, on June 24, 2015.