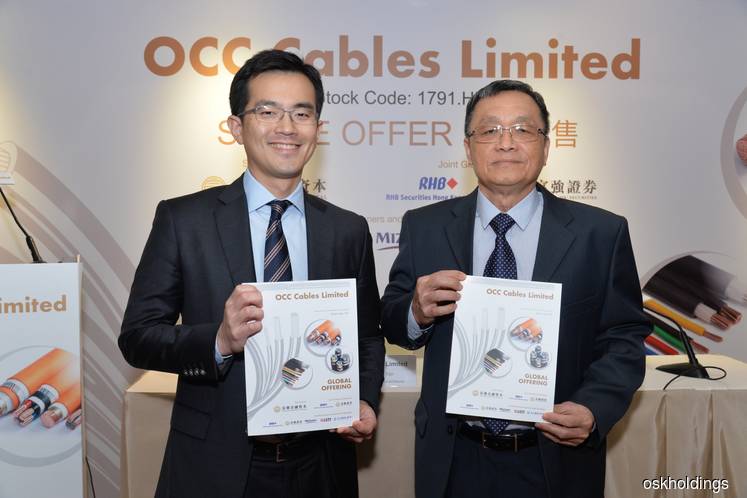 KUALA LUMPUR (Oct 4): OCC Cables Ltd, which is an indirect subsidiary of Bursa Malaysia-listed OSK Holdings Bhd, is expected to raise net proceeds of HK$149 million (RM78.82 million) via its initial public offering (IPO) on the main board of The Stock Exchange of Hong Kong Ltd.
In a statement today, OCC Cables said it plans to offer 270 million shares, subject to an over-allotment option, comprising 27 million public offer shares and 243 million placing shares, at an offer price ranging between HK$0.60 and HK$0.80 per offer share. This represents 27% of OCC Cables share base, with OSK Holdings still controlling 73% of the company via its stake in PJ Development Holdings Bhd and OSK Industries Ltd.
The public offer will open at 9am tomorrow (Oct 5) and close at 12 noon on Oct 11. The allotment results will be announced on Oct 18, and its shares are expected to be listed on Oct 19.
OCC Cables manufactures power cable products for power transmission and distribution systems in Malaysia and Vietnam. According to a report by Frost & Sullivan, the group ranked fourth based on revenue in the wire and cable manufacturing industry, with a market share of approximately 7% in Malaysia in 2017. The group is a registered supplier of certain power cable products for Tenaga Nasional Bhd.
OCC Cables chief executive officer and executive director Yeat Siew Hong said the group plans to expand its production capacity, with proceeds from the listing.
"Besides expanding our sales and marketing team and the product offering to meet customers' needs, we also plan to expand our production capacity to meet the expected increase in the future demand for our power cable products within Malaysia and regionally.
"We believe that our future plans will help us sustain and capitalise on the growth opportunities available to our group in the wire and cable industry in both Malaysia and Vietnam," Yeat said in the statement.
There are still significant acquisition or investment opportunities available in the wire and cable market in Malaysia, Vietnam and within the region, he added.
"Among these opportunities, we are focused on quality power cable products or coverage that would enhance or complement our power cable product offerings," he said.
OCC Cable's revenue for the three years ended Dec 31, 2017 increased from RM196.9 million in 2015 to RM262.1 million, representing a compound annual growth rate (CAGR) of 15.4%. This was primarily due to increase in revenue from the sale of low voltage and medium voltage power cables. For the same period, the group's profit for the year increased from RM7 million to RM19.8 million, representing a CAGR of 68.5%.