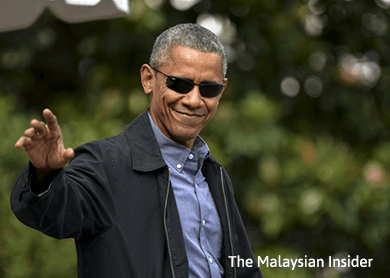 WASHINGTON (Nov 13): President Barack Obama, hoping to kick off a new phase of selling the Trans-Pacific Partnership at home while enhancing its prospects overseas, has enlisted some of the nation's top current and former diplomatic and national security officials to give testimonials.
Obama is meeting Friday at the White House with a group that includes Madeleine Albright, the former Secretary of State under President Bill Clinton, and James Baker, who held that position in the first Bush administration, to promote the 12- nation pact before a summit of Asia-Pacific leaders next week in Manila.
Other officials attending the meeting include former Chairman of the Joint Chiefs of Staff Admiral Mike Mullen, and former National Security Adviser Brent Scowcroft, who both served under Republican presidents. Members of the president's current national security team will also participate, according to a White House official who requested anonymity to discuss the participants of the meeting before it was officially announced.
Obama has spent the week before leaving Washington for consecutive summit meetings in Turkey, the Philippines and Malaysia by making a case for the trade accord, which was released last week and likely will come up for a vote in Congress early next year.
Fragile Coalition
On Tuesday, the president penned an op-ed for Bloomberg View arguing the agreement would benefit working-class families by improving wages. On Thursday, he posted a direct letter to sellers on the online auction site eBay Inc. on the benefits of the trade deal for small businesses who wish to sell their products overseas.
Obama is trying to hold together a fragile coalition in favor of the trade deal, which has been attacked by labor unions as bad for American workers and by the pharmaceutical and tobacco industries, which have argued that it doesn't adequately protect their interests.
U.S. Trade Representative Michael Froman said on a conference call with reporters on Thursday that the administration is working with Congress to chart out the timing for a vote on TPP.
"The president made clear he'd like to get this done as early as possible next year and we're going to consult with Congress about what the most appropriate time is to bring it forward for a vote," Froman said.
House Bill
The administration's margin of error is small. The House approved legislation promising Obama an up-or-down vote on the package by a 10-vote margin in June. The bill got 60 votes in the Senate.
New House Speaker Paul Ryan so far hasn't signaled whether he will support the deal. The Wisconsin Republican was integral to corralling Republican support for the fast-track bill over the summer.
Democrats supporting the bill will do so knowing that all three of the candidates vying for their party's nomination, including frontrunner Hillary Clinton, have come out against the agreement.
s