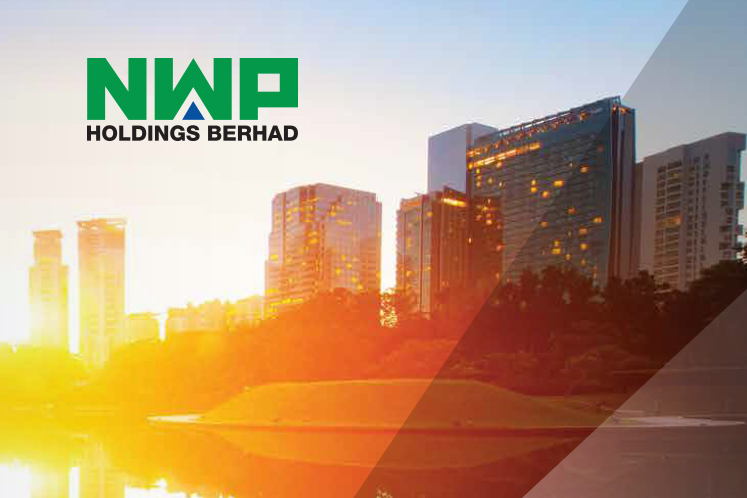 KUALA LUMPUR (June 20): Timber products manufacturer NWP Holdings Bhd and its wholly-owned subsidiary NWP Builder Sdn Bhd have launched legal action against its former executive director (ED) Datuk Zhang Li, seeking a declaration that she had breached her duty of loyalty and fidelity to the two companies.
The two companies also want Zhang to pay damages for the various losses they suffered, with interests at the rate of 5% per year on the assessed damages, costs and other relief as deem fit by the court.
Zhang had held the position of ED of NWP Builder from May 6, 2016 to Feb 22, 2018 and that of ED of NWP from May 6, 2016 to Feb 12, 2018.
In a filing with Bursa Malaysia today, NWP said the companies, via solicitors Messrs Weng Seng & Co, had today served a writ of summons and statement of claim to Zhang. 
In the case of NWP Builder, it is alleging that Zhang had caused the company to enter into a turnkey construction agreement dated Nov 4, 2016 with Listari Marina (MM2H) Sdn Bhd (LM) and a supplementary agreement dated Dec 12, 2017 to take over the construction of a nine-storey block comprising 160 units of services suites called OneLe Tower in Melaka.
Under the contract, NWP Builder had agreed to LM's request and had made advances of RM6.5 million to Cherish Words Sdn Bhd, the previous main contractor, for work done. The advances will be due and refundable by LM to NWP Builder pursuant to the two agreements.
NWP Builder, however, alleged that Zhang had caused it to pay the advances to Cherish Words without obtaining the approval of the board of directors and shareholders of the company.
It also alleged that Zhang had failed to take any reasonable steps to check the credit-worthiness of LM and/or its ability to repay the RM6.5 million, prior to entering the turnkey agreement. 
Due to alleged failure and breach of turnkey agreement by LM, NWP Builder had on Nov 5 last year filed a civil suit against LM seeking RM6.5 million. The suit has been fixed for trial from Dec 9 to 12. 
Additionally, NWP Builder alleged that Zhang had caused it to enter into a sale of shares agreement with Ismail Hassan to purchase shares in an aviation company. She also caused NWP Builder to pay RM4.1 million as deposit, well over the RM631,875 sum of deposit required under the agreement.
"At all material times, the defendant did not obtain the approval of NWP Builder's board and/or the shareholders for the purchase of the shares. Hence, these conditions precedent were never satisfied, yet, a sum of RM4.1 million was paid out for this purchase," said NWP, adding that the sum is still with Ismail and the matter is in the midst of arbitration. 
A third breach that Zhang had allegedly made is failure to cause NWP Builder to enter into a definitive agreement under the turnkey construction heads of agreement (HoA) with M2B World (M) Sdn Bhd, who was awarded turnkey construction of projects by SPNB Aspirasi Sdn Bhd. The turnkey construction contract would have brought RM744.96 million to NWP Builder.
"The defendant was negligent and/or failed in her duties to cause NWP Builder to enter into a definitive agreement within the stipulated deadline, thereby causing the turnkey construction HoA to lapse," said NWP. 
On its part, NWP alleged that Zhang had caused the group to pay herself and other directors RM877,000 as directors' fees without shareholders' approval from Aug 1, 2016 to Nov 27, 2017.
The directors' fees was also never approved by NWP's board, it added. The civil suit is pending case management date to be fixed by the Kuala Lumpur High Court.
NWP said Zhang had also caused it to enter into a memorandum of understanding (MoU) with SCEGC Installation Group Co Ltd on July 4, 2016 "purportedly to jointly develop a strategic partnership for any construction in Malaysia" without the approval of NWP's board. 
 
"The defendant failed to safeguard the interest of NWP in that the MoU was not in the best commercial interests of NWP, given the fact that the MoU binds NWP to award any construction project to SCEGC without the latter even specifying its qualifications, tender pricing and/or terms of appointment," added NWP.
 
NWP said further announcements will be made to Bursa as and when there is a material development on the matter.
NWP shares closed unchanged at 11.5 sen today, with 1.88 million shares done, bringing a market capitalisation of RM49.13 million.