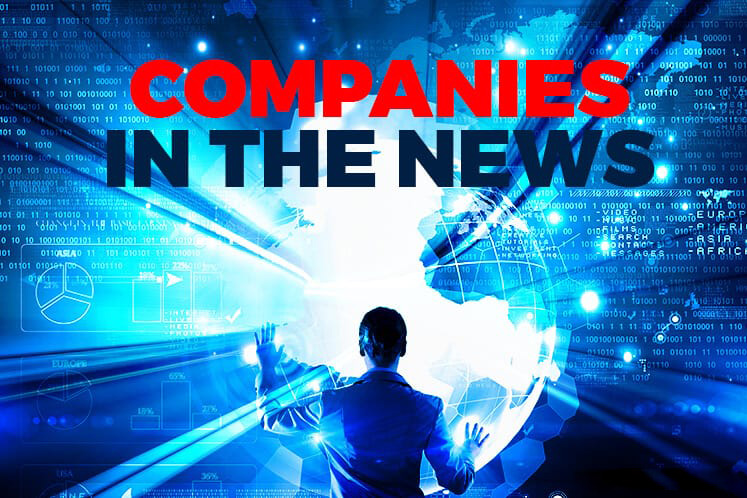 KUALA LUMPUR (Jan 8): Based on corporate announcements and news flow today, companies in focus on Tuesday (Jan 9) may include: NWP Holdings Bhd, Binasat Communications Bhd, Malakoff Corp Bhd, MESB Bhd, AirAsia Bhd, Sime Darby Property Bhd, Yong Tai Bhd, CIMB Group Holdings Bhd, SCH Group Bhd, Ajiya Bhd and Westports Holdings Bhd.
Trading in the shares of NWP Holdings Bhd will be suspended effective tomorrow as the company failed to submit its annual report for the year ended Aug 31, 2017 (FY17) in time.
The stipulated deadline for NWP to submit its FY17 statements was Dec 31, 2017.
Bursa Malaysia said that if NWP fails to submit the relevant statements within six months from the expiry of the timeframe, the exchange may commence delisting procedures against the issuer in addition to other enforcement action that it may take.
Telecommunication support service provider Binasat Communications Bhd opened at a 30.4% premium over its initial public offering (IPO) price on the ACE Market.
The offering drew significant interest with an oversubscription rate of 34.23 times, with a total of 10,465 applications for 458.02 million shares received from the Malaysian public for the 13 million shares made available.
At an issue price of 46 sen, Binasat was seeking to raise RM39.55 million through the IPO to finance its expansion, which include setting up a teleport in the Klang Valley and penetrating markets in Laos, Myanmar, and Vietnam.
Malakoff Corp Bhd is partnering Touch Group Holdings Sdn Bhd on possible collaboration to develop several renewable energy projects particularly in the large-scale photovoltaic (PV) and mini hydropower projects in Pahang.
Part of the Memorandum of Understanding (MoU) entails Malakoff conducting a feasibility study for the purpose of ascertaining the technical and commercial viability of the projects.
MESB Bhd's wholly-owned unit Miroza Leather (M) Sdn Bhd has been granted the right by Crocodile International Sdn Bhd (CISB) to apply the 'Crocodile' trademark on the brand's men products sold in Malaysia.
MESB said Miroza has entered into a licence agreement with CISB, whereby CISB grants Miroza the exclusive licence to use the 'Crocodile' trademark for the design, manufacture, advertisement, distribution, sale and promotion of the items.
The licence is for a period of two years and 11 months commencing Feb 1, 2018 to Dec 31, 2020, which will be renewed for another two years, commencing Jan, 2021.
AirAsia Bhd shareholders have approved the planned AirAsia Bhd-AirAsia Group Bhd (AAGB) share exchange under the budget airline's reorganisation.
The reorganisation will see AAGB assuming AirAsia Bhd's listing status on Bursa Malaysia. It involves the exchange of 3.34 billion existing AirAsia Bhd shares for new AAGB shares on a one-for-one basis.
AirAsia group CEO Tan Sri Tony Fernandes said the reorganisation marked another step forward towards the group's aim of creating a single holding company within Asean.
Sime Darby Property Bhd has lined up a slew of new product launches within its City of Elmina for 2018, including an affordable housing development under the state government programme Rumah Selangorku.
The new launches include semi-detached units in Denai Alam and double-storey linked units in Elmina Green phase 1B.
The affordable housing development is slated to be launched in June.
Sime Darby Property has launched the new Elmina Interchange, which connects the City of Elmina to the Guthrie Corridor Expressway with enhanced accessibility to various areas of the city and surrounding locations, and will be open to the public by 10pm today.
Yong Tai Bhd has secured RM100 million worth of financing from Bank of China for the construction of the Encore Melaka theatre at the group's Impression City mixed development in Melaka.
Yong Tai's subsidiary, PTS Impression Sdn Bhd, signed the facilities agreement with Bank of China for the part financing.
Yong Tai said RM90 million of the loan will be used to finance the construction of the theatre, which cost between RM300 million and RM400 million. The remaining RM10 million will be used for initial operational expenses.
CIMB Group Holdings Bhd's subsidiary Touch 'n Go Sdn Bhd has obtained Bank Negara Malaysia's approval to offer mobile e-wallet services in Malaysia.
Touch 'n Go said the service will be operated by TNG Digital Sdn Bhd, the joint venture company it formed with Ant Financial Group in July 2017.
The mobile e-wallet, it said, will facilitate payments in a cashless and cardless environment by leveraging on Ant Financial's Alipay technology platform, which currently supports over 450 million users in China via its Alipay payments system.
SCH Group Bhd is seeking to raise RM19.06 million through private placement to raise fresh capital for future acquisition, which the company has yet to confirm.
The size of the private placement — to be issued in tranches — is of up to 103 million new shares which is equivalent to about a quarter of SCH's existing share base of 412.24 million shares.
SCH expects the private placement exercise to be completed by June this year.
Ajiya Bhd is teaming up with Ascension Technology Sdn Bhd to promote affordable housing in Malaysia by using Ajiya's innovative construction technique.
Ajiya said its subsidiary Ari Utara Sdn Bhd has signed a MoU with Ascension, which is desirous to purchase from Ari Utara, the Ajiya green integrated building solutions (AGIBS) housing components/materials and to be appointed as the installer of AGIBS for projects undertaken by Ascension.
Westports Holdings Bhd chief executive officer Ruben Emir Gnanalingam  has been redesignated as group managing director.
Gnanalingam, 41, was appointed to his current role on Jan 15, 2009 after joining the board of Westports in July 2005.
He is the eldest son of Westports' executive chairman Tan Sri G. Gnanalingam and has a 45.52% stake in the group.