This article first appeared in City & Country, The Edge Malaysia Weekly, on November 5, 2018 - November 11, 2018.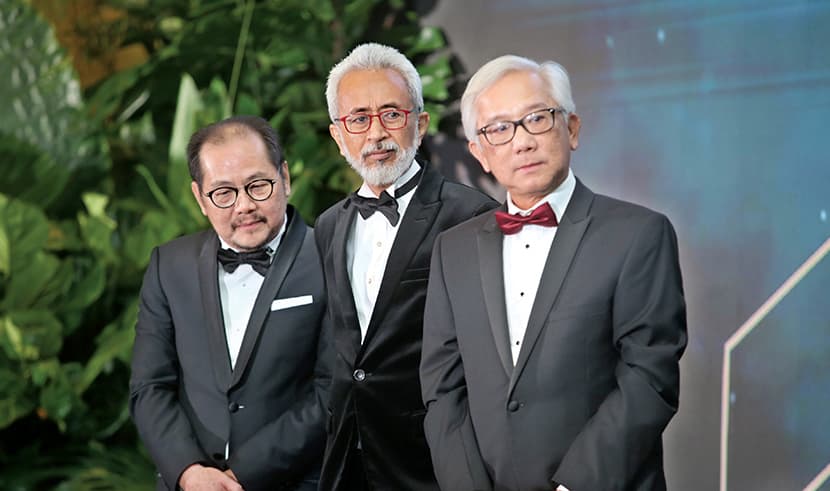 Raja Kamarul Bahrin Shah flanked by The Edge Media Group chairman DatukTong Kooi Ong (left) and Ho Sam Fong/The Edge
Ho (fourth from right) and The Edge Malaysia editor-in-chief Azam Aris (third from left) with the City & Country team (from left) editor Rosalynn Poh, deputy editor Wong King Wai , assistant editor Racheal Lee, deputy editor E Jacqui Chan, senior writers Chai Yee Hoong and Hannah Rafee and writer Ethel Khoo Suhaimi Yusuf/The Edge
Dear readers,
The Edge Malaysia Property Excellence Awards (TEPEA) celebrated its 16th iteration at a gala dinner on Oct 29, with Housing and Local Government Deputy Minister Datuk Raja Kamarul Bahrin Shah Raja Ahmad as our guest of honour.
There were many familiar faces at the event celebrating top developers in Malaysia. Moreover, notable projects were also recognised for their innovative designs and contribution to the property landscape.
The event also provided an avenue for industry players to mingle and network, which is something of a welcome respite during these challenging times. However, optimism is in no short supply among the industry's best as many of them have weathered several economic slowdowns and proved adept at adapting to market changes.
While the current focus is on affordable housing, many developers believe that the government should provide incentives to help clear the overhang, or unsold properties, in the property market. But the government is facing its own financial constraints.
We believe it is also time for the industry and government to embrace out-of-the-box solutions to address the issue of affordability so that more young Malaysians can own their first home. We must not always depend on government initiatives.
But this year, the awards recognise the top property developers as well as pioneering and affordable housing developments. We also have personality awards to recognise outstanding leadership and CEOs who have led their companies with focus and strong vision.
This year, the recipient of The Edge Malaysia Lifetime Achievement Award is Tan Sri Teo Chiang Kok of Bandar Utama City Corp Sdn Bhd. The Outstanding Property CEO Award went to Tan Sri Eddy Chen of MKH Bhd and Anwar Syahrin Abdul Ajib of UEM Sunrise Bhd.
We thank our partners, Malaysian Institute of Architects (PAM) and Association of Valuers, Property Managers, Estate Agents and Property Consultants in the Private Sector Malaysia (PEPS), for their continued support.
PAM helps evaluate properties that practise good sustainable practices and use eco-friendly products, while PEPS appraises projects that achieve strong capital appreciation, showcasing the developers' ability to create value for their buyers.
While the property industry continues to face a soft market, the outlook continues to remain positive. The new government is working hard to get the country back on track amid weaker global growth. Nonetheless, the property industry continues to not only build homes but also play its part in nation building.
This special edition of City & Country showcases the various thoughts, views and insights of the award recipients.
My heartiest congratulations to all the winners and a big thank you to our partners, Auto Bavaria and USG Boral.
Ho Kay Tat
Publisher and Group CEO
The Edge Media Group