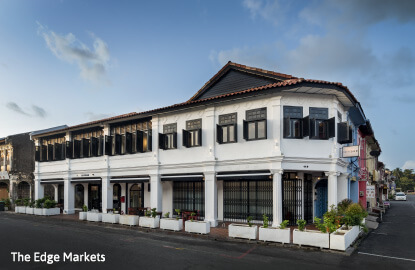 This article first appeared in
haven, The Edge Malaysia,
on Issue #82 December 2016 - February 2017.
Old meets new world charm in Alor Setar
 
At the corner of Jalan Penjara Lama in Pekan Cina, Alor Setar, Kedah, lies a row of refurbished shophouses that still retain their colonial charm. An eloquent testimony to this is that their walls are painted a striking white while their window sills and iron grills are in a contrasting black. 
Dating back 120 years, the shophouses were once an entire building that had fascinating occupants over the years. Constructed in 1896 in the then British Malaya, the building was first used as a prison, then became the den of opium smokers and later budget lodgings for labourers. 
Its current owner, Datuk Rick Cheng, 43, who oversaw the refurbishment project, says, "Before the Japanese occupation of Malaya in 1941, the prison was relocated to its current premises at Jalan Sultanah and the old building was sold to an individual in Penang. The former proprietor had divided the ground floor into four shoplots fronting Jalan Penjara Lama, of which the first and second were leased to a salted fish merchant and the third to a tobacco leaf trader. The fourth was a vegetable-cum-provision shop whose name, Kaew Hin & Co, is still preserved on the façade of the building." 
Cheng is also the managing director of Encomas Sdn Bhd and chairman of the Real Estate and Housing Developers' Association Malaysia (Kedah and Perlis branch).   
Occupying this historic landmark today is Caffé Diem, the first homegrown third-wave café, which relocated from its old premises just two doors and an alley away. Established in May 2013, Caffé Diem was founded by 29-year-old coffee enthusiast and barista Jackie Loo. 
On his partnership with Loo, Cheng says, "Almost three years ago, my wife and I stumbled upon Caffé Diem, which was then situated in a small ground floor shophouse and met Jackie for the first time. We frequented the café for a good cup of coffee and a chat. But the café was always full. So one day, I sold Jackie the idea of moving into a bigger space and offered him the use of an abandoned heritage building we had just bought. And, as they say, the rest is history."
The second-generation scion of a family now firmly entrenched in the construction sector, Cheng founded Encomas with his 70-year-old father, Cheng Meng Chit, in 2000. After having launched and completed residential and commercial developments in Perlis and Kedah since its inception, Encomas took on its first restoration project. It took the company a year and a half to fully restore the heritage building for Caffé Diem. 
"The idea was that we identify and confirm the tenant first before restoration begins. Most developers or building owners would perhaps buy over a heritage building and restore it first and then only lease out to tenants but we wanted to avoid this. This was a project that we were willing to take our time with and to understand our tenant's needs," says Cheng.
"Jackie and I began a partnership even before the restoration project was thought of, so we both knew exactly what we wanted to do in terms of interior design and layout. This was also to minimise unnecessary hacking considering the building's age.
"Jackie and I are locals here. We have a strong attachment to this area. In fact, my mother used to go grocery shopping across the street when I was young. But never once did I imagine that I would own a building in Pekan Cina. I am very proud to have embarked on this project.
"We want Pekan Cina to be a focus point in Alor Setar because unlike Melaka, Ipoh, Penang or even Langkawi, this city has not been heavily promoted by the tourism industry."
The coffee bar
Standing in front of Caffé Diem, which has been awarded the silver mark under the provisional GreenRE certification for existing non-residential properties, the automatic door slides open and patrons are greeted by cheerful young baristas behind the counter. To the left, there is a cosy sitting area with a long high table that seats eight and a window counter that overlooks the busy street outside. But what really caught our attention was the row of three white-and-black lanterns illuminated in red hanging above the table. This work was commissioned to one of three lantern makers in Malaysia — Chuen Mun Wai, 37, of Tjoan Lantern in Ipoh, Perak. "We thought it would be interesting to incorporate Caffé Diem's logo into something as traditional as a lantern. And being in Pekan Cina, it is only apt to decorate the café with Chinese elements. Unlike the usual way of displaying lanterns, we hang them indoors instead of outside. Five more handmade lanterns are displayed upstairs in the China room," explains Cheng as he takes us on a private tour of the joint. Admiring the lanterns up close, we learn that their base is made of wood and the maker's craftsmanship is truly impeccable with attention to the finest detail. 
The Perahu room
Cheng leads us to the back of the café, which is an enclosed double-volume courtyard, where we find two large traditional boats, also known as perahu Kedah, suspended from steel beams supporting the glass roof that allows natural light in. 
"The boats were acquired from a pakcik who lives along Anak Bukit River, across from Anak Bukit Palace. According to him, the boats are at least 90 years old and were used by his great-grandfather and grandfather as the main mode of transport in the early 1900s. The two perahu, a part of the glory days of Pekan Cina when it was an important trading port, have now become a part of Caffé Diem," explains Cheng. He commissioned a third boat from perahu maker Md Amin Bakar, who had lovingly restored the two antique boats. Traditional methods and workmanship were used to make the replica, which is displayed parallel to the windows of the Tunku room, and took six months to complete. The head and tail of the perahu were crafted from a solid piece of Chengal Batu wood. The body was sawed, shaped, moulded and nailed into the major truss of the perahu piece by piece. The gaps between the timbers were waterproofed with tali guni or jute rope covered with bitumen and coated in shellac. 
Adorning the brick walls of the room are framed photographs of luminaries and royalty.
The Tunku room
We head upstairs through a narrow wooden stairway, which had been constructed by Cheng's carpenter to resemble the original as closely as possible, and arrive at the corridor of what used to be three prison chambers. An ink painting depicting a hawker's stall by artist A S Kang and two watercolours illustrating the exterior of Caffé Diem and a mosque by local painter Choh Kiat Siong, 48, are displayed along the hallway. Inside, the cells have been converted into a dining area with wooden flooring. The window bays are covered with glass so that patrons are able to admire the suspended perahu from an elevated height.
Hanging on the walls are photographs of Tunku Abdul Rahman to whom this room is dedicated. One picture shows Tunku listening intently to the radio for election results on July 27, 1955. 
"As a Kedahan, I am proud to have grown up in the birthplace of the first prime minister of Malaysia, Bapa Kemerdekaan. As a sign of respect and admiration, we thought it apt to dedicate a room in this heritage building to our founding father," says Cheng. 
The Tunku room evokes a sense of nostalgia with its wooden furniture — the table was assembled using salvaged wood from the building's original fixtures — and vintage Bakelite light switches.
The China room
Our private tour continues to a vibrant red room down the hall, which was designed to commemorate a part of the building's history — the opium era in Chinatown. "How could we not have a China room when the building is located right in the heart of Pekan Cina?" asks Cheng. "The master bedroom was once the home of the former owner. After being converted into an opium den, it was abandoned for 30 years."
Five beautifully handcrafted lanterns in yellow and red are displayed at varying heights over a large trapezoid wooden table that can seat fourteen. Depicted on each lantern is a Chinese character that reads: family, harmony, all, business and success. The message it conveys is: "Our family and country is at peace and harmony, and we will achieve prosperity and success in everything we do." 
This vibrant room is decorated with objects that suggest the opulence of an opium joint: blue-and-white porcelain ware displayed on white cabinets and an opium chair painted white. 
Displayed on the walls are Nanyang-style ink paintings and watercolours by Kedah-born Lee Choon Kooi, 66. An avid art collector, Cheng has also hung up his personal art collection in the property for visitors to admire.