This article first appeared in The Edge Financial Daily, on May 15, 2019.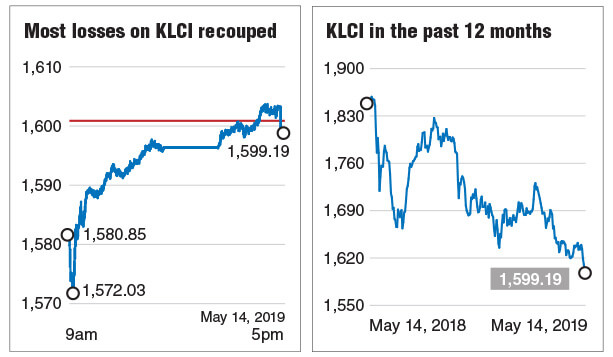 KUALA LUMPUR: The Malaysian stock market is expected to remain volatile in the short term as market sentiments are still dominated by the escalating US-China trade spat, said analysts.
"So far, external factors have not been in our favour," Kenanga Investment Bank Bhd head of research Chan Ken Yew said concerning the market's condition over the past two weeks.
Chan said Bursa Malaysia investors have been waiting for concrete fundamental catalysts to boost the market, but to no avail. "Fundamentally, nothing has changed," he said. Instead, crushing negative news from the US-China trade dispute have only worsened market sentiments.
Last Friday, the US increased tariffs on US$200 billion (RM834 billion) worth of Chinese products from 10% to 25% as US President Donald Trump strengthened pressure on Beijing, threatening additional levies on Chinese goods worth an additional US$325 billion.
In retaliation, China on Monday said it would impose tariffs on US$60 billion worth of American goods from beers and wines to swimsuits, shirts and liquefied natural gas.
The announcements took effect while the two nations were midway through trade talks, seemingly ending in a deadlock. As a result, Southeast Asian stock markets, including Bursa Malaysia, plunged yesterday to historic lows as rattled investors led the markets to a sharp sell-off.
"Without a strong fundamentals, the Malaysian market is very fragile to negative [external] news," Areca Capital Sdn Bhd chief executive officer Danny Wong Teck Meng told The Edge Financial Daily.
Hence, he said, it is now apt to consider midterm prospects and look for fundamentally strong stocks with dividend payments to wait out the storm. With the high volatility, Wong pointed out opportunities to buy these stocks at relatively low prices may arise.
"It is worthwhile to keep these [fundamentally strong] stocks for the next six to 12 months. The market condition right now is similar to the situation in November and December last year. This is the time to look for those stocks," he added.
Yesterday, the FBM KLCI fell as much as nearly 30 points at the opening bell in a gap down before rebounding swiftly, possibly due to bargain hunting. It then pared its gains to close slightly below the 1,600-point mark at 1,599.19, a decline of 1.9 points or 0.12% from the previous day's close. This is the index's lowest point since September 2015.
Regionally, Indonesia seemed to have led losses with the Jakarta Stock Exchange Composite Index falling 1.05% to its lowest level since December last year. Thailand's SET Index fell 0.38%, pressured by its utilities sector, while Singapore's Straits Times Index dropped 0.33%.
Hong Leong Investment Bank head of retail research Loui Low said the markets may have not even seen the worse. He said the KLCI's condition will sustain in the near term, until it is low enough to attract another round of bargain hunting. As soon as the KLCI hits the 1,640- to 1,650-point mark, "we may then see some profit-taking", said Low.
"We are still unsure whether this will lead into a full-blown trade war. I don't see any rebound [coming soon]. It may only be a technical rebound for now," he added.
The ringgit sank further to 4.1715 against the US dollar yesterday, its lowest since December last year.