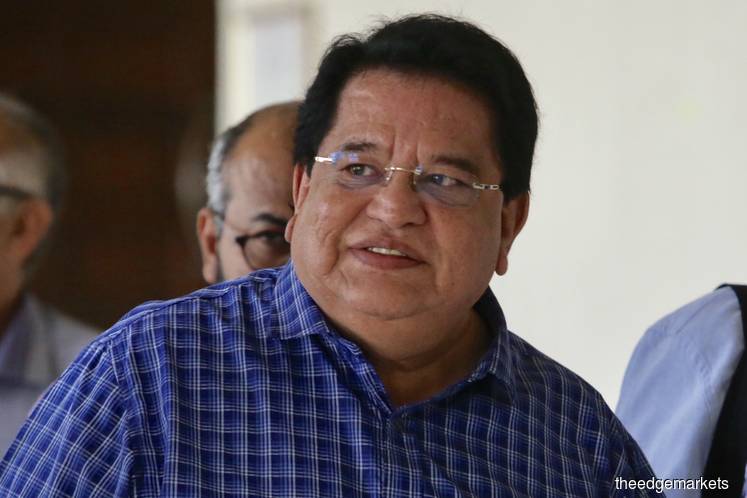 KUALA LUMPUR (July 3): No payment was made by Tadmansori Holdings Sdn Bhd (THSB) after receiving an RM2 million "political donation" from a property developer to UMNO, the High Court was told.
This was revealed by the THSB's assistant manager for account and finance department Rabiatul Adawiyah Sobri, during the second day of trial in the former federal territories minister Datuk Seri Tengku Adnan Tengku Mansor first graft trial.
The money was eventually recorded as a debt-offset for money which Tengku Adnan had borrowed from the company, Rabiatul said.
Rabiatul, who joined the company since Oct 22, 2013, testified that she did not receive any instruction from the company's chief operating officer (COO) Datuk Mohd Hasbi Jaafar to transfer the money out or make any payment from THSB's account to UMNO.
Since working there, she confirmed that there has never been a transaction made to UMNO's account. 
Yesterday, the prosecution led by the deputy public prosecutor Julia Ibrahim said in her opening statement that Tengku Adnan — popularly known as Ku Nan — had sought a "contribution" of RM5 million to RM6 million from Tan Sri Chai Kin Kong — who owned Aset Kayamas Sdn Bhd — for a by-election, but eventually received RM2 million.
The prosecution today called its sixth witness, Mohd Hasbi Jaafar, who confirmed he was told by Tengku Adnan that the RM2 million was a political donation for use in the by-election. 
When cross-examined by Tengku Adnan's lawyer Datuk Tan Hock Chuan, Mohd Hasbi said he was aware that two by-elections were conducted in June 2016 — one in Sungai Besar, Selangor and another in Kuala Kangsar, Perak.
He believes he had received a photo of the bank cheque deposit slip via WhatsApp from Tengku Adnan on June 14, 2016, which the Putrajaya MP told him in a later phone conversation that the RM2 million was a political donation. 
The COO, however, revealed to the High Court later that this transaction was not recorded as such in the company's account.
"What I can say is that after we communicated, we understood that the money was a political donation, but in the (accounting) treatment, we can only consider it as an amount that was advanced to the company," Mohd Hasbi gave his further explanation when asked by the deputy public prosecutor Rullizah Abdul Majid.
Earlier, Mohd Hasbi also confirmed that an RM2 million cheque dated June 14, 2016, issued by property developer Aset Kayamas Sdn Bhd, was deposited into THSB's account.
The 55-year-old, who has been working in THSB for 24 years, said he did not tell the investigation officer during the statement-recording session for this case, regarding the political donation remark. 
The trial will continue this afternoon at 2:15pm.