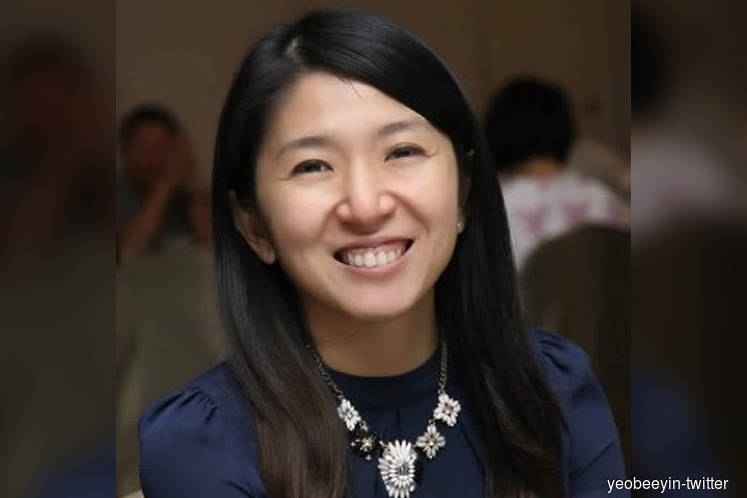 KUALA LUMPUR (Dec 6): Energy minister Yeo Bee Yin has chided the intention of Lynas Corp to consider taking legal action over the government's ultimatum for Lynas to remove radioactive waste currently residing in Kuantan or risk losing the renewal of its permit to operate here come September 2019. 
Speaking outside of Dewan Rakyat today, Yeo reiterated her call for Lynas to "fulfill its promise" to remove from Malaysia, its waste from operations, which now includes over 450,000 metric tonnes of radioactive water leached purification (WLP) solid waste.
"On what grounds can they sue us? We are not abusing our power. If we get sued just because we are enforcing our law to protect the interest of the people, then we are all up for it," she said.
She said the removal of waste is now necessary — amid reported leakages of heavy metals into Kuantan's underground waters — and that there is presently "no near-term solution" for the matter. 
"What if there is major flooding in the area? Who is going to guarantee the safety of the people?" Yeo asked.
"Lynas has made a commitment in their letters of undertaking both from Lynas Corp Ltd from Australia and Lynas (Malaysia) Sdn Bhd, to remove the waste if necessary. I see this as a necessary condition to remove the waste. 
"The waste is accumulating, there is no near-term solution. They can continue to find other solutions for the waste but in the mean time, please, settle your waste problem… or else it will bring higher risk to the surrounding community," she said. 
The Ministry of Energy, Science, Technology, Environment and Climate Change (MESTECC) has set two pre-conditions to Lynas before the former will consider renewing the operating license of the rare earth materials producer in Malaysia. 
The two new pre-conditions set by the Ministry are for the export of WLP residue before Sept 2, 2019 and for the submission of an action plan on the disposal of its 1.11 million tonnes of Neutralization Underflow Residue (NUF), which current approval is valid until Feb 15, 2019.
The waste has been accumulated here since 2012, amid exemptions by related agencies. Yeo explained that the common practice for industrial waste dictates a maximum amount of 20 metric tonnes and a maximum period of six months.
In 2012, Lynas issued a letter of undertaking to the Atomic Energy Licensing Board, in which it agreed to remove from Malaysia, all of its waste generated by LAMP during its temporary operating licence's period "if necessary".
On Dec 5, Lynas argued that the executive review committee report on the operations of the Lynas Advanced Materials Plant (LAMP) in Kuantan, Pahang, recommended it immediately identify and build a permanent disposal facility (PDF) for its WLP residue. 
"Export should only be considered if a PDF is not possible," Lynas said in a statement on Dec 5. 
Lynas mulls all options, including legal, to achieve "appropriate outcome" prior to Sept 2, when its operating license will expire, it said.