This article first appeared in The Edge Malaysia Weekly, on December 14, 2020 - December 20, 2020.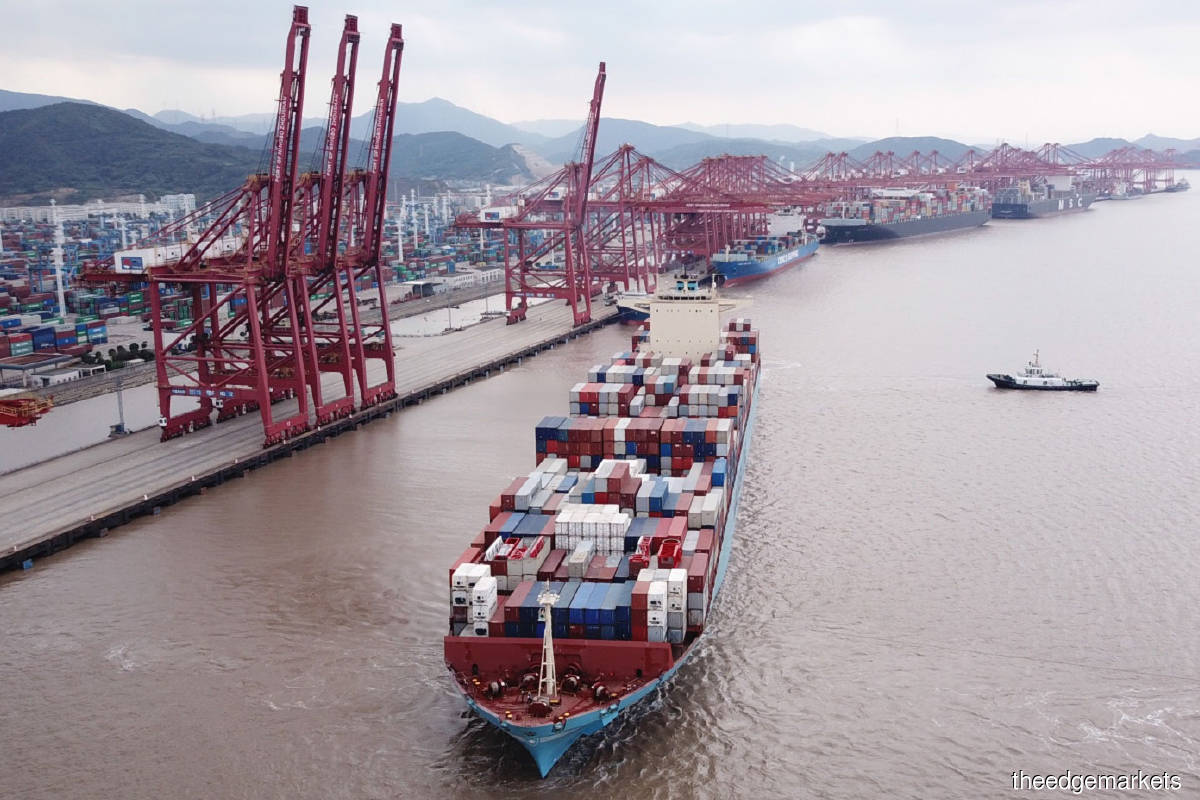 THE current shortage of containers has resulted in high freight rates for exporters and disrupted many Malaysian businesses that trade globally.
This, in turn, has led to calls from the Malaysian National Shippers' Council (MNSC) for the government to intervene and provide some sort of fiscal relief to exporters in the form of tax incentives and the removal of the cap on total logistics costs for a Market Development Grant. (The grant, capped at 30% of logistics costs, is given by the government to encourage companies to expand their market.)
The Federation of Malaysian Manufacturers (FMM) is also urging the government and the port authorities to leverage their relationships with shipping lines to get them to provide more services and capacity to Malaysian ports.
However, some logistics industry players say that while fiscal relief could help Malaysian exporters remain competitive, only a rebalancing of trade flows can rectify the issue of container shortages.
According to Dr Michael Chiam Tow Hui, a council member of the Malaysian Employers Federation (MEF), the request for the government to get more liners to provide more services to Malaysian ports is something that might not be doable.
"This is not something that you can do tomorrow. It takes months or maybe years to plan routes. How do I bring my ships to Port Klang if there is no cargo (from the place of origin)? To bring a ship in is very expensive. It takes time to organise.
"Their trade routes have already been planned long ago, and we know which day they are coming in and which day they are going out," says Chiam, who used to run a logistics and shipping company.
Reason for shortage
The shortage of containers is due to the rebound in economic activities in China, as well as the peak period demand for goods in the US and European markets owing to the Christmas and New Year holidays. At the same time, demand for American and European goods from Asian markets has been weak, which led to an uneven trade flow.
Chinese manufacturers are rushing to fulfil orders and are willing to pay higher freight rates. This has caused shipping liners and container owners to shift their containers to China to serve the inter-Pacific routes between Chinese and American ports. As a result, there is a severe shortage of containers for intra-Asian trades and other trade routes.
While there is high demand for the China-to-Europe routes, Port Klang's position as the last port of call for vessels from China before they make their way to Europe means that they are often full and it is hard for Malaysian exporters to get a slot on them.
The slow return of containers from American ports also exacerbates the matter, as many liners do not want to bring back empty containers to Asia, as that means extra costs for them — costs which are transferred to Asian exporters if they want the containers.
A research report by Fraunhofer Center for Maritime Logistics and Services and Container xChange shows that on average, empty containers spend 45 days in depots. Containers lie idle the longest in Chinese and American ports, between 61 and 66 days.
Container xChange is an online platform that matches shippers with containers and liners. While the turnaround time of containers at China is high, Container xChange also found that the availability of containers at Chinese ports remains at record lows.
The Container xChange Container Availability Index for 40ft high cube shipping containers in Shanghai stood at just 0.05 points early this month, compared with 0.63 points a year ago. Any number lower than 0.5 indicates a shortage of the metal boxes.
Meanwhile, ports in the US are facing extreme congestion. Following the easing of lockdown restrictions in the country in June, ports have been operating at maximum capacity, according to a report quoting Sara Alkawari, supply chain risk intelligence analyst at Resilience360. In addition to higher volumes, Alkawari observes that issues such as labour and chassis shortages have contributed to the ongoing congestion at US ports, with yard utilisation averaging 80% to 85%.
This means that even if the government provides tax incentives, if containers are not available, the operations of Malaysian exporters will continue to be disrupted, says Chiam.
"It is not a matter of tax incentives, but supply chain. Now the problem is there are no containers. It is not because there is no business, but no containers," says Chiam, adding that to rectify the trade imbalance, more trade flows from Europe and North America will be needed.
A logistics operator says that since it is a worldwide problem, even if liners add more ships and services to Malaysian ports, the problem will not be solved. Having more containers may solve the issue, but it takes time to build containers.
China, the world's largest producer of shipping containers, has indicated that it is ramping up production to ease the shortage. Container manufacturers there have already extended working hours from eight to 11 hours to meet production targets.
"Most containers are stuck in the US and other countries, which are still under various measures of lockdowns. Those countries need their logistics companies to go back to full steam to send those empty boxes back into the market.
"Once those boxes come back, things will settle down. Not much can be done in the meantime," says the logistics operator, adding that since Malaysia is not the only country facing this problem, there should not be any direct impact on Malaysian exporters' competitiveness.
"It just shows how low our freight rates were in the past. They were possibly too low as the shipping lines were subsidising them. So, in effect, what has actually happened is that shipping lines have removed the subsidies and are now charging market rate," he says.
Shipping freight rates up 400%
FMM tells The Edge in a statement that the worsening shortage in container and vessel capacity, especially during the second half of 2020, has driven up container shipping freight rates by 300% to 400% for both import and export shipments.
The rates are expected to continue to go up because of the backlog of containers sparked by blank sailings and vessel delays, FMM says.
"FMM members have indicated that the container booking request was cancelled by the shipping lines at the very last minute unless manufacturers were able to pay higher freight rates. For example, the freight rate to export to Australia ex-Port Klang has increased from US$1,200 to US$4,100.
"In addition, some shipping lines have imposed General Rate Increase (GRI) or Recovery Rate (RR) plans to manage their business costs due to the high demand from the global shipping market, which puts Malaysian exporters in an even more difficult situation," the federation says in the statement.
It adds that large importers already enjoying special freight rates with shipping lines owing to long-term contracts are equally badly affected. Shipping lines that used to give large importers more free-time to keep their cargo in the containers at ports to sustain business relations have now reduced the free-time window.
"Shipping lines want the containers back from these importers for the next shipment," says FMM.
The jump in freight costs can only mean higher costs for importers and exporters — costs which will ultimately be borne by consumers.