This article first appeared in The Edge Financial Daily, on May 16, 2018.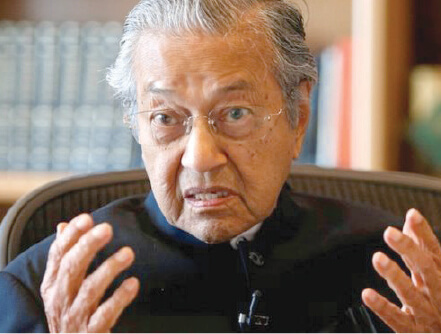 Dr Mahathir: We are not taking revenge against anybody. We are just interested in applying the rule of law.
KUALA LUMPUR: Prime Minister Tun Dr Mahathir Mohamad has flatly rejected any form of deal-cutting with his predecessor Datuk Seri Najib Razak over the latter's alleged involvement in the 1Malaysia Development Bhd (1MDB) scandal.
Dr Mahathir said this when asked by the Wall Street Journal (WSJ) in an interview telecast live in Japan if he would cut a deal with Najib in exchange for information to recover assets and to bring back billions of dollars.
"No deal," the 92-year-old bluntly replied to an earlier question in the interview where he said the authorities are getting into the details of the matter that Najib allegedly suppressed during his tenure as prime minister.
Dr Mahathir reiterated there are no charges against Najib, and that the latter cannot be detained but that he is "apparently" not allowed to leave the country. "We are now in the process of getting into the details of the matter he suppressed during his time [as prime minister].
"The public knows he did a lot of wrong things but he suppressed his case and I am now facing a problem of trying to trust people to investigate him because some of these people, who were with him, sided him and [we do] not know who is going to be loyal to this new government.
"We are slowly getting to the bottom of things and many of the senior officers are volunteering information accompanied by documents. So, we think in the short while, we will have a case against him and we will be able to charge [Najib]," Dr Mahathir added.
Najib was chairman of the RM42 billion debt-laden state fund 1MDB, from which funds were allegedly misappropriated to acquire assets globally, resulting in investigations in seven countries.
He was previously cleared of any wrongdoing by Attorney-General Tan Sri Mohd Apandi Ali after RM2.6 billion emerged in his personal account. The sum was later said to have been donated by the Arab Saudi royalty.
In July 2016, the US Department of Justice (DoJ) filed a civil forfeiture suit to recover assets including a yacht, jewellery, paintings, real estate and movie rights amounting to US$3.5 billion, allegedly bought with stolen funds from 1MDB.
The DoJ also named Malaysian businessman Low Taek Jho (Jho Low) as the key person of the civil suit, and said to be Najib's adviser in the business deals.
Dr Mahathir said the Malaysian authorities have a lot of information including some from the DoJ on Jho Low's whereabouts.
"[We know this] because all money transactions are documented. We know where the money is and once we have discovered the money or identified the people involved, we will take the legal action for extradition. Of course, we want to bring him back and put him on trial," he said.
On when Najib could be expected to start jail time in Malaysia, Dr Mahathir said: "It all depends on [the] investigation being made and whether there is a case against him or not. If there is no case against him, we don't go for detention without trial."
About whether his goal in the 1MDB investigation is to recover assets and money and if he could give an assurance to Malaysians that it is not about settling scores or to establish control over the judiciary, Dr Mahathir shot back, saying the "assumption that I was a dictator is completely without basis".
"Did you study about my involvement in the judiciary system or is it something you read or [that] was reported in the past? I think that assumption that I was a dictator is completely without any basis.
"Dictators don't resign and don't get accepted by opposition parties to lead them again. That is the explanation to your question but I have to do my work to find out who abused the powers of the country, and if they have done something against the law, the law will take its course.
"We are not taking revenge against anybody. We are just interested in applying the rule of law," Dr Mahathir said.