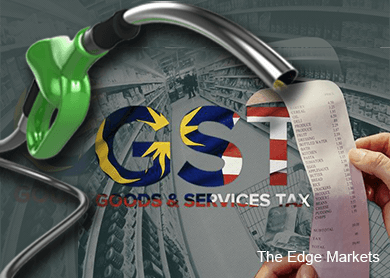 KUALA LUMPUR (Apr 1): Retail prices of fuel will remain the same today, with RON95 and diesel selling at RM1.95 a litre and RON97 at RM2.25 a litre, as Malaysia braces for the implementation of the goods and services tax (GST).
In a statement yesterday, the Domestic Trade, Cooperatives and Consumerism Ministry said only RON97 will be subjected to the 6% tax, which will take effect from 12.01am on April 1.
Putrajaya ended the subsidies system last December after global oil prices slid to below US$60 a barrel as oil-producing countries kept production up despite a souring world economy that slowed consumption.
Since December 1, the retail price of fuel has been set by a managed float method and a new price is announced before the start of each month. Prices in December were RM2.26, RM2.46 and RM2.23 for RON95, RON97 and diesel, respectively.
Global oil prices had been on a downward slide since June due to excess production, which prompted Malaysians to believe that they were looking at cheaper oil prices in 2015.
It was reported today that crude oil was falling with Brent crude oil price, the international benchmark, dropping to around US$55 a barrel. In late February, the price was US$62.58 a barrel.
US crude was at US$48.01 a barrel, compared to US$49.76 per barrel end of last month.
Reuters reported the drop could be related to talks between Iran and six world powers over a nuclear deal that could see the energy-rich country increase oil exports to world markets.