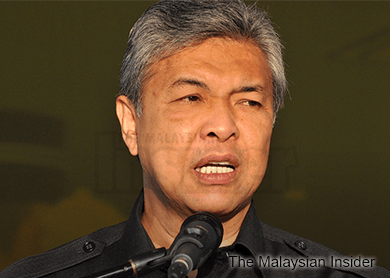 (Oct 2): Racism in Malaysia is isolated but must be stopped completely to prevent such sentiments from spiralling into "ethnic cleansing", Deputy Prime Minister Datuk Seri Ahmad Zahid Hamidi said today.
Speaking about ethnic conflict in the regional context of Asean, Zahid, who is also the home minister, said such threats should be nipped in the bud.
"Racism, to me, is an isolated case, but with regard to militancy, radicalism and extremism, it is more widespread.
"We are concerned that if racism is not prevented from the start, it could lead to ethnic cleansing as has happened in several countries. This must be avoided," he said after chairing a special Asean ministerial meeting on radicalisation and extremism in Kuala Lumpur today.
Zahid's comments follow Prime Minister Datuk Seri Najib Razak's address at the 70th session of the United Nations General Assembly yesterday, where he condemned the militant group Islamic State of Iraq and Syria (Isis) and urged other governments to reject its ideology and to act against it.
In Malaysia, the recent "red shirt" rally in Kuala Lumpur saw Malays protesting against the earlier Bersih 4 rally, which they said had insulted Malay dignity. The Bersih rally, however, had called for democratic reforms and Najib's resignation over alleged financial scandal.
The "red shirt" rally on September 16 saw racial rhetoric being spewed, with slurs, such as "Cina babi" (Chinese pigs) and calls for vernacular schools to be abolished.
A group of protesters had also tried to breach a police barricade at the Petaling Street shopping strip, an area largely dominated by Chinese traders.
A spokesman for the "red shirts", Datuk Jamal Md Yunos, is a member of the ruling Malay party, Umno, of which Najib is president and Zahid deputy president.
Jamal recently threatened to stage another rally in the opposition-held constituency of Kajang to protest against the alleged poor services of its assemblyman, opposition leader Datuk Seri Dr Wan Azizah Wan Ismail. – The Malaysian Insider