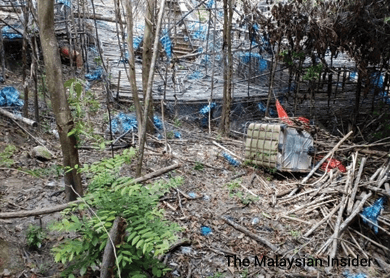 (June 1): Minister Datuk Seri Shahidan Kassim, who described a human trafficking camp along the Malaysia-Thai border near Kampung Wang Kelian as "very nice", suggested turning it into a tourist attraction, the Star Online reported today.
He reasoned that it was the largest camp along the 16 campsites found and located about 100m from the border, adding that it was about the size of a football field and that "everything is still intact".
He also said that turning it into a tourist spot would deter human traffickers.
"There is a surau, a mosque, an imam house, vegetable farm and many more. There are also some writings in Thai inside the mosque.
"Let the tourists see where it all happened.
"With this as a new tourism spot, it will also deter human-trafficking activities from taking place as there will be more people coming in and out," he was quoted as saying.
Shahidan said he also found Thai beer cans and playing cards, adding that this was an indication that an estimated 600 people lived there.
"In my opinion, I don't think the camps were built by Malaysians unless they were communists.
"The structures at the campsite reflected expertise. I call for the police to process this camp fast to give the people an answer that this camp was not built by Malaysians.
"I'm sure the former communists in our country are too old for this," he reportedly said.
Police found 139 suspected graves near 28 human-trafficking camps in the jungle of Wang Kelian near the Malaysian-Thai border when they began combing the area from Tangga Seratus to Kampaung Wai from May 11 to May 23.
The camps were built deep in the hilly jungle and are difficult to access.
Some camps were huge and could have held hundreds of migrants, who were mainly believed to be Rohingya refugees from Myanmar and Bangladeshis brought across the border to Malaysia from Thailand.
Police have since found and sent for post-mortem four skeletal remains.
Last week, Inspector-General of Police Tan Sri Khalid Abu Bakar said police had previously been unable to pinpoint the exact locations of such camps until recently, following the discovery of camps in Thailand, near the border, early this month. – The Malaysian Insider