This article first appeared in The Edge Malaysia Weekly, on December 28, 2020 - January 10, 2021.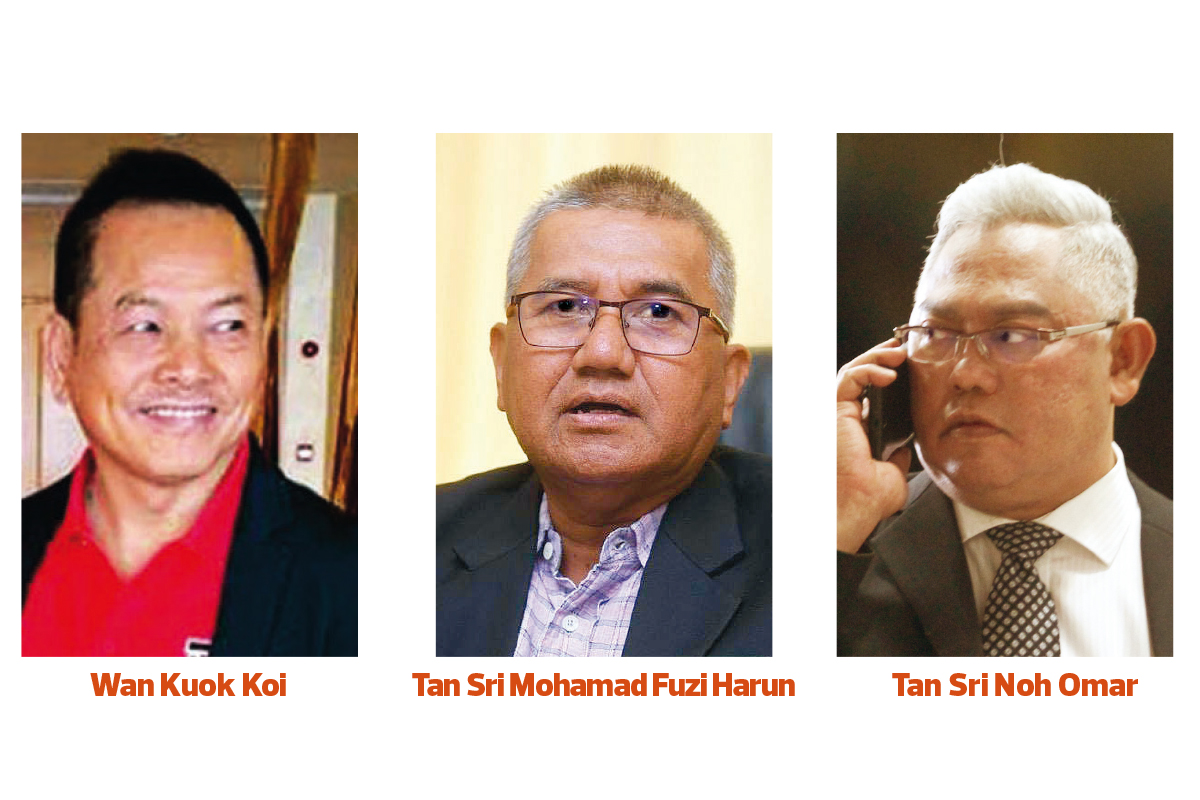 THE back-to-back appointments of Macau tycoon Wan Kuok Koi and former inspector-general of police (IGP) Tan Sri Mohamad Fuzi Harun as non-executive chairman of Inix Technologies Holdings Bhd were as shocking as their abrupt resignations. Fuzi's tenure is even shorter than Tan Sri Noh Omar's three weeks as chairman of MISC Bhd.
Wan Kuok Koi
Former chairman
Inix Technologies Holdings Bhd
Wan, 65, was the dragon head, or leader, of the infamous 14K triad, which operated out of Macau, a former Portuguese colony. It is said his reach spanned many parts of Europe.
Wan is better known by his gang moniker, Broken Tooth Koi. He was released from prison in Macau in December 2012 after serving a 14-year sentence for charges that included loan-sharking, money laundering and heading a criminal group, according to news reports.
Inix hogged the limelight in August when it announced Wan's appointment as its independent and non-executive chairman.
At the time, several Hong Kong celebrities, via pre-recorded videos, congratulated Wan for being part of Inix, which "would become the world's largest glove manufacturer". Some of the videos are still on YouTube today, although comments have been disabled.
Interestingly, in Inix's Bursa Malaysia announcement on the appointment of Wan, it states that he is "president of the World Hongmen Historical and Cultural Association".
According to macaobusiness.com, the World Hongmen History and Culture Association describes itself as "a fraternal Chinese cultural group with tens of thousands of members globally, with plans to establish schools for ethnic Chinese living in other countries to learn about Chinese culture". Those familiar with Chinese culture say "Hongmen" are akin to secret societies or triads.
In August, Inix saw considerable volatility in its share price, which more than quadrupled from 20 sen on Aug 6 — a day before Wan's entry — to a peak of 81.5 sen on Aug 11. Six days later, it tumbled to 31 sen, and it has been trading sideways since.
After serving a short stint of less than four months, Wan resigned on Dec 2 "to pursue personal interests". It remains to be seen whether Inix will continue to pursue the plans it had mooted earlier, including its venture into the glove sector, to develop a Covid-19 vaccine, and its business diversification into the durian industry.
In early December, Reuters reported that the US had slapped sanctions on Wan, owing to his activities at the helm of the 14K triad.
Tan Sri Mohamad Fuzi Harun
Former IGP
Former chairman of Inix Technologies Holdings Bhd
On Dec 2, the day of Wan's resignation, Inix announced that Tan Sri Mohamad Fuzi Harun, a retired inspector-general of the Royal Malaysia Police, would take over as the group's independent and non-executive chairman.
Mohamad Fuzi, who also sits on the boards of Jaya Tiasa Holdings Bhd and Tropicana Corp Bhd, served in the police force for 35 years.
He joined the Royal Malaysia Police in 1984. After completion of basic police training, he was attached to the Special Branch from 1986 to 2014 and served in various capacities, including deputy director of the Special Branch and director of the Special Task Force on operation and counter terrorism.
Mohamad Fuzi also served as the director of the management department for more than a year and was subsequently promoted to director of the Special Branch in July 2015. In September 2017, he was further promoted to IGP, the highest-ranking position in the Royal Malaysia Police, holding the post until his retirement in May 2019.
Quite astonishingly, Mohamad Fuzi resigned merely five days after his appointment. In a bourse filing, Inix announced that the 61-year-old had resigned to "spend more time on personal interests and ongoing businesses".
Succeeding the former IGP as Inix's chairman is Tan Sri Syed Mohd Yusof Tun Syed Nasir, popularly known as Jojo. The 73-year-old was chairman of YLI Holdings Bhd — a post he relinquished in January. He is now a non-independent non-executive director of property developer Titijaya Land Bhd.
Tan Sri Noh Omar
Member of Parliament of Tanjong Karang
Former chairman of MISC Bhd
Eyebrows were raised when Tan Sri Noh Omar resigned from MISC Bhd on June 17, less than three weeks after joining its board as chairman. The shipping company released a statement the next day, saying Noh Omar reached the decision after discussing the matter with Prime Minister Muhyiddin Yassin.
The Tanjong Karang Member of Parliament is remembered for saying in Dewan Rakyat last year that "stealing is only a crime when caught red-handed".
The lawmaker made the analogy when trying to demand equal and fair treatment for all politicians entering schools after learning that principals who admitted him into their premises had been warned against it by the State Education Department.