This article first appeared in The Edge Malaysia Weekly, on December 25, 2017 - December 31, 2017.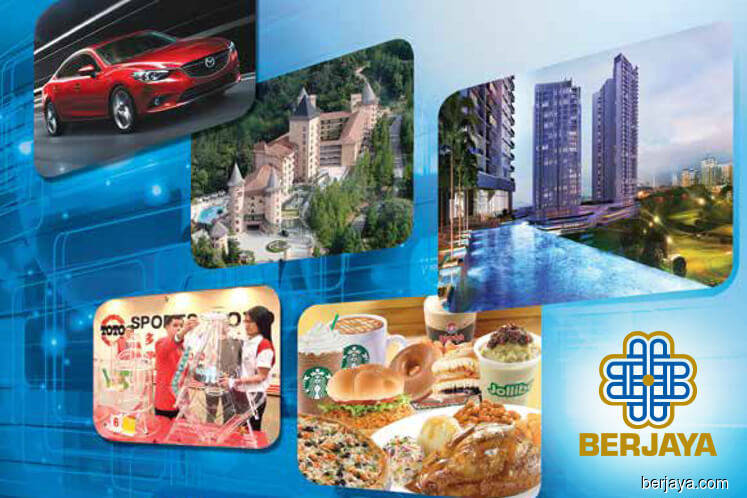 BERJAYA Corp Bhd (BCorp) founder and adviser Tan Sri Vincent Tan Chee Yioun took back the reins as executive chairman of the local conglomerate on Nov 1, after relinquishing it five years ago.
He took over the position from his son Datuk Seri Robin Tan Yeong Ching, 43, who will remain as CEO of the diversified group.
Vincent, 65, had relinquished the position on Feb 23, 2012, citing his wish to focus on philanthropic work.
BCorp said during that period, Vincent embarked on various charitable and social programmes and initiatives but at the same time, continued to explore new business opportunities for the group as its founder and adviser.
Interestingly, Sultan of Johor Sultan Ibrahim Sultan Iskandar has been raising his stakes in companies that are linked to Vincent.
Sultan Ibrahim increased his equity interest in 7-Eleven Malaysia Holdings Bhd to 15.52% on Nov 16, from 9.84%. He is the second biggest individual shareholder in the company after Vincent.
In fact, the ruler has been increasing his holding in the convenience chain store operator since Aug 8, when he bought an 8.43% stake.
In October, Sultan Ibrahim also emerged as a substantial shareholder in Berjaya Assets Bhd (BAssets) with a 10.09% stake.
Ultimately controlled by Vincent, BAssets is the developer of Berjaya Times Square in Kuala Lumpur — one of the country's largest retail and commercial projects. The group also owns Natural Avenue Sdn Bhd, which operates number forecast lotteries in Sarawak.
BAssets has also signed a licence agreement with Greyhound Café Co Ltd for exclusive rights to establish and operate cafés under the Greyhound Café trademark in Malaysia.
Sultan Ibrahim Sultan Iskandar
Sultan of Johor
Sultan Ibrahim has been one of the most outspoken Malay rulers on various national issues. Earlier this year, his firm, moderate stand on the controversial Muslim-only launderette in Muar earned him praise.
The ruler decreed that the state Islamic Religious Department (JAIJ) should no longer waste its time dealing with the Malaysian Islamic Development Department (Jakim) and that the federal department should stop offering its views to Johor.
He also directed JAIJ to carry out checks on Muslim preachers in the state and revoke their credentials if something seemed out of place.
It is worth noting that the entrepreneurial ruler has already invested in a few companies in which Vincent also has a stake. They are 7-Eleven Malaysia and telecommunications solution provider REDtone International Bhd and telecommunications operator U Mobile Sdn Bhd.
Vincent had said he is very pleased that Sultan Ibrahim has continued to increase his stake in the convenience chain store.
"This reflects his continued confidence in the capabilities, performance and business potential of 7-Eleven Malaysia," he said.
While Sultan Ibrahim is not a shareholder of Iskandar Waterfront Holdings Sdn Bhd (IWH), he is a key figure who has been linked to IWH and tycoon Tan Sri Lim Kang Hoo, given the sheer scale of IWH's land bank in Johor. It is worth noting that Kumpulan Prasarana Rakyat Johor has a 36.9% stake in IWH.
Tan Sri Vincent Tan Chee Yioun
Executive chairman, Berjaya Corp Bhd
Vincent began his career as a bank clerk who sold insurance in the evening. It later landed the 21-year-old a job as an agency supervisor at American International Assurance.
In the 1970s, he started his own business and set up an insurance company via a joint venture with Tokio Marine & Fire Insurance. His big break came when he secured the McDonald's franchise for Malaysia in 1980.
Vincent established Berjaya Group in 1984. A year later, he secured a 70% stake in gaming outfit Sports Toto after it was privatised by the government, then led by Tun Dr Mahathir Mohamad.
Today, the Berjaya empire has interests in businesses ranging from gaming and property investment to motor trading and distribution, media and telecommunications, financial services, hotels and resorts, restaurants and cafés, and consumer marketing.
This year, Vincent was ranked 20th on the Forbes Malaysia's 50 richest list with an estimated net worth of US$820 million.
The self-made tycoon also has interests in football assets, including English Championship club Cardiff City Football Club and Major League Soccer's Los Angeles FC.
In February 2012, Vincent announced his retirement from playing an active corporate role in BCorp, which he founded and controlled, by relinquishing his position as chairman.
"My giving up the chairmanship and active day-to-day involvement in the Berjaya group's business will allow me to devote more of my time and energy to promoting charitable and social programmes and initiatives," Vincent had said.
Five years later, he decided to return to take the helm at BCorp.
In a message to BCorp's board of directors, he said, "As you all know, even during my retirement, I have been active in looking for new business opportunities for the group. Datuk Seri Robin has been an excellent chairman and CEO. He has strengthened the corporate organisation and best practices, and the group has enjoyed steady growth and progress during his stewardship.
"However, I feel that after being away for five years, it is time I returned to the board to actively participate in the deliberation and decision-making at the board level to show my commitment and accountability to our stakeholders."
Datuk Seri Robin Tan Yeong Ching
Executive director, Berjaya Corp Bhd
Robin was appointed to the board of BCorp in December 2006 as an executive director. He was later appointed the CEO of the company in January 2011 and subsequently, the chairman and CEO in February 2012.
He graduated with a Bachelor of Social Science in Accounting/Law from the University of Southampton, the UK, in 1995. He joined Berjaya Group Bhd in 1995 as an executive and, subsequently, became the general manager for corporate affairs in 1997.
Currently, he is the CEO of Berjaya Sports Toto Bhd and executive director of Sports Toto Malaysia Sdn Bhd. He is also the chairman of Berjaya Media Bhd and Sun Media Corp Sdn Bhd, and a director of Atlan Holdings Bhd and Berjaya Golf Resort Bhd. He also holds directorships in several other private limited companies in the BCorp group of companies.
On his father's comeback, Robin had said, "As the major shareholder of BCorp, it is appropriate that Tan Sri (Vincent) takes his rightful place as the company's executive chairman. Tan Sri started his first business venture way back in 1972 in his early twenties with a car dealership and a construction equipment company while pursuing his full-time occupation as a life insurance sales agent.
"With Tan Sri's more than four decades of entrepreneurial experience and unwavering dedication and commitment to the group, we have no doubt that he will be able to take the BCorp group of companies to greater heights."
Save by subscribing to us for your print and/or digital copy.
P/S: The Edge is also available on Apple's AppStore and Androids' Google Play.