This article first appeared in The Edge Malaysia Weekly, on April 16, 2018 - April 22, 2018.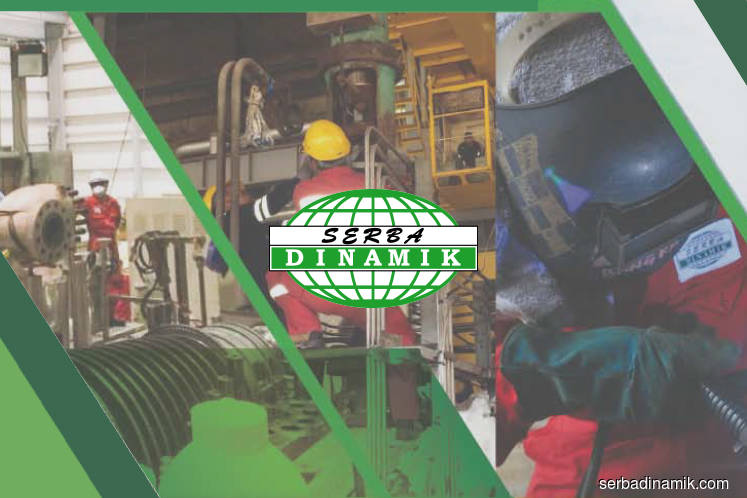 LAST Thursday, Serba Dinamik Holdings Bhd announced the acquisition of a 49% stake in UAE-based pumps supplier Al Sagar Engineering Group LLC and Al Sagar National Establishment for AED10 million (RM10.45 million).
But a bigger acquisition is on the horizon.
 The energy services group is expected to emerge in Singapore-listed firm CSE Global Bhd soon, possibly as its largest shareholder, sources say.
 They tell The Edge that Serba Dinamik is close to finalising the purchase of about 28% stake in the company.
At present, the largest shareholder is a vehicle of US mutual fund Fidelity Investments, FMR LLC, with 20%.
An announcement could be made in the coming weeks.
While the acquisition price is yet to be known, sources say it could be between RM150 million and RM170 million.
Last Wednesday, CSE Global closed at 41 Singapore cents per share, down 18.72% over the past year, giving it a market capitalisation of S$209 million. As that translates into a market value of some RM618.68 million, Serba Dinamik could enjoy a slight discount for the stake.
On Wednesday, Serba Dinamik closed at RM3.33, giving it a market capitalisation of RM4.89 billion. Its share price has more than doubled from its listing price of RM1.50 on Feb 28, 2017.
While it is unclear how the acquisition will be funded, the company has money; it was sitting on RM293.2 million cash as at end-December 2017.
With RM689.59 million in total borrowings, Serba Dinamik's net gearing stood at 0.28 times as at end-2017. It has guided that it could comfortably gear up to as much as 1.0 to 1.5 times.
Serba Dinamik's group managing director and CEO, Datuk Dr Mohd Abdul Karim Abdullah could not be reached for comment as he is travelling.
Among other things, CSE Global provides system integration solutions for control and communications systems in the oil and gas industry, particularly those undertaking exploration and production activities.
It was spun off from integrated defence and engineering group, Singapore Technologies Engineering Ltd, in the early 1990s. After a management buy-out, the company was listed on the Singapore Stock Exchange (SGX) in February 1999.
According to its website, CSE Global is present in 17 countries across Asia-Pacific as well as North and South America.
One source says Serba Dinamik's rationale for the acquisition could be that CSE Global's system integration products may add value to its services, as both companies are mainly involved in oil and gas. From Serba Dinamik's perspective, a major stake in CSE Global could help open doors in markets such as the Americas.
According to Bloomberg data, 56.9% of CSE Global's full-year revenue in the financial year ended Dec 31, 2017 (FY2017) came from the Americas while 36.6% came from Asia-Pacific. The remainder came from Europe and the Middle East.
Likewise, Serba Dinamik has had a long-standing presence in the Middle East, which could make CSE Global stronger there, say people familiar with the company. "As the single largest shareholder, they will have a big say on the direction of CSE Global down the road," says one source.
'Severe undervaluation'
Serba Dinamik operates in Malaysia, Indonesia, the Middle East and the UK. Last year, it secured a maiden contract in Africa and is currently looking to build up a presence in Central Asia.
Almost a fifth of its audited revenue in FY2016 came from Qatar while 30.2% came from Saudi Arabia, Bahrain and the United Arab Emirates.
About 86% of its turnover in FY2017 came from operations and maintenance (O&M) while engineering, procurement, construction and commissioning (EPCC) made up 13.8%, according to TA Securities.
In FY2017, CSE Global reported S$362.4 million in revenue, up 14% year on year. However, it booked a net loss of S$45.1 million compared to a net profit of S$21.2 million in the previous year, due to one-off impairments of S$58.5 million.
That was CSE Global's first full-year net loss in 22 years, according to Bloomberg data going back to 1995.
Interestingly, Serba Dinamik's imminent entry into CSE Global comes not long after a shareholder, Quarz Capital Management Ltd, wrote a public letter dated Feb 26, 2018 to the latter, urging the management to address the stock's "severe undervaluation".
The letter highlighted CSE Global's share price slump of over 40% since 2015 despite its "cash-rich" balance sheet and earnings resilience amid a low crude oil price environment.
Data shows that CSE Global last traded above the S$1 level in December 2013.
In the letter, Quarz Capital said the undervaluation was due to investors' lack of confidence in the company as well as the misalignment of interest among its board, top management and shareholders.
The fund manager also claimed that despite CSE Global's strong expertise and track record, it lacked strategic direction and had been unable to leverage new growth drivers in recent years.
"The prolonged disappointing performance in CSE Global's share price requires immediate action to preserve the long-term interest of shareholders," wrote Quarz Capital.
It cannot be immediately ascertained whether Quarz Capital is among the selling shareholders.
Among its five-point recommendations, Quarz Capital urged an immediate distribution of S$18 million as well as a commitment to an 80% payout ratio with a S$12.5 million dividend payout floor.
In a March 7 note, CIMB Research notes that following a meeting between the two parties, CSE Global has committed to a 2.75 dividend per share (DPS) in FY2018, which implies a 94.4% dividend payout based on its projected FY2018 earnings.
The research house has a "hold" rating on the stock with a target price of 39 Singapore cents. It is the only house covering CSE Global, according to available data.
As at Dec 31, 2017, CSE Global had S$46.9 million in cash and S$283.9 million in total assets. It also had S$31.4 million in short-term borrowings and overall liabilities of S$108.2 million.
"We reiterate that the downside risks on the stock are largely mitigated and are also heartened by the DPS commitment. Moving ahead, we look forward to more greenfield contracts and signals of gross profit margin recovery before we turn more bullish on the stock," CIMB Research wrote.
Save by subscribing to us for your print and/or digital copy.
P/S: The Edge is also available on Apple's AppStore and Androids' Google Play.