This article first appeared in The Edge Malaysia Weekly, on January 6, 2020 - January 12, 2020.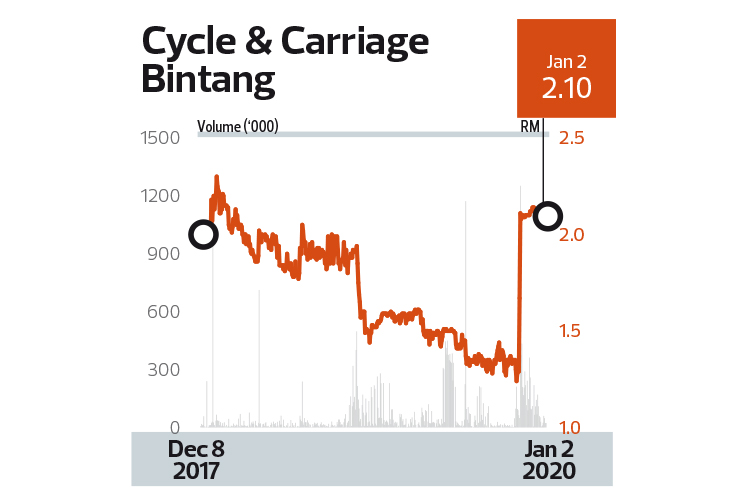 ON Boxing Day, Jardine Cycle & Carriage Ltd (Jardine CCL) — controlling shareholder of Cycle & Carriage Bintang Bhd (C&C Bintang) — received a belated Christmas surprise.
Sources tell The Edge that Muar Ban Lee Group Bhd (MBL), a minority shareholder of C&C Bintang with a 1.02% stake as at Feb 28 last year, had on Dec 26 written to the company and expressed its intention to scuttle the privatisation bid, which was proposed by Jardine CCL on Nov 11.
MBL, a locally listed, family-owned palm kernel oil expeller manufacturer specialising in palm oil and oil seed crushing machinery, is also seeking more compensation from the management.
C&C Bintang is the largest car dealer of German premium marque Mercedes-Benz in Malaysia with 13 outlets.
Seeking to take the company private — via a selective capital reduction (SCR) and repayment of RM2.20 per share — is Singapore-listed Jardine CCL, which is part of the sprawling empire of British family-owned Asian conglomerate Jardine Matheson Holdings Ltd.
Although the SCR price of RM2.20 apiece represents a 70.5% premium over the last traded price of RM1.29 and a 44% premium over a one-year volume weighted average price of RM1.5252 per share, certain minority shareholders, including MBL, remain unsatisfied with it.
That is partly because the capital repayment sum is 18%, or 49 sen, below the company's net asset per share of RM2.69 as at Sept 30.
According to documents sighted by The Edge, MBL had appointed a local non-bank-backed advisory firm to act as its adviser, and the company is requesting for a meeting with the non-interested directors of C&C Bintang early this month to express its views against the privatisation deal.
"MBL is of the view that the offer price is not fair and it is not in the best interest of the minority shareholders to vote in favour of the proposed SCR," says a source familiar with the matter.
"That's unless there is a revised offer price that could better reflect the net assets per share of C&C Bintang after all of its property assets have been revalued for the purpose of this proposed SCR," he stresses.
Net assets should be higher?
MBL noted that C&C Bintang and its subsidiaries own land and properties located mainly in prime locations in Kuala Lumpur, Petaling Jaya, Penang, Johor, Ipoh and Cameron Highlands, and which were acquired over the past 40 years.
If these land and properties were to be revalued, MBL says, it would result in a significant revaluation surplus that would increase the net assets per share of C&C Bintang.
For perspective, Jardine CCL is the single-largest shareholder of C&C Bintang with a 59.1% equity stake, equivalent to 59.54 million shares.
The entitled shareholders have 41.2 million shares, and the selective capital repayment will cost C&C Bintang RM90.64 million in cash.
Another source says MBL is requesting the non-interested directors of C&C Bintang to formally write to Jardine CCL to reconsider the SCR offer price.
"MBL thinks there is a good chance that a financially strong Jardine CCL will entertain the minority shareholders' request for a higher SCR offer price. After all, if you think about it, a full privatisation cost of RM90.64 million is essentially less than S$30 million for a Singaporean firm," he explains.
For the financial year ended Dec 31, 2018 (FY2018), C&C Bintang returned to the black with a net profit of RM22.31 million versus a net loss of RM12.47 million for the year before.
Nonetheless, the auto group slipped back into the red for the nine months ended Sept 30, with a net loss of RM16.9 million compared with a net profit of RM17.8 million a year ago.
Over the years, C&C Bintang owned a 49% stake in Mercedes-Benz Malaysia Sdn Bhd (MBM), the brand custodian and distributor for Mercedes-Benz in the country.
MBM's parent company — German-listed Daimler AG — controlled the remaining 51% stake.
Although C&C Bintang was only an equity partner and had no major say in how MBM was run, it was entitled to a steady dividend income amounting to RM11.2 million every year.
Fall in C&C Bintang's share price
All this changed in December 2018, however, when Daimler exercised its call option to buy C&C Bintang's 49% stake in MBM for RM66 million.
Following Daimler's exercise of its call option, C&C Bintang ceased to be entitled to the annual dividend even when MBM declared a dividend.
That explains why C&C Bintang's share price declined from RM1.85 on Dec 3, 2018 to RM1.44 on Dec 26, 2018, a sharp drop of 22% in less than a month.
The counter rebounded by 64%, however, from RM1.29 on Nov 8, 2019, to RM2.11 on Nov 13, 2019, after the SCR deal was announced.
Concerns over C&C Bintang's long-term profitability aside, the fact remains that the company had just pocketed RM66 million — or 65 sen per share — as the disposal of its 49% stake in MBM was completed on Dec 11.
Given that the SCR deal was proposed exactly a month before the disposal was completed, C&C Bintang's latest available net asset per share of RM2.69 as at Sept 30 clearly did not reflect its most recent intrinsic value.
And that could be another reason for the minority shareholders of C&C Bintang to demand a higher SCR offer price.
But is MBL's stake sufficient to block the privatisation deal on its own?
It is learnt that MBL had been mopping up shares in C&C Bintang since the stock was battered after Daimler exercised the call option.
Although it is not publicly known how many C&C Bintang shares MBL has at this point in time, sources says the company had lobbied for the support of other minority shareholders.
Its 2018 annual report shows that Datin Chok Chew Lan, a substantial shareholder of MBL with an 8.22% stake, also has a 1.31% stake in C&C Bintang.
Other notable shareholders of C&C Bintang include Chinchoo Investment Sdn Bhd, Key Development Sdn Bhd, Gan Teng Siew Realty Sdn Bhd, Mikdavid Sdn Bhd and Gemas Bahru Estates Sdn Bhd, which collectively have 5.29% equity interest and are linked to Gan Boon Koo, a founder of Malayan Banking Bhd.
The special resolution on an SCR requires the approval of shareholders via an extraordinary general meeting, with at least a majority of the company's non-interested shareholders, and 75% in value, saying "aye". In addition, it must also not be voted against by more than 10% of its total non-interested shareholders in terms of value.