This article first appeared in The Edge Malaysia Weekly, on May 20, 2019 - May 26, 2019.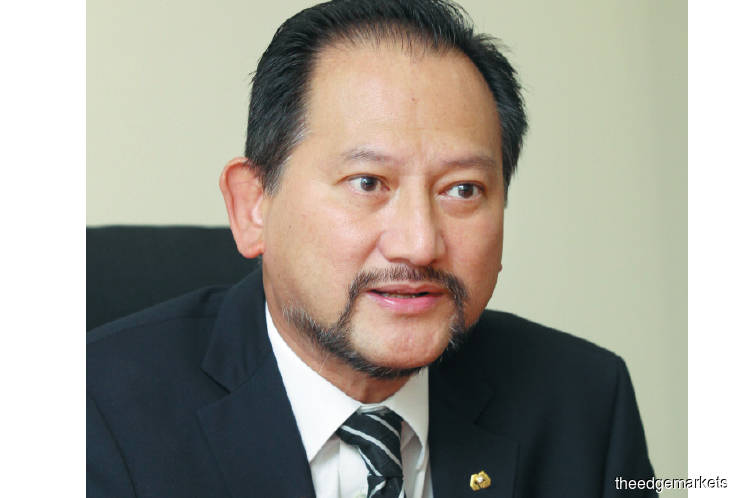 Yaacob: Cash is an asset anyway. Photo by Kenny Yap/The Edge
MAA Group Bhd's EGM on the morning of May 29 could be an interesting affair. A group of minority shareholders is believed to be planning to scuttle a privatisation bid  — via a selective capital repayment (SCR) of RM1.10 per share — and seek more compensation from management.
Seeking to take the group private  is Tunku Datuk Yaacob Khyra who, via the Melewar group, controls 38.67% of MAA. As an interested party, he cannot deliberate on the offer. Yaacob is the only substantial shareholder in MAA.
The Edge understands that the minority shareholders have the required numbers to scuttle the deal. According to one of the shareholders, "One group looking to stop the privatisation has 18 million shares or a little more than 10% of the voting shares."
Another source says among the shareholders looking for a larger payout is Andrew Pegge, the managing director of Laxey Partners Ltd, who is said to have accumulated a stake of more than 3% in MAA.
The source adds that Pegge and Laxey could accumulate more shares in the days before the EGM.
According to the Circular to Shareholders, among the conditions of the SCR is that it must not be voted against by more than 10% of the non-interested shareholders of MAA.
Back-of-the-envelope calculations indicate that 18 million shares works out to 10.73% of the 167.74 million eligible voting shares.
The main grouse of the minorities is the payout of RM1.10 per share, which works out to RM184.51 million.
As at end-December, MAA — excluding its insurance business in the Philippines — had total assets of RM447.13 million, of which 51.7% or RM231.31 million was cash.
As at end-December, MAA's net asset per share was RM1.94, which means the SCR of RM1.10 is at a 43% discount to the company's net assets.
According to the Circular to Shareholders, the SCR offer price of RM1.10 represents a discount of 76 sen (40.9%) to 98 sen (47.1%) to the estimated fair value per MAA share, which ranges from RM1.86 to RM2.08 (of which about 85 sen is attributable to cash and cash equivalents per MAA share as at end-December.
It is also worth noting that in June 2016, Zurich Insurance Group AG acquired MAA's 75% in MAA Takaful Bhd for RM364.4 million and, according to MAA's FY2018 annual report, the remaining RM93.75 million of the sale consideration from the disposal is receivable at end-June this year, which would increase MAA's cash hoard.
Mercury Securities, the independent adviser for the SCR, says MAA also has RM66.53 million invested in financial assets, which when liquidated could further increase its cash pile.
Mercury Securities' view is that the proposed SCR is not fair in view of the SCR's low offer price of RM1.10, but reasonable as it provides an opportunity to entitled shareholders to exit to  realise their investments in MAA at the SCR price, at a significant premium to the historical market prices.
One minority shareholder laments that the MAA board has a duty to find an asset to buy and if it does not, it would be best to return cash to the shareholders. He also questions why the board has not come up with a revised proposal and why the EGM is being held in end-May and not end-June after the money from Zurich has been collected.
Yaacob's take
In a brief phone conversation with The Edge, Yaacob says minorities have to take into account that MAA is a Practice Note 17 (PN17) company.
"There is a risk that MAA will be delisted," he says.
However,  the minority shareholder suggests that MAA may require its shareholders' approval to be delisted, similar to the case of Hovid Bhd, which was delisted late last year.
MAA has been a PN17 company since September 2011. On Friday, MAA announced that Bursa Malaysia had granted the company an extension  until Oct 31, 2019, to submit a regularisation plan.
Yaacob adds that comparisons with other SCRs are not fair as MAA is the only PN17  company to undertake such an exercise.
He adds that the offer price cannot be changed as the circular is already out. "There is no way to change it — Melewar can only make another offer in 12 months," he says, referring to Rule 21 of the Securities Commission Takeover, Mergers and Compulsary Acquisition Code.
On MAA's large cash pile, Yaacob says that the cash should be looked at as an asset and, as such, the SCR of more than 57% of MAA's net assets is acceptable.
"Cash is an asset anyway," he says.
Asked why MAA had not utilised its RM231.32 million cash hoard as at end-December to buy new assets,  Yaacob replies that there were no good assets available.
"Instead of spending RM180 million on a business that is not that good, I had better give it to the shareholders." The offer of RM1.10 works out to a total payout of RM184.51 million.
He adds that in the current environment, even companies with a great track record may not perform in view of the ongoing China-US trade war and the uncertain conditions in Malaysia.
Yaacob highlights the ringgit hitting fresh lows of 4.17 against the greenback and a recent selldown in the equity markets   
"How it will evolve eventually is anybody's guess," Yaacob adds.
In the event of the SCR being rejected, Yaacob says that MAA's stock will likely go back to its 60 sen level or worse.
MAA's operations in the Philippines, Yaacob says, will only mature in three to four years. MAA, via MAA International Group Ltd, has a 99% stake in MAA General Assurance Philippines Inc and, via MAA International Investments Ltd, wholly owns MAA Mutuallife Philippines Inc.
For its financial year ended December 2018, MAA suffered a loss before tax of RM24.37 million on RM169.24 million in revenue. The group says in its annual report that the general insurance business in the Philippines contributed a profit before tax of RM14.9 million.
MAA closed last Friday at RM1.02 per share, giving the company a market capitalisation of RM279 million. The last time MAA was trading at the RM1 level was in October 2007.
Last Friday, the Minority Shareholders Watch Group (MSWG) also got involved and questioned why MAA's board had only decided to act now, after eight years as a PN17 company.
MSWG asked how the SCR could be said to be in the best interest of minorities when the offer price is below the net assets per share of MAA.
Another question was how the utilisation of the remaining proceeds from the sale of MAA Takaful of RM208.15 million would benefit the minorites.
MSWG suggested that the shareholders query the board on its recomendation to minorities to vote for the SCR.