This article first appeared in The Edge Malaysia Weekly, on December 16, 2019 - December 22, 2019.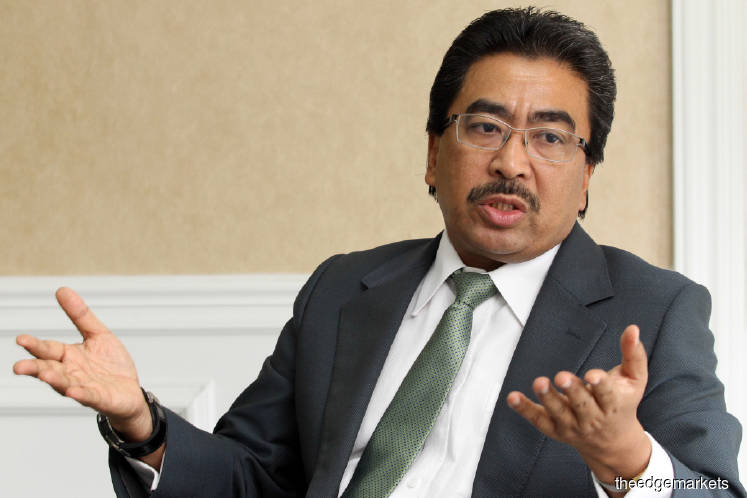 FROM the middle of the year, there was talk in the market that former second finance minister Datuk Johari Abdul Ghani was a partner of business tycoon Tan Sri Syed Mokhtar Albukhary and that he had substantial equity interest in Tradewinds Corp Bhd and its group of companies.
This was big news, given that Tradewinds Corp had assets amounting to a whopping RM4 billion as at Dec 31, 2018, and controlled many choice land banks. Then a new twist emerged — that Johari was in Tradewinds Corp and its group of companies purportedly to safeguard Umno's interests as Syed Mokhtar himself was said to be holding assets for the political party.
Johari is, of course, in the upper echelons of Umno and is among the few who are corporate players. He is the controlling shareholder of CI Holdings Bhd with a 32.72% stake and has 32% equity interest in KUB Malaysia Bhd that was acquired from Anchorscape Sdn Bhd, which is perceived to be an Umno-linked company.
Speculation that the duo were partners heightened when, in August this year, Johari sought to buy a strategic stake in FGV Holdings Bhd's 51% unit, MSM Malaysia Holdings Bhd — a company that Syed Mokhtar is said to be eyeing. Via Tradewinds, Syed Mokhtar controls Central Sugars Refinery Sdn Bhd (CSR), which is smaller than MSM but is still its main competitor in the sugar business.
In a brief meeting with The Edge, Johari pours cold water on the rumours.
"Syed Mokhtar is my friend, nothing more. We are not business partners or anything like that [but] I do advise him sometimes on business matters. I am a corporate player [and] I'm good at restructuring companies … Similarly, he advises me on issues he is more familiar with. He is an experienced businessman," he says.
"I have known Syed Mokhtar for a long time, even before I was a member of parliament (for Titiwangsa from May 2013 to May 2018). We are old friends."
Johari outlines the synergy between his companies and Syed Mokhtar's (in this case, Tradewinds Corp and its affiliated entities), which explains why the two businessmen often work together.
"Tradewinds (Corp via Tradewinds Plantation Bhd) has 150,000ha of oil palm plantations. My company CI Holdings exports 3,000 containers of cooking oil to 107 countries on a monthly basis. [So] there is synergy between our businesses. But that is all. I am not a shareholder in Tradewinds," Johari points out.
In a nutshell, CI Holdings acquires crude palm oil from Tradewinds Corp and processes it into cooking oil for export.
Tradewinds, which has under its umbrella Tradewinds Plantation and Tradewinds (M) Bhd, which in turn owns CSR, also has eight hospitality assets and over 4,000 acres of land bank throughout the country.
A check on CTOS reveals that in its financial year ended Dec 31, 2018, Tradewinds Corp suffered an after-tax loss of RM20.74 million on sales of RM430.96 million. It had RM4.16 billion in total assets and RM2.9 billion in total liabilities while its retained earnings stood at RM442.22 million.
Syed Mokhtar had privatised Tradewinds Corp and its related companies in 2009, forking out RM1.5 billion.
Another company in which Johari is said to have made his presence felt is Media Prima Bhd. Syed Mokhtar's Aurora Mulia Sdn Bhd is the largest shareholder in Media Prima with almost a 32% stake, having bought a chunk of it from Umno outfits Gabungan Kesturi Sdn Bhd and Altima Inc, among others.
It is said Johari is in Media Prima as well, holding Umno's stake in the media group.
"I am only an adviser to Syed Mokhtar on Media Prima, nothing more. And I advise because I know how to restructure companies," Johari explains, denying his involvement in the company.
Media Prima has been bleeding red ink for the past three financial years and looks unlikely to have improved in its current financial year. In its nine months ended September, Media Prima suffered a net loss of RM73.39 million on revenue of RM801.41 million.
Early last month, Media Prima, which wholly owns TV3, ntv7, 8TV, TV9 and The New Straits Times Press (M) Bhd, the publisher of three national newspapers, namely New Straits Times, Berita Harian and Harian Metro, announced a restructuring that would entail it letting go of some employees, among others.
In explaining the friendship, Johari says, "I admire Syed Mokhtar. He is one of the few corporate personalities who have survived the tough times. He went through [the financial crises of] 1998 and 2008 and a few prime ministers even.
"He provides employment — to 135,000 people and 28 CEOs — and he has never defaulted on any loans, although people say so many [adverse] things about him … what people don't know is that his debts are ring-fenced, attached to particular projects."
Syed Mokhtar's flagship company, MMC Corp Bhd, had long-term debt commitments of RM6.47 billion and short-term borrowings of RM3.95 billion as at Sept 30, 2019. Much of the debt is owed by MMC's 37.6% publicly traded power generation unit, Malakoff Corp Bhd.
Another of the tycoon's key companies, DRB-Hicom Bhd, had long-term debt commitments of RM3.44 billion and short-term borrowings of RM2.96 billion as at Sept 30, 2019.
Johari may have cleared the air on his relationship with Syed Mokhtar but the scuttlebutt is likely to continue churning out stories about the tycoon and his connections.