This article first appeared in The Edge Malaysia Weekly, on October 21, 2019 - October 27, 2019.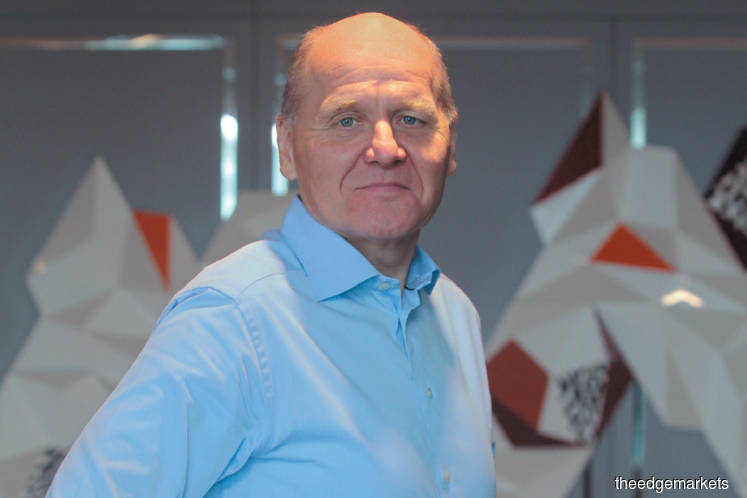 Brekke: We are constantly looking for synergies. Photo by Suhaimi Yusuf/The Edge
WITH its proposed mega merger with Axiata Group Bhd off the table now, Telenor Group is turning its attention to picking lower-hanging synergy fruits as it embarks on the 5G arms race, says its president and CEO, Sigve Brekke.
For Malaysia, that means the Norwegian telecommunications giant is no longer focusing on finding potential merger and acquisition (M&A) deals for its associate company Digi.com Bhd, of which it owns 49%.
"That (M&A) is not our focus right now. Our focus is to make Digi 5G-ready. It's a race to be the fastest and the best, and I think there are some opportunities [for Digi] to get into a whole new segment through 5G," Brekke tells The Edge in an exclusive interview.
At the same time, the synergies that could have been gained through the aborted merger proposal with Axiata are not forgotten, he adds.
While the merger — which would have combined Digi and Axiata's subsidiary, Celcom Axiata Bhd — did not happen, Digi and Celcom are already working together in multiple ways to squeeze efficiency gains.
This is in keeping with telecoms-sector developments in other parts of the world, including Europe, where Telenor is already sharing some spectrum with other operators, says Brekke.
"We are constantly looking for synergies. So, even though that merger didn't happen, we are working together with Celcom today. For example, we are sharing fibre with Celcom ... we are sharing towers to take out synergies on some of the infrastructure," he says.
"The whole idea here is to take out some of these synergies and then be able to continue to invest and provide customers with good service."
That said, savings and efficiency gains from such collaborations would fall short of a straightforward merger, which cuts costs via the removal of duplications and yielding better leverage on procurement prices.
That presents a risk for Telenor and Digi. Its rivals are still eyeing potential M&A, as Axiata indicated in a separate interview to The Edge last month, even if it is not. Isn't Digi at risk of falling behind if its rivals scale up?
"Consolidation within the telecoms space has always been a possibility, but for now, it means being laser sharp on executing our long-term strategy, making sure we run our business sustainably and positioning ourselves well to leverage emerging technologies and customer demands that will drive new areas of growth for the business," says Brekke.
Had the Axiata-Telenor merger gone through, the resulting entity would have operations serving 300 million customers in a one-billion population spread across nine countries.
Telenor would have held 56.5% of the combined entity and Axiata, 43.5%.
The crux of the synergies to be unlocked had hinged on Digi and Celcom. From the estimated savings of RM15 billion to RM20 billion over a five-year period, half would have come from Malaysia.
Therefore, the abortion of the proposal on Sept 6, four months after it was announced, raised many unresolved issues for minority shareholders. While both parties attributed the cancellation to "complexities", there was little explanation beyond that.
In a separate interview back in September after the cancellation, Axiata president and CEO Tan Sri Jamaludin Ibrahim stressed that there was "zero political interference" and that control was not the deal-breaking issue.
Asked to comment, Brekke simply says he thinks "enough has been said about that and I have no further comments". However, he stressed that the Malaysian government had been supportive all the way despite rumours to the contrary.
As for Digi, Telenor believes it has sufficient scale by itself to realise some of those synergies. Telenor serves 182 million customers in nine markets and many of its 5G pilots in Europe will yield critical learning for Digi in Malaysia, says Brekke.
That may be critical as Digi embarks on the 5G arms race in Malaysia. From a shareholder perspective, Brekke says he expects Digi's business model to evolve as a result of new possibilities through 5G. "The biggest change [to the business model] will be through partnerships with businesses and industries. Digi has historically been only a consumer operator and now we are starting to move into the business segment."
To Brekke, the potential market for partnerships with businesses is "quite large", although he expects the consumer market to remain Digi's bread and butter.
Among others, such partnerships will entail the use of 5G connectivity to digitalise business operations, including through the Internet of Things and other IT-integrated services.
In Norway, Telenor has already begun pilot partnerships along that vein. This includes working with a Norwegian firm to pilot autonomous ferries and discussing how 5G connectivity can empower emergency services, says Brekke.
What excites Brekke the most, however, is the potential for 5G to deliver wireless broadband connectivity to homes. The advantage over the conventional cable-based broadband is that wireless broadband can be deployed faster and more efficiently.
This is particularly true in rural areas where the infrastructure is of poor quality or where digging to lay new cables can be challenging, says Brekke. Wireless broadband also partially mitigates climate and earthquake risk to infrastructure as well as offers a redundant accessibility option for enterprises, he adds.
Going into business partnerships for 5G services represents a new growth area for Digi, which has been on the defensive as intense competition piles pressure on its margins.
Is Telenor concerned about generally falling returns in the Malaysian telecoms sector vis-à-vis its investment in Digi?
"Look at the margins at Digi. Despite the tough competition in the last couple of years, Digi has kept its 40% [Ebitda] margin. So, it is really an efficient operator. The margin that it has is unheard of," says Brekke.
The defence of Digi's margins had largely hinged on its efficiency agenda to mitigate pressure on its top line. How long can the resistance stand firm?
Brekke points to partnerships as a new growth area to capture. In addition, he believes digitalisation also benefits players like Digi internally, whereby operations can be more efficient to yield savings, on top of infrastructure sharing between operators.
"The ones that are going to be successful in the 5G world are those that are able to build these partnerships and grow revenues through them," says Brekke.
"But to be able to do that, you have to have a very lean and flexible organisation, and that's why I think Digi is well-positioned to build those partnerships and test out the new business models."