This article first appeared in The Edge Malaysia Weekly, on December 2, 2019 - December 08, 2019.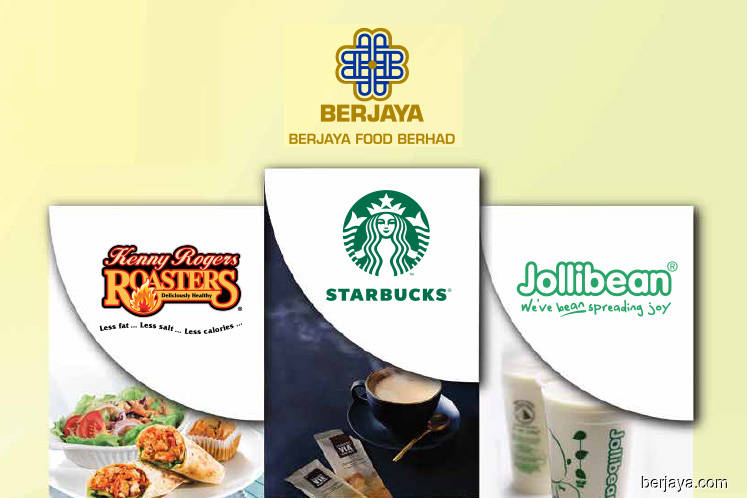 BERJAYA Group is in preliminary talks to dispose of a substantial stake in Kenny Rogers International business to a foreign party, say several people familiar with the matter.
"It is in early talks to sell a stake to a Filipino party for Kenny Rogers' business outside of Malaysia," says one source.
Kenny Rogers Roasters International Corp — which owns the worldwide franchise rights for Kenny Rogers Roasters' brand — is parked under Berjaya Group's Bursa Malaysia-listed Berjaya Corp Bhd. Berjaya Group acquired the worldwide franchise after it bought US-based KRR International Corp in April 2008.
"As the group owns the worldwide franchise rights, the value will be based on the value of the trademark as opposed to an actual tangible asset," says a source.
As the talks are at the preliminary stage, it is unclear how much Berjaya Corp will get if the stake sale should take palce.
As at June 30 this year, there were 183 Kenny Rogers Roasters outlets in Malaysia, the Philippines, Singapore, United Arab Emirates, India, Thailand and Kuwait.
Meanwhile, listed Berjaya Food Bhd's wholly-owned subsidiary Berjaya Roasters (M) Sdn Bhd is the master franchisee of restaurant chain Kenny Rogers Roasters in Malaysia.
Berjaya Roasters recorded revenue of RM96.7 million for the 14-month financial period ended June 30, 2019 (FY2019). This is an increase of 4.3% compared with the RM92.7 million recorded in the previous 12 months. The company had changed its year end to June from April. For the 14 month period, Berjaya Roasters recorded a loss before tax of RM7 million, similar to the previous 12 months, mainly due to effective control of administrative expenses.
In FY2019, Berjaya Roasters opened eight new stores and closed nine non-performing stores.
Berjaya Corp had a 47.71% shareholding in Berjaya Food as at Nov 27.
"Moving forward, Berjaya Roasters will focus on expansion and cost-effectiveness by opening more Kenny Rogers Roasters' Express concept stores. Highway Rest & Relax areas and commercial hubs that have substantial footfall will be the primary target for the new locations," Berjaya Food says in its 2019 annual report.
In line with the growth of online and e-commerce channels, Berjaya Roasters will embark on B2B e-voucher businesses and aggressively drive its online food delivery business through partnerships with food delivery companies, it adds.
"In addition, Berjaya Roasters will continuously launch menus with local favourite food items such as chicken rice, nasi lemak and fried chicken to cater to Malaysians' demand for comfort food."
In FY2019, the group introduced a grab-and-go dining concept store for Kenny Rogers Roasters — KRR Express — to provide on-the-go customers with meals in a fast and convenient manner.
Kenny Rogers Roasters restaurants core product is rotisserie-roasted chicken, complemented by a variety of hot and cold side dishes and its house-special muffins, vegetable salads, pasta, soups, desserts and beverages, served in a semi-casual dining environment.
AmResearch notes in a Nov 12 report that it continues to like Berjaya Food on the back of its stellar Starbucks brand, planned store expansions and efforts to turn around Kenny Rogers Roasters.
"We look forward to the upcoming quarter, which is expected to be stronger on the back of the holiday season buoyed by effective promotions. We anticipate Starbucks' sales to improve with the new Christmas launch. As for Kenny Rogers Roasters, we anticipate a lower loss in FY2020F," the research house says.
"We believe Berjaya Food's performance will improve going forward on the back of planned expansions (25 Starbucks stores, 10 Kenny Rogers Roasters' stores and 10 Jollibean stores) although it may be slightly dragged by a volatile USD/MYR). The risk is the sharp appreciation of the USD against the MYR as 50% of the group's raw material costs are in USD," it adds.
AmResearch has a "buy" call on the Berjaya Food with a fair value of RM1.57.
"Key risks to our forecast include store expansion delays, a slower-than-expected turnaround of Kenny Rogers Roasters and a sharp appreciation in raw materials costs," AmResearch says.
Berjaya Food ended last Thursday unchanged at RM1.41 while Berjaya Corp was up 2.13% to 24 sen.
Berjaya Food posted a net profit of RM4.61 million and RM180.44 million in revenue in its most recent first quarter ended Sept 30, 2019.
It has recommended a first interim dividend of one sen per share for the quarter under review, payable on Dec 27.
In its recent first quarter ended Sept 30, 2019,Berjaya Corp posted a net loss of RM54.23 million on revenue of RM2.07 billion.
There are no comparative figures for the current quarter for both companies following the change of financial year end from April 30 to June 30.
Berjaya Corp said in a statement last Thursday that revenue was substantially contributed by the gaming business segment operated by Sports Toto Malaysia Sdn Bhd and the motor distribution business segment operated by H.R. Owen Plc.
Given the prevailing economic conditions and global financial outlook, the group is of the view that the operating environment will remain challenging going forward.