This article first appeared in Personal Wealth, The Edge Malaysia Weekly, on September 24, 2018 - September 30, 2018.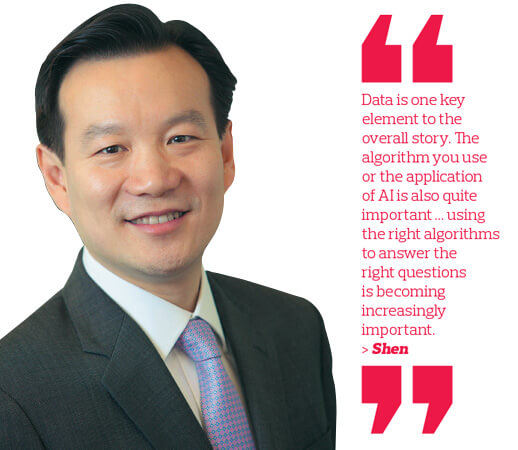 The ascendancy of technologies such as big data, artificial intelligence (AI) and machine learning could see active management strategies come back into vogue.
Jeff Shen, co-head of investments at BlackRock's Systematic Active Equity group, says he is increasingly bullish on the prospects of active management, which has come under scrutiny recently because of the perceived high fees and lacklustre returns. BlackRock is the world's largest asset manager, with US$6.3 trillion under management as at June 30 this year.
"There has been a lot of backlash against active management. But I am sort of bullish about it because I think that with more information being digitised, there is more data available. And there are ways to process this information by leveraging technology and data," says Shen.
"I think the future is bright for active management. But obviously, we need to upgrade the investment process to incorporate more technology."
Shen, who is also responsible for Asia-Pacific and emerging-market active equity strategies, says the age of data revolution makes a strong case for active management strategies. "Data is extraordinarily important. That being said, I do think it is not only about the data. It is the application of the different elements that are quite critical," he adds.
"Data is one key element to the overall story. The algorithm you use or the application of AI is also quite important. The machines and algorithms are getting smarter. So, using the right algorithms to answer the right questions is becoming increasingly important.
"Data is the foundation. The algorithm is certainly a very important intermediate step to solve the overall investment problem."
However, getting it right also means integrating human intelligence into the process. It is the "only combination" that will solve an investment problem, says Shen.
Asked whether machines will eventually be able to replace human intuition, he says the human skills required in the investment process will evolve. "You have to think about the things a machine can do very quickly and easily, and what kind of things a human being can do better than a machine. It is really the complementary nature of it," he adds.
"That is the important transformation going forward because a lot of investment activities today can potentially be replaced by machines. But that also means humans will do different things. Hopefully, more creative and imaginative things."
At BlackRock, AI is used for several purposes. In fact, its use permeates the entire investment process. "The first application of AI is essentially to try and answer a set of classic questions. For example, we are always interested in getting a sense of how sell-side analysts view a particular company from a market sentiment perspective and how they upgrade or downgrade a particular stock," says Shen.
"So, the application of AI is really allowing us to do natural language processing on pretty much every single sell-side research report published to get a better sense of the sentiment. The second application is really around the dimension of using AI, which allows us to ask ourselves questions we never thought were possible using the traditional method."
What are some examples of this? "You may have 200 signals that can potentially predict stock returns for a particular security. And then, you may have 5,000 stocks in the global investing universe. So, we can ask how to combine these 200 signals across 5,000 stocks and get a different rating for each stock," says Shen.
At the firm, AI is used at every stage of the investment process, from data acquisition and processing to analysis, he adds. "It comes through at the construction of stock-by-stock forecasts. It is also applied when we perform risk analysis. We look at how to combine all the different
elements in an investment optimisation process."
Shen says BlackRock employs a type of Google search-oriented process to gauge consumer intentions. "For example, you and I have probably not bought any big-ticket items without searching online for information. For example, what is the best refrigerator out there?"
If many people are looking for the same thing, it turns into a Google trend. So, this measures information on human intentions in quite a specific manner, with an eye on the global nature of it, that is, how many people around the world are searching for refrigerators with particular characteristics? "What this information allows us to do is form a country view because it gives us an early indication of consumer sentiment," says Shen.
What is his outlook for the market? He thinks the current cyclical upswing should continue for the next one or two years. "At the same time, if everyone thinks that way, the market will be more volatile and people will look to exit as the market becomes more jittery," says Shen.
In this environment, it is important to have a quality focus, he adds. "We are reasonably positive about the US market as well as pockets of emerging markets. We are a bit more cautious on Europe and Japan."
BlackRock is positive on Malaysia. "I think the fundamentals are reasonably strong and valuations are quite reasonable. The present government's policies can potentially be a positive development going forward," says Shen.
The headwinds are the current trade tensions between the US and China as they could cause even more market volatility.