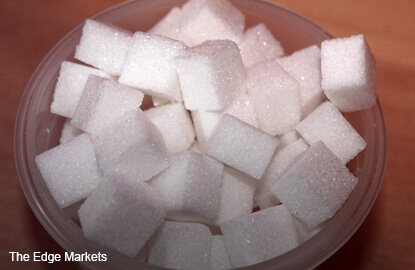 This article first appeared in Personal Wealth, The Edge Malaysia Weekly, on September 5 - 11, 2016.
Asian food and beverage companies are expected to record lower profit margins for the rest of this year and the next due to higher sugar prices, according to Rabobank's latest food and agribusiness research report.
The report, titled Hurry Cane: Managing Higher Sugar Prices in Asia, published on Aug 29, says Asian food and beverage companies paid a much higher sugar price between April and August compared with the previous corresponding period.
"At current prices, which is 17.99 US cents per pound in terms of the average price from April 1 to Aug 19 this year, [Asian] industrial players are paying 42% higher than 2015 prices, implying an additional US$3.5 billion on the regional cost of goods sold," it adds.
Rabobank, an international financial services provider based in the Netherlands, says in the report that sugar prices have risen more in some Asian countries, including India, Indonesia and China.
"In India, domestic [sugar] prices have risen quickly over the past six months. And if downstream users are slow to react, it could mean a ballooning in costs and a squeeze on profit margins.
"For Indonesia and China, where sugar imports form a huge part of local consumption, F&B corporates will face a double whammy of high domestic and wholesale prices when they buy from local sugar factories and refiners,"
The report also says downstream sugar buyers, such as Malaysian F&B companies, will need to implement appropriate strategies to ease the burden of high sugar prices. Meanwhile, Thailand will see less impact as its domestic and wholesale sugar prices are capped by government regulations.
The report says the high sugar prices in Asia are due to the supply and demand deficit in the global sugar market. The sugar supply is not catching up with the global and regional demand.
The world is expected to experience a deficit of 5.5 million tonnes of sugar in the next season. Asia is set to experience its first sugar deficit in more than five years. The region is estimated to have a sugar deficit of two million tonnes, mainly due to the El Nino-induced drought this year, which pulled down supply to a five-year low, says the report.
The deficit is also due to the strong demand in Asia supported by rising F&B consumption, which includes soft drinks, dairy items, confectionery and sweeteners.
"Soft drinks have been one of the most critical volume drivers of Asian sugar consumption. While predictions of soft drink consumption growth in Asia have been lowered, Rabobank projects growth to remain ahead of most other regions," says the report.
"Dairy (mainly condensed milk and ice cream) and confectionery are other key segments. These segments are expected to grow at a stable rate in the near future. For the F&B segments with significant exposure to sweeteners, the overall Asian growth was 8.5% versus the global growth of 3% between 2006 and 2015. Despite the recent slowdown in China's F&B market, Euromonitor (a London-based market research firm) predicts that 40% of the global volume growth from 2015 to 2018 will come from the Asian F&B market."
The report says Asian sugar inventories are now at historic lows and the current high sugar prices are expected to continue until at least the end of this year.