This article first appeared in Personal Wealth, The Edge Malaysia Weekly, on October 7, 2019 - October 13, 2019.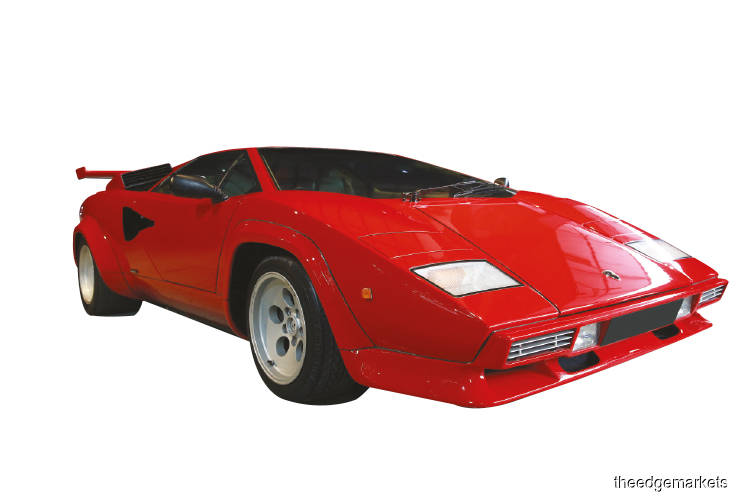 In the last 10 years or so, values for late 1970s and 1980s Italian supercars have increased significantly. Among others, this has been down to a strong sense of nostalgia as Italian supercars from this era were prominent in both motorsport and popular culture. Also, car enthusiasts who grew up during that time period are now older and wealthy enough to afford them.
This can be seen in the case of the Lamborghini Countach LP500S. The LP500S is a special, limited-edition production run of the already venerable base Countach. A good quality example is currently estimated at about US$355,000 (RM1.48 million), according to US-based classic car insurer Hagerty. Prices can rise for higher quality or even concourse-grade examples. For pristine examples that are ready for concourse events, Hagerty quotes a price of US$472,000.
As for real sales data, conceptcarz.com reveals a significant jump in prices for these models. One example sold in 2007 for just US$68,000. In 2014, another went for just over US$193,000. Prices spiked in 2015 and 2016, with at least three examples selling for between US$392,750 and US$408,162.
There are a number of reasons that explain the significant value appreciation of the Countach LP500S, according to Ong Kheng Liat, the proprietor of OKL Classic Automobiles. Classic car collectors tend to be attracted to examples with interesting histories or owners. "It is the allure of the former owners, almost as much as the vehicle itself. Take actor Steve McQueen's old cars. His old vehicles always commands a premium at auctions or sales," he points out.
More than that, there is now an entire generation of adults born between the 1970s and 1980s who grew up idolising the Countach LP500S. "They never forgot the posters or scale models they owned as children. Now that they have found success, they want to experience these cars in real life. These people are very particular about the provenance, history and condition of the car. Price is less of an issue to them," says Ong.
In fact, an ultra-rare, bright red 1983 Countach LP500S (picture) was put up for sale in Malaysia a few weeks ago. The 4.7-litre, V12, mid-engine Countach LP500S was a 1980s motoring icon and is regularly referenced as one of the most beautiful cars ever built. It was designed by famed Italian design house Bertone.
A mid-engine car is denoted by its engine placement, which provides vehicle stability at high speeds. It is built to rest between the front and rear axles. In certain cases, like that of the Countach, the engine is effectively situated at head level, directly behind the cockpit.
This particular vehicle, however, stands out from the roughly 26 or so right-hand drive variants in the world. According to Ong, this example was first purchased and owned by none other than legendary Bee Gees frontman Barry Gibb.
Ong has been engaged by the current owner to broker the sale of the vehicle, which has an asking price of RM2.4 million. "According to the documentation, Gibb purchased the car in 1983, after the Bee Gees gained worldwide fame. By this time, they had already found major success providing the soundtrack for the Saturday Night Fever movie, which came out in the late 1970s," he says.
Another early 1980s Italian supercar that has seen significant price appreciation is the Ferrari 512 BBi. As with the Countach, the 512 BBi has seen its value increase over the years, although perhaps not quite as sharply as the former. According to conceptcarz.com, the 512 BBi breached the US$100,000 mark for the first time in 2007, when an example sold for US$111,873.
Subsequent years saw its value rise steadily until it experienced a short slump in 2012 and 2013. In those two years, average prices plunged to US$89,229 and US$93,500 respectively. In 2014, prices spiked and hit just over US$300,000 the following year. So far this year, the average price is listed as US$248,267.
A 1983 Ferrari 512 BBi is currently on sale in Malaysia, says Ong. The striking white supercar was one of Ferrari's first few 12-cylinder mid-engine supercars, built to fend off increasingly stiff competition from its perennial rival, Lamborghini.
The latter had a roughly 10-year head start on Ferrari in terms of mid-engine capabilities. Lamborghini created its legendary mid-engine V12 Miura supercar as far back as the mid-1960s. It was only after the company's string of increasingly popular mid-engine supercars that Enzo Ferrari finally relented, allowing his engineers to build the first mid-engine Ferraris in the early 1970s.
The 512 BBi is one such variant, albeit one with a flat-12 cylinder engine, as opposed to the Countach's V12 engine layout. The Ferrari also came with more modern fuel injection, as opposed to the Countach's six Weber carburettors.
This particular 512 BBi is exceptionally rare in what is already a very limited production run. It is one of just 42 right-hand drive variants known to exist in the world. Just over 1,000 models were produced.
"I bought this car for a client of mine about seven years ago in Australia. The car had only done about 5,000 original miles. That said, the car has been repainted and its engine and gearbox have been rebuilt. There have been some minor modifications to the car — but only to the extent that it improves overall driveability. For example, it has a power steering system," says Ong, adding that the asking price for this example is RM1.2 million.