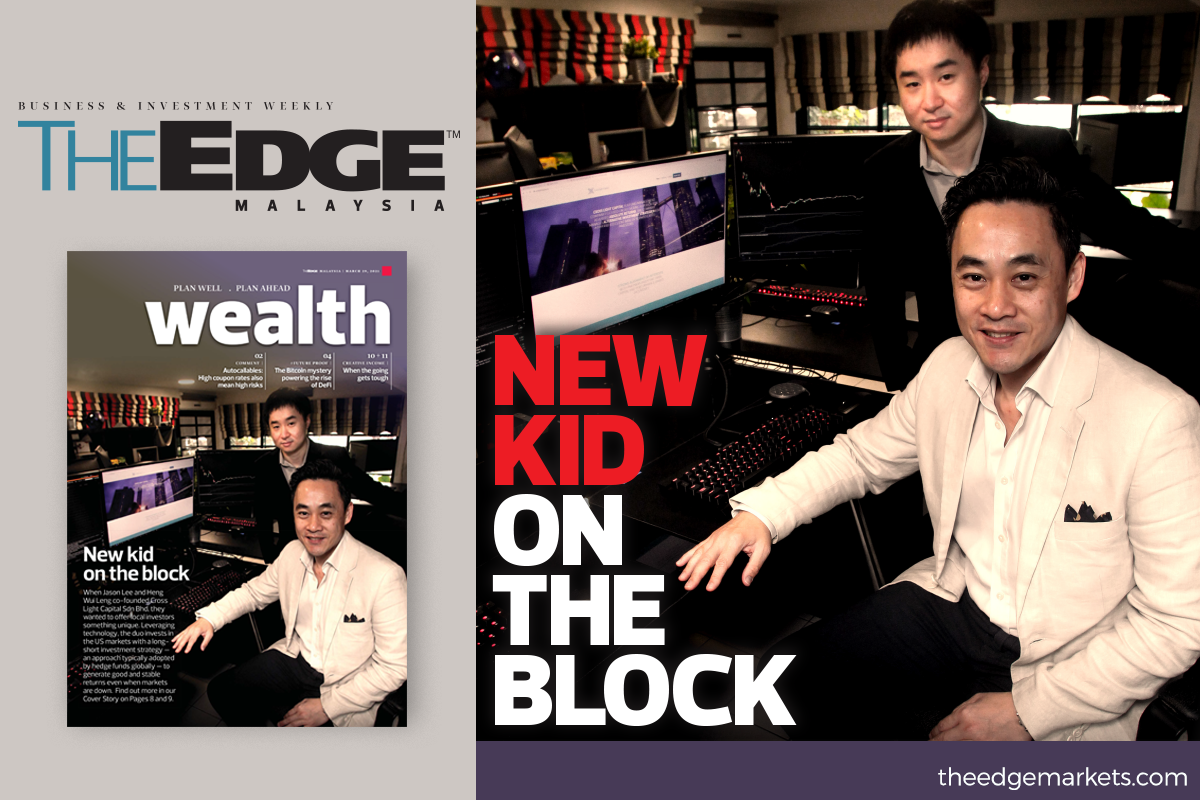 KUALA LUMPUR (March 30): Last November, the local fund management industry saw a new kid on the block in Cross Light Capital Sdn Bhd. So what, you may ask. New fund management companies crop up every now and then. But this one claims to be different.
The key difference lies in its investment strategy that promises to generate good risk-adjusted returns via a hedging strategy, and its performance is not benchmarked against indices — in its case, the S&P 500.
Cross Light, co-founded by Jason Lee and Heng Wui Leng, thinks many investors rely on the negative correlation between traditional equity and bonds to reduce risk and volatility. But today, this may not be the best option as the negative correlation has been disrupted in recent years amid a low interest rate environment and ample market liquidity.
(A positive correlation between two asset classes means their prices move in tandem with each other. Assuming that the correlation between equities and bonds is positive with a 1:1 ratio, equity prices will rise 5% when bond prices go up by the same percentage. If the correlation is negative with the same ratio, equity prices will rise 5% when bond prices fall at the same rate.)
"Just yesterday (Feb 25), we saw a fall in both equity and bond prices when the 10-year Treasury bond yield breached 1.6% for the first time in a year and triggered a sell-off in the stock markets," Lee notes.
In fact, the correlation between equity and bond prices has not always been negative historically, according to a research report by Graham Capital, an alternative investment firm based in the US. "What we are seeing is just a return to the older regime," says Lee.
Lee believes local investors are caught between a rock and a hard place during a downturn as many local products are long-only funds that benefit from an increase in asset prices. "From the view of the hedge fund manager, it is like fighting the market with one hand, without the ability to short," he says.
This is where Cross Light's ability to short the market comes into play.
Read more about it in The Edge Malaysia weekly's March 29 edition.
Save by subscribing to us for your print and/or digital copy.
P/S: The Edge is also available on Apple's App Store and Android's Google Play.