This article first appeared in The Edge Financial Daily, on March 21, 2019.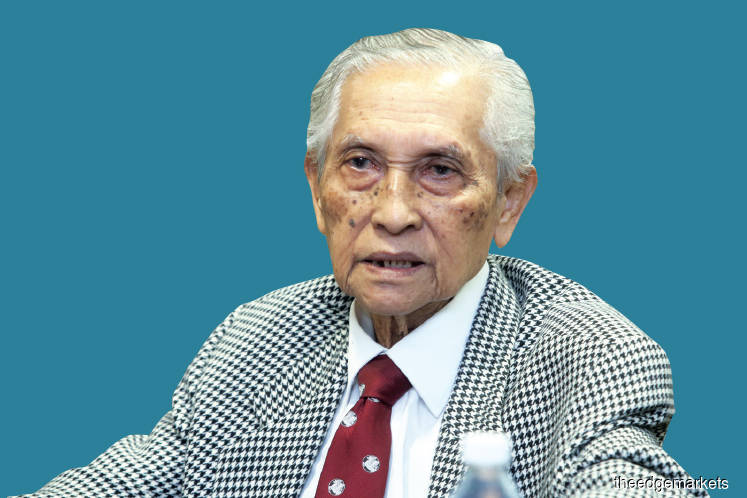 Former MAS CEO and managing director Abdul Aziz is also an adviser to Golden Skies Ventures. Photo by Sam Fong
KUALA LUMPUR: A group of former Malaysian Airline System Bhd (MAS) employees and several private individuals have come together to express interest in helping the government turn around the ailing Malaysia Airlines Bhd.
They include corporate lawyer Shahril Lamin; Ravindran Devagunam, former Performance Management and Delivery Unit's anti-corruption director; economist Dr Puvaneswaran Sanjivee; S Suppiah, former MAS executive vice-president of group finance; Sitham Nadarajah, former MAS vice-president of engineering; and Shulhameed Marican, former general manager of flight operations (services and infrastructure).
"We have formed a company called Golden Skies Ventures Sdn Bhd. There will be more shareholders. We also intend to invite one or two government agencies to come in as shareholders," Shahril said in an interview on Tuesday.
Tan Sri Abdul Aziz Abdul Rahman, former chief executive officer (CEO) and managing director of MAS, is also an adviser to the group.
According to Shahril, he and his friends (Ravindran and Puvaneswaran) came together to come up with a solution to the troubles at Malaysia Airlines shortly after the 14th general election on May 9 last year.
"We then approached people who were in MAS during the golden (profitable) years such as Mr Suppiah and Mr Sitham because we believe that together, we can assist the government in not only turning Malaysia Airlines into a profitable airline, but we want to give it a holistic solution. We also got Tan Sri [Abdul Aziz] in," he recalled.
"[So far,] we have had discussions with 'some key decision makers' on an unofficial basis, but it would be ideal if we can actually present this to the prime minister," said Shahril while declining to elaborate.
"A lot of people have been saying, 'Save the airline, strip out the ancillaries and leave the airline on its own.' We believe all that doesn't work because at the end of the day, they will just go back to the government for a bailout. We believe we have a holistic solution. We are ready to advice the government," Shahril added.
Under the group's proposal, Malaysia Airlines will be profitable within two-and-a-half to three years.
"We will be able to turn it around again and slowly build it back with all the network [of yesteryear]. But to implement the full spectrum, it will take us about four to five years," said Shahril.
The group is of the view that the government should not shut down Malaysia Airlines.
"That's because Malaysia Airlines contributes towards the country's tourism sector. The airline will bring [back] premium passengers [to the country like] it was proven 20 years ago. If you close Malaysia Airlines down, you are also shutting down tourism because the airline is the single largest contributor to premium tourism receipts," Shahril noted.
Ravindran concurred, noting that bringing back premium passengers to Malaysia Airlines will also help the Kuala Lumpur International Airport (KLIA) in Sepang attain regional aviation hub status. "Effectively you are not going to make KLIA a major hub if you don't fix the national airline," he added.
Shahril likened the situation to Singapore Airlines and Changi Airport, and Emirates and Dubai International Airport.
Still, Abdul Aziz said the proposal is "just a loose arrangement at the moment".
"We first must know what the problems [at Malaysia Airlines] are. Our main aim is to undo what has been damaged," he added.
On whether the plan will require more funds to be injected into Malaysia Airlines, Ravindran said: "Yes. But we need to know what the baseline is and whether or not we want to take the plan progressively. We got to know what the [current] situation [at Malaysia Airlines] is.
"We came from an era where a 78% passenger load factor would give us a comfortable profit margin. Today that 78% gave us a net loss of RM812 million [for 2018]. It defies aviation logic. At 78%, you should be expanding your capacity," he noted.
Back in November 2014, private firm Jentayu Danaraksa Sdn Bhd revealed its proposal to pay up to RM5.25 billion to buy over MAS aircraft via a sale and leaseback arrangement and also undertake to refinance the RM3.5 billion bond issue by Penerbangan Malaysia Bhd, which was due in 2016.
It also proposed to set up a commercial airline, Fly JD, with premium economy offerings to ply Asean routes but stressed that it would not cannibalise routes plied by MAS.
However, the proposal was rejected by MAS' sole shareholder Khazanah Nasional Bhd, which came up with a 12-point plan to revive the airline, which included delisting MAS, setting up a new company called Malaysia Airlines Bhd, axing 6,000 jobs and injecting RM6 billion cash into the airline.