This article first appeared in The Edge Financial Daily, on August 9, 2018.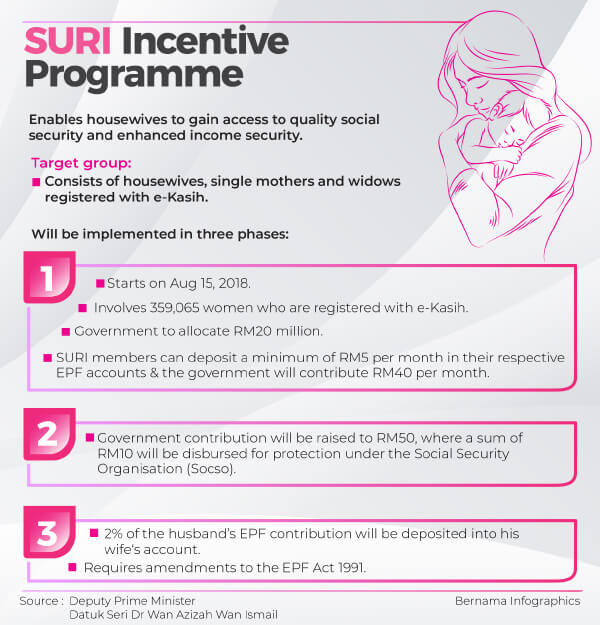 KUALA LUMPUR: Housewives can open Employees Provident Fund (EPF) accounts with a minimum of RM5 from Aug 15 in the first of a three-phase programme to widen the social safety net to all groups in the country.
"Upon this, the government will then contribute RM40 monthly," Deputy Prime Minister (DPM) Datuk Seri Dr Wan Azizah Wan Ismail said at the launch of the new voluntary contribution scheme yesterday.
The initiative would be executed in three phases, with the second phase targeted to begin early next year and the third in early 2020, said Wan Azizah, also the women and family development minister.
"As a start, the target group consists of housewives, head of households (married men), single mothers and widows listed in the e-Kasih database," she said. House husbands are not included in the scheme.
E-Kasih is a national database supporting the planning, implementation and monitoring of poverty programmes for those in the bottom 40% (B40) of society.
In the programme's second phase, the government will contribute an additional RM10 under the Social Security Organisation (Socso), Wan Azizah said. This will require legislative changes as protection under Socso is currently not extended to housewives, she added.
In phase three, the programme will see 2% of the husband's EPF contribution channelled into the housewife's account. This phase requires amendments to the EPF Act (1991), to be tabled in the next parliamentary sitting, Wan Azizah said. "We are still exploring various options for this, taking into consideration several financial and non-financial factors." She said the government would allocate RM20 million for the first phase of the scheme, targeting 359,065 women registered under the e-Kasih programme.
EPF chief executive officer Datuk Shahril Ridza Ridzwan said the programme is not about increasing the EPF's assets but to extend coverage and provide social security for more Malaysians. Wan Azizah said her ministry would have to work with the EPF to register housewives in remote locations. "We have to work out the details [of registering them], so it is not at their expense."
According to Shahril Ridza, EPF's branches and mobile teams will be actively reaching out to register eligible persons. The fund will also be working with the government and government-linked agencies such as Bank Simpanan Nasional to collect the initial RM5 deposit, as well as with telecommunication companies to study if the RM5 payment can be made using mobile phones. All new registrants will be subject to the same rules as existing EPF members, he said.